City cashes in on success as treble doubles profits
Share - WeChat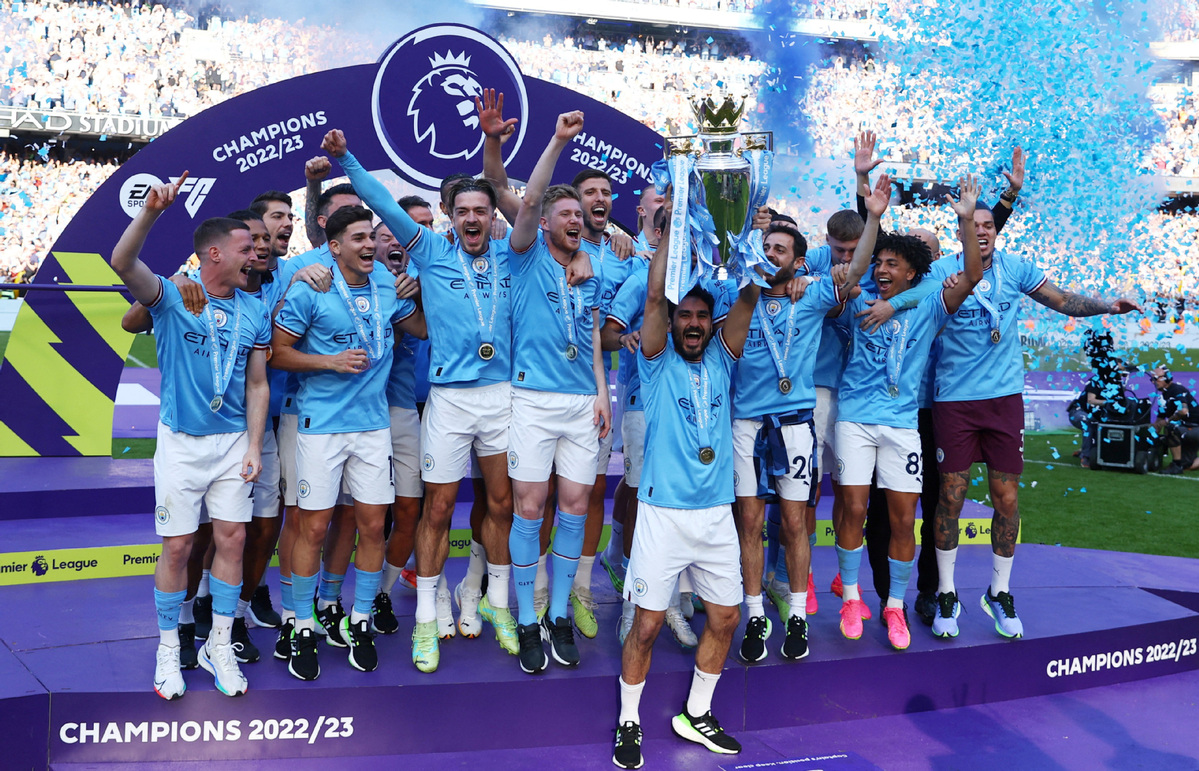 MANCHESTER, England — After capturing its first treble last season, Manchester City reported on Wednesday that the success was matched off the pitch with record profits, its highest ever revenue, and recognition as the most valuable soccer brand in the world.
The club, which has been majority owned by Sheikh Mansour since August 2008, earned revenues of 712.8 million pounds ($889.4 million) to June 2023, according to Manchester City FC Ltd's annual report, an increase of 99.8 million pounds (16.3 percent) over the previous season, along with a record net profit of 80.4 million pounds.
"The 2022-23 season saw Manchester City scale new heights and set new benchmarks," City chairman Khaldoon Al Mubarak said in a statement. "In short, last season saw Manchester City achieve the greatest football and commercial year of its storied history."
City experienced growth over the previous year across all revenue streams — commercial, match-day and broadcasting.
Commercial revenues accounted for 341.4 million pounds, broadcast raked in 299.4 million pounds, and match-day earned 71.9 million pounds. That produced a profit of 80.4 million pounds, nearly doubling the previous year's figure.
Match-day revenue saw an increase of 17.4 million pounds (32 percent) with a 99 percent occupancy rate at the Etihad Stadium and four more home games played across all competitions, although the average attendance of 53,249 fans over 19 Premier League games was just shy of the club's record of 54,130, set in the 2018-19 season.
Broadcasting revenues climbed by 50.4 million pounds over the previous year (20.2 percent), primarily due to the club reaching and winning the Champions League and FA Cup finals.
Profits also benefited from significant player trading with 121.7 million pounds generated from transfers, up a significant 79.8 percent over the previous 12 months.
City earned top spot on the Brand Finance Football 50 list with a brand value of 1.51 billion pounds, passing La Liga side Real Madrid (1.46 billion pounds). Barcelona was third, with Manchester United fourth.
It marked the first time an English club had earned the No 1 spot since 2018, with the report citing City's decade of dominance on the pitch and the highest revenue of any of the clubs in the report as key reasons for the rise.
City also topped the Deloitte Football Money League for the second consecutive year with the biggest revenues of any European soccer club, ahead of runner-up Madrid.
In early 2023, City was charged by the Premier League with more than 100 breaches of rules that required the club to provide "more financial information that gives a true and fair view of the club's financial position," the league said in a Feb 6 statement.
Wednesday's financial report addressed the charges, stating: "In February 2023, in response to the charges, the club issued a public statement that it welcomes the review of this matter by an independent commission, to impartially consider the comprehensive body of irrefutable evidence that exists in support of its position."
On the pitch, manager Pep Guardiola guided City to a third successive Premier League title, a 2-1 FA Cup final victory over Manchester United, and a first ever Champions League title.
REUTERS