Auto Guangzhou spotlight focused on NEVs
Share - WeChat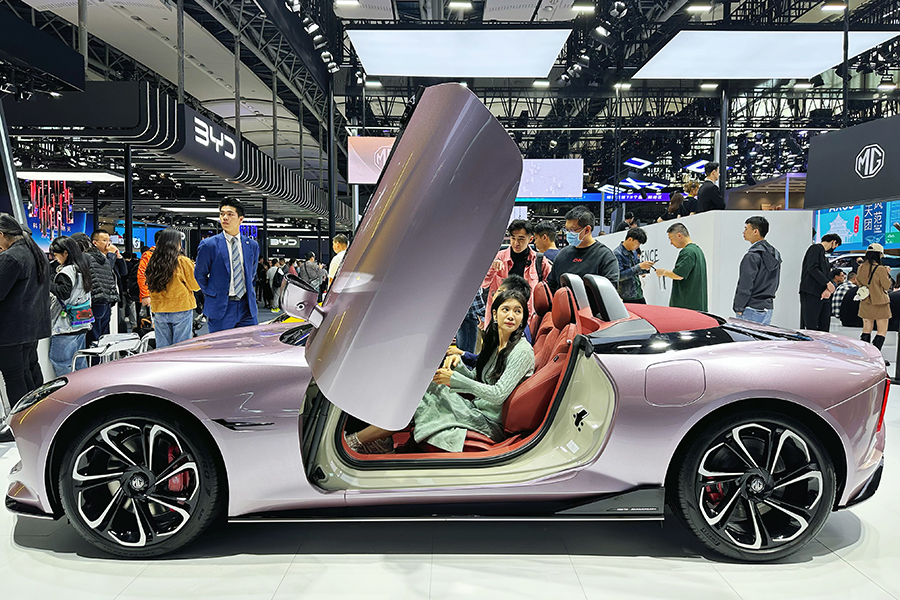 Chinese and global manufacturers unveil latest designs and technologies
New energy vehicles are hogging the limelight at the ongoing Auto Guangzhou exhibition — testimony to how rapidly Chinese and international automakers are embracing electrification.
As China's last major car show of the year, Auto Guangzhou has attracted a stellar list of global manufacturers, ranging from BMW and Mercedes-Benz to Bentley and Lamborghini, along with local Chinese giants and startups.
Of the 1,132 vehicles on display at the 10-day show that runs to Sunday, 469 — 41.4 percent — are new energy models. A total of 59 are making their debut on the global stage in Guangzhou, capital of Guangdong province, along with 20 concept vehicles.
Local Chinese brands were underdogs in the age of gasoline vehicles, but homegrown NEVs and more ambitious strategies are now leveling the playing field for domestic manufacturers. According to Auto Guangzhou's organizing committee, of the 469 NEVs on display, only 119 are foreign-built.
China's NEV manufacturers don't excel only in numbers. At least three domestic marques — GAC Aion, SAIC MG and Dongfeng eπ, or ePi — are showcasing scissor-door or gull-wing-door designs that previously were only seen on models bearing super luxury brands like McLaren or Lamborghini.
Zeekr, the premium electric marque of Geely, unveiled its first sedan, the 007, on Friday. Its all-wheel-drive version goes from 0-100 kilometers per hour in 2.84 seconds, the fastest in its class. With Tesla's Model 3 and Xpeng G7 as its main rivals, the 007 received 5,000 orders in the first 30 minutes of presales.
Huawei has made plain its ambition to become deeply involved in the smart car market, with models including the AITO M9 and Luxeed S7 shown at the booth of HIMA, which stands for Harmony Intelligent Mobility Alliance. The Luxeed S7, a collaboration between Huawei and Chery, has an exterior designed by Huawei and sports the technology company's Harmony operating system and 800-volt battery platform.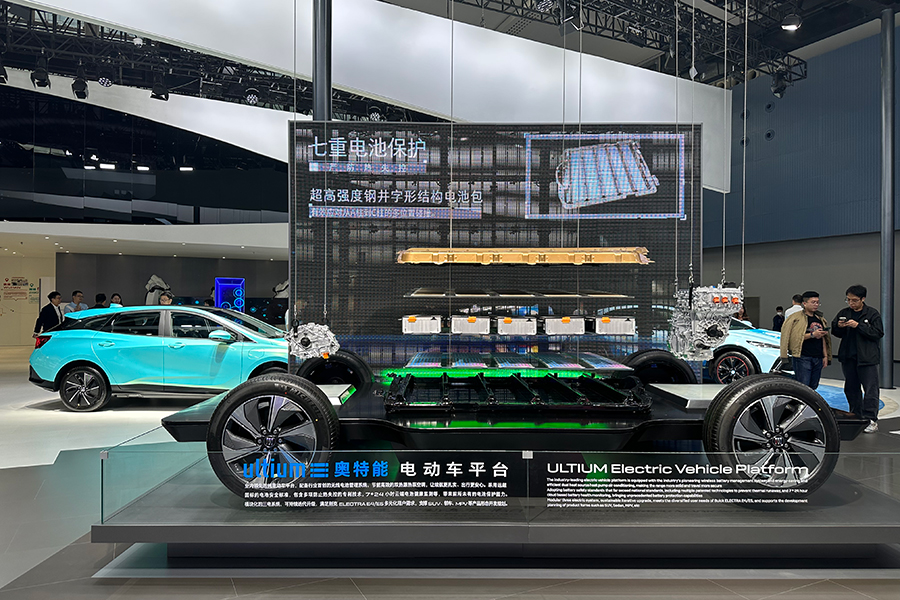 Meanwhile, Chery is showcasing 16 NEV models at its booth, where Zhang Guozhong, executive-vice president of the Anhui province-based company, said its goal is to join the ranks of China's top NEV makers. Some of the models on display are the new Fengyun hybrids. Thanks to C-DM (Chery Dual Mode) technology, the Fengyun models have fuel consumption standing at around 4.2 liters per 100 km.
They have an electric range of up to 200 km, which extends their overall mileage to more than 1,400 km. Over the next two years, Chery will launch 11 hybrids bearing the Fengyun logo.
Another Chinese automaker, Dongfeng, has for the first time brought together its three NEV marques — Aeolus, eπ and Nammi — to the public since the State-owned company released its NEV plan in August.
According to Dongfeng, Aeolus offers both gasoline and NEV models, Nammi focuses on pure electric vehicles and eπ produces and sells both electric and range-extender models. Targeting the mainstream market, eπ will launch more than 10 models in the next three years.
International brands at Auto Guangzhou are offering a balanced mix of gasoline cars and NEVs.
BMW's booth features a number of heavyweight models, including its long-wheelbase 5 Series, the X2 and the electric i5.
BMW sold 78,568 electric vehicles in China from January to October, up 211 percent year-on-year.
Volkswagen, which is the most popular international brand in China, is presenting 25 models at the show, including its electric ID. series and gasoline-powered Touareg and Teramont SUVs. Volkswagen is by far the most successful foreign car marque in China's NEV market, with sales of its ID. series exceeding 20,000 units in October, thanks primarily to its ID. 3 hatchback.
Volkswagen's lineup will soon include the ID. 7 VIZZION, a mid-size sedan to be produced at FAW-Volkswagen, and the ID. NEXT, which is a near-production concept car and will be produced at SAIC Volkswagen.
Stefan Mecha, CEO of Volkswagen China Passenger Cars Brand, said: "To better respond to the rapid dynamics and evolving demands in China, we are accelerating at 'China Speed'." He predicted NEVs will account for half of new car sales in China in 2025 and the figure will rise to 70 percent in 2030.
Meanwhile, General Motors is showcasing 48 models bearing the Cadillac, Buick and Chevrolet marques. The Cadillac Optiq and Buick's Electra E5 are among NEVs built on GM's Ultium platform.
Cadillac said it will launch three new electric models in 2024, while SAIC GM, GM's Chinese joint venture, said its NEV sales from January to October totaled nearly 70,000 units.
lifusheng@chinadaily.com.cn