Speedsters set breathless Beijing pace
Share - WeChat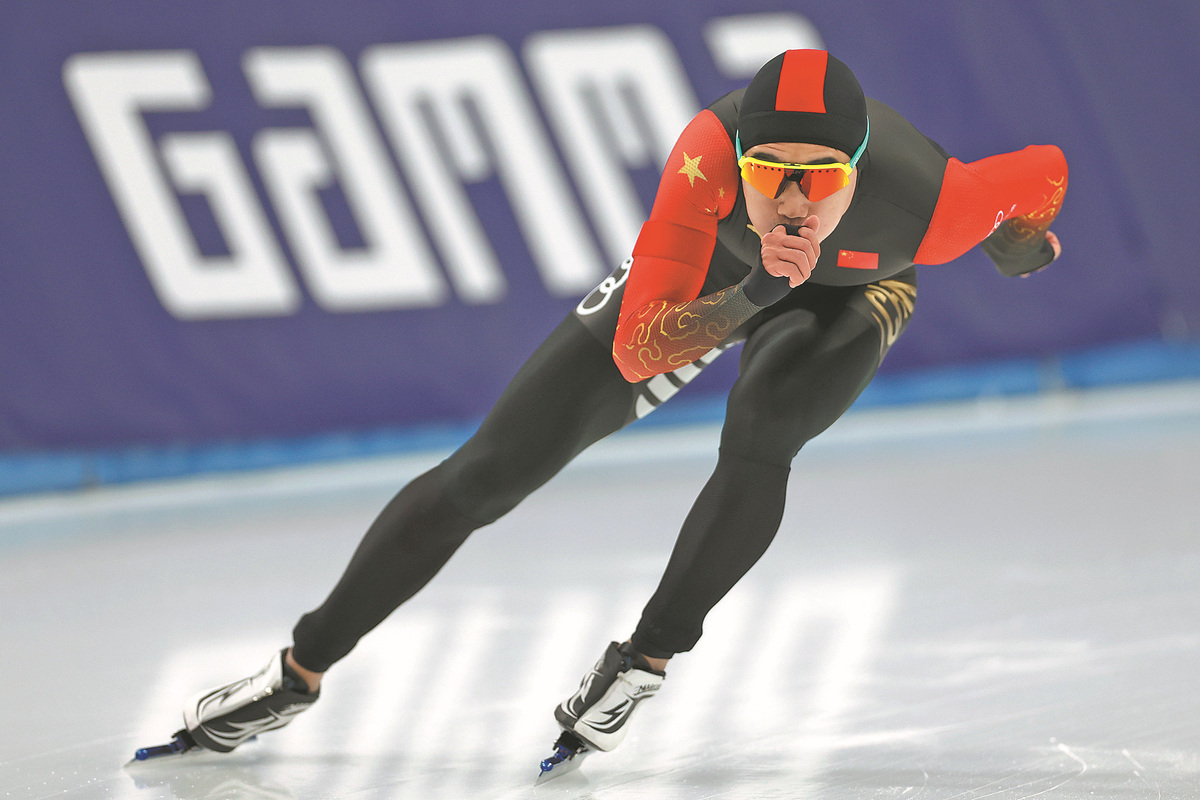 World Cup leg a huge success as stars excel at Olympic venue
The Beijing debut of the World Cup Speed Skating series proved a smash hit last week, with international stars savoring the return to the Olympic oval and Team China enjoying a medal-laden campaign on home ice.
Cheered on by an enthusiastic crowd, Chinese speed skaters took the World Cup's Beijing leg by storm with a string of podium finishes against world-class opponents across individual and team events to cement Team China's confidence entering the new Olympic cycle.
Leading the host's charge were women's middle-distance duo Han Mei and Li Qishi, who claimed silver and bronze medals respectively in the 1,500m on Friday behind two-time Olympic champion Miho Takagi. The Japanese star won four medals, including 1,000m gold, on the same track at the Beijing 2022 Winter Olympics.
Han said the electric atmosphere inside the National Speed Skating Oval was a big boost and an improvement on the Winter Olympics when pandemic controls meant fans were absent from the stands.
"I am so glad to be back at the Olympic oval, as were a lot of the international skaters," Han said after clocking 1 minute and 55.92 seconds to finish 0.4 sec behind Takagi.
"The spectators made really a big difference and they gave us a lot of energy. The atmosphere was even better than at the Olympics to be honest."
Han's unexpected silver medal at the second leg of the six-stop World Cup season proved that her overseas training program with Takagi's team under Japan head coach Johan de Wit is working well.
"I'm a little bit surprised to skate this fast today. I've worked really hard with coach (De Wit) over the summer. He has always encouraged me and told me that I'm able to do this. It's an honor and a really great learning experience skating alongside Takagi in training," said Han, who finished seventh in Saturday's 1,000m final.
"I think from now on, I won't set any limits in terms of goals for myself. I will also try my best to make the podium at the next Winter Olympics."
Despite suffering from a fever on Friday, Li skated superbly to finish third, in 1:57.01, and collect her seventh career individual World Cup medal.
With Friday's bronze coming after a fourth-place finish at the opening World Cup race in Japan on Nov 11, Li has climbed to second behind Takagi in the overall 1,500m rankings. Defending world champion Antoinette Rijpma-de Jong of the Netherlands dropped to third after finishing seventh on Friday.
The result marked the first time China has reached the podium in the women's 1,500m at the World Cup since Song Li took bronze 24 years ago in the Netherlands.
"We are full of energy. I almost lost count when was the last time that we won a medal in this event. It was definitely an inspirational start for us heading into the new Olympic cycle," Team China's head coach, Li Yan, said of the women's duo's breakthrough.