Thunder roars as wilting Warriors slump to sixth straight loss
Share - WeChat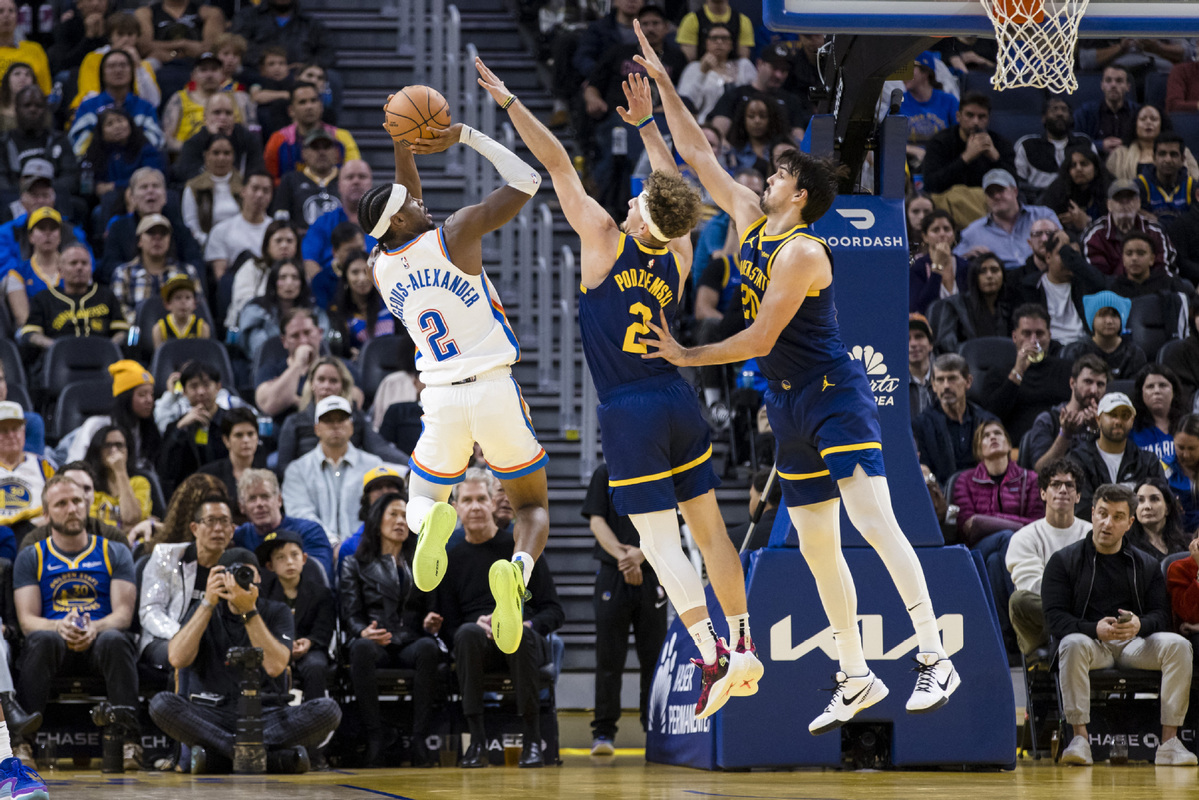 SAN FRANCISCO — When Golden State's Andrew Wiggins hit a go-ahead 3-pointer with fewer than two seconds remaining in regulation, it seemed to be the difference that the Warriors had been searching for all game long.
Instead, the Thunder forced overtime with a frenzied sequence. As the final 1.6 seconds ticked down, Oklahoma City rookie Chet Holmgren grabbed the inbound pass and knocked down a game-tying shot from deep to beat the final buzzer.
"It felt like a movie in the moment," Thunder guard Shai Gilgeous-Alexander said.
Gilgeous-Alexander had 40 points, six rebounds and six assists, and the Thunder sent the Warriors to their sixth straight loss with a 130-123 overtime victory on Saturday night.
The Thunder outscored the Warriors 13-6 in the extra period to seal back-to-back wins at Chase Center and secure the season series, 2-1.
Holmgren scored a season-high 36 points and added 10 rebounds and five assists, and Jaylin Williams had 22 points and six rebounds.
Isaiah Joe's streak of consecutive made 3-pointers that began with his 7-for-7 showing on Thursday ended at eight in a row with a buzzer-beater to close out the first quarter. He finished the night with 10 points.
The Warriors dominated through the first half and seemed on the verge of putting the game away midway through the third, when they led by 18 points. But the Thunder stepped up on defense and went on a 22-6 run to cut the deficit to two points entering the fourth.
Gilgeous-Alexander led the charge by scoring 32 points after the first half, including 10 in overtime.
"When one of your best offense players is one of your best defense players, it's huge," Holmgren said. "He really ignites us on both ends with his energy."
Wiggins scored a season-high 31 points and was 12 of 19 with five 3s. Curry also knocked down five 3s and had 25 points as the Warriors fell to 1-6 on their home floor. It was the first time this season that Curry has appeared in a game and not led Golden State in scoring.
"I have been putting in the work," said Wiggins, who entered the day shooting 40.1 percent this season — nearly 50 points below his career average. "I have been getting shots up, working hard and just trying to do the little things on the court, knowing that eventually it will fall."
Even with Curry's return, the Warriors were again short-handed, missing Draymond Green (five-game suspension) and Gary Payton II (left-foot strain). Payton is not expected to miss significant time after an MRI revealed no structural damage, and Green isn't eligible to return until Nov 28 at Sacramento.
"We still had a hard time with them in the second half," Thunder coach Mark Daigneault said. "They're a handful, and one of the things I admire about their team is that the whole is better than the sum of their parts. ... As a team that's building and growing, we want to be that type of team."
Giannis unleashes
Giannis Antetokounmpo scored 40 points and Damian Lillard added 27 for the Milwaukee Bucks, who extended their winning streak to four games with a 132-125 victory over the Dallas Mavericks on Saturday night.
"It was a great character win," Bucks coach Adrian Griffin said. "Back-to-back, short-handed … but everyone stepped up and it was a total team win."
Antetokounmpo was averaging 41.3 points in his last three games before being held to 16 Friday night in Charlotte. Against the Mavericks, he connected on 18 of 26 shots including a pair of 3-pointers and grabbed 14 rebounds to go along with seven assists.
During that same five-game stretch, Lillard is averaging 27.4 points and with 12 assists on Saturday night, has 30 over his last three games.
"Every game that goes by, I'm going to be more comfortable (playing with Lillard)," Antetokounmpo said. "As we move forward, we're going to keep learning how to play with one another. It's getting better. It's a work in progress."
Kyrie Irving scored 39 while Luka Doncic added 35 for Dallas (9-4).
Donte's peak
Jalen Brunson poured in 32 points and Donte DiVincenzo drained seven 3-pointers on the way to a season-high 25 points as the visiting New York Knicks kept rolling by defeating the Charlotte Hornets 122-108 on Saturday night.
Julius Randle provided 21 points as the Knicks won for the sixth time in their past seven games. New York has also won three straight road games.
The Knicks had starting guard/forward RJ Barrett back in the lineup after he missed the last three games because of an illness. He supplied 15 points despite 5-for-15 shooting from the floor.
Brunson went 12-for-21 from the field, sinking four 3s in the Knicks' second convincing victory against Charlotte in a seven-day span. New York beat the Hornets 129-107 last Sunday.
LaMelo Ball tallied 34 points, aided by eight 3-pointers, and rookie Brandon Miller had a season-best 29 points, but the Hornets were saddled with their fourth loss in a row.
Miles Bridges came off the Charlotte bench for 19 points on 8-for-12 shooting. He was playing his second game since completing an NBA suspension stemming from a domestic violence case.
DiVincenzo's previous season high was 16 points, but he found a groove on Saturday, finishing 7-for-10 from beyond the arc.
Agencies via Xinhua