Wall-less campuses friendly to a more open society
Share - WeChat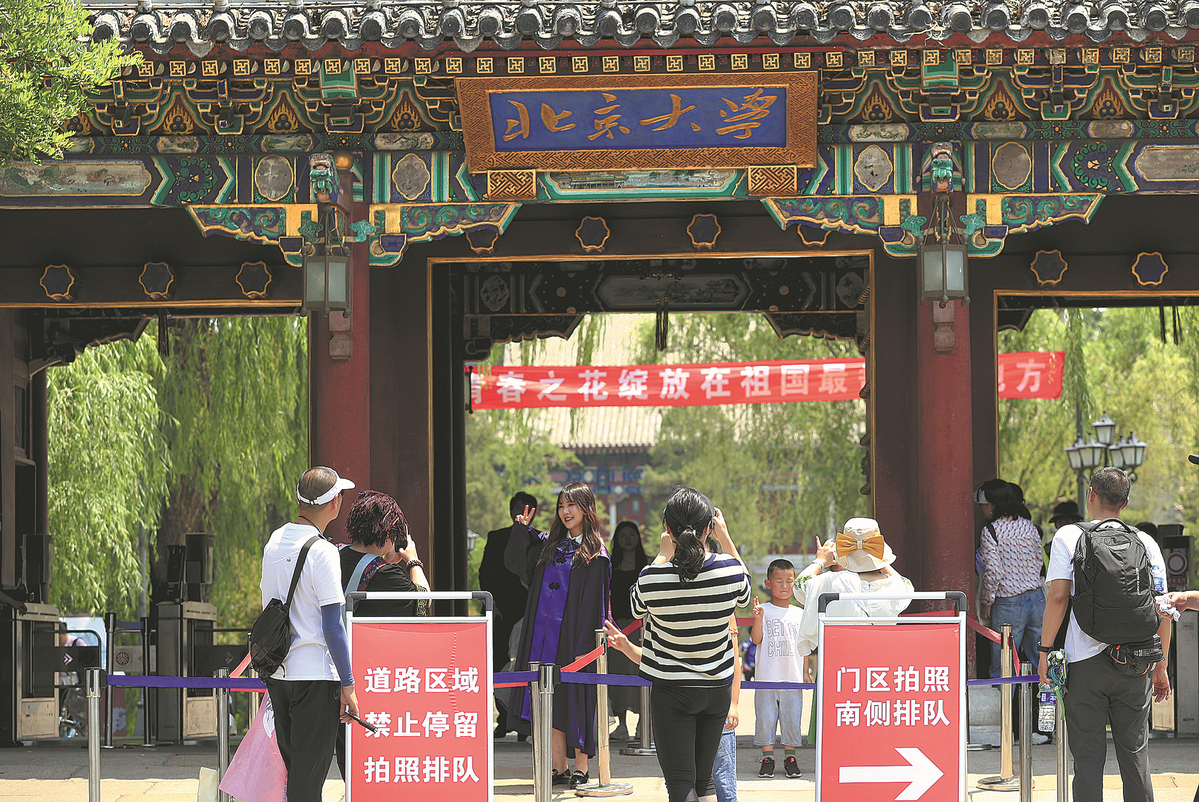 Walls are no stranger to the Chinese people in the long history. They built walls by piling up stones, hay and mud in layers to protect their villages from animal attacks; they built solid city walls to protect residents from bandits and invaders; they built the Great Wall to defend their country against foreign invasions.
The "wall culture" continues. Big budgets are made to build walls when constructing a university, school, hospital, a residential complex or even a public park. So influenced was I by the "wall culture" that the first time I went to study abroad 40 years ago, I was shocked to find that my university was not encircled by walls — nor were the hospitals, residential compounds or parks.
My memory was still fresh about my schooldays when I had to climb over two "unnecessary" earthen soil walls in order to take a shortcut to school.
Building wall-less campuses and housing complexes has been continuing for two generations in China and is finally bearing fruits. It is reported that a number of new universities and new branches of existing universities have no boundary walls, while many other universities have replaced their walls with fences.
Peking University and Tsinghua University, China's top two academic institutions, however, should be thankful to their century-old solid stone walls that prevented their campuses from being turned into Black Friday sales venues. So many people want to visit their campuses nowadays that they have introduced an appointment-only entrance system to make sure that their campuses are still dominated by their students and faculty members, not visitors.
Most universities still have their boundary walls intact, though, because most university administrations don't want to bring down the boundary walls because they feel it would threaten campus security and increase administrative cost — and replacing the existing walls with fences requires a lot of money. Even if the universities have the money and want to replace their campus walls with fences they have to face strict audit inquiry on why solid walls were razed.
Wall-razing efforts are being made in rural areas, too, though in a much better organized way. Farmers are used to building walls around their yards to protect their family from thieves and animals. But now that such intruders can hardly be found in villages, building such walls is a waste of money. As for the local governments and the village heads, it is a waste of fertile farmland. In fact, they have been trying to persuade farmers to stop erecting boundary walls and instead build fences, sometimes offering handsome compensations.
The official efforts may succeed in some villages and fail in others, because traditional beliefs and habits among farmers are still strong and local officials can't push them too hard lest they lead to widespread dissatisfaction and conflicts.
Walls around community squares and public parks in cities have now given way to iron fences. In some cities, even the fences have been dismantled. When a couple of years ago Beijing took the lead in dismantling the iron fences guarding its free public parks, I was worried that the fruits and flowers on the trees and plants would be stolen overnight and the well-maintained lawns could be trampled by pedestrians within a few days.
That did not happen, indicating that urban dwellers know what is good, and what is not, for their city and its people. They can also help ensure us a safe and colorful life without walls — be they mental or physical.
The author is former deputy editor-in-chief of China Daily. kangbing@chinadaily.com.cn
If you have a specific expertise, or would like to share your thought about our stories, then send us your writings at opinion@chinadaily.com.cn, and comment@chinadaily.com.cn.
Most Viewed in 24 Hours
China Views