Buoyant Team China braced for Shenzhen test
Share - WeChat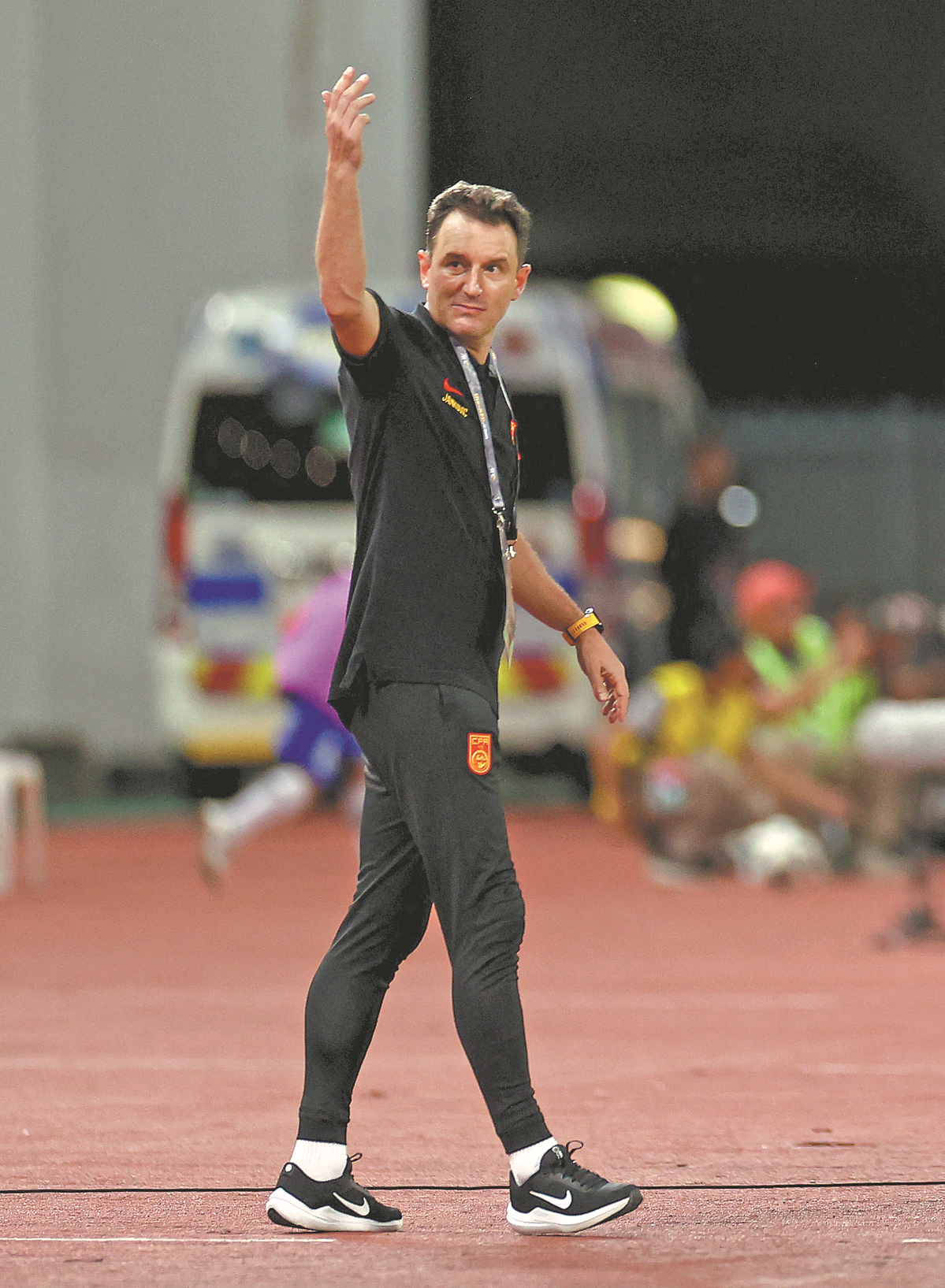 Captain Wu Lei has made it his birthday wish to win, defender Jiang Shenglong is giving it "200 percent", and head coach Aleksandar Jankovic says his players will not hide their ambition.
There can be little doubt just how much victory over South Korea on Tuesday would mean to Team China. However, despite last week's morale-boosting World Cup qualifying victory over Thailand, a home win in Shenzhen remains a massive challenge for the host.
"My first birthday wish is to win the match on Tuesday. It's about our goal of qualifying for the Asian Cup and the World Cup, so I hope all the players can stick together and be united. We can do some great work together in the coming years," said former La Liga player Wu, who turned 32 on Sunday.
"I'm so happy that we're in this journey together and I want to thank everyone. I'm not a very talkative person, so I'll do my talking with my actions on and off the pitch."
Team China earned three precious points with a 2-1 triumph over Thailand on Thursday in torrential rain in Bangkok to get its World Cup Group C Asian zone qualifying campaign off to a positive start.
With little to cheer in recent years, the victory was a welcome surprise for Chinese fans. However, even a point against a South Korean team that Jankovic describes as "world-class" would be real cause for celebration.
Team China hopes to make home advantage count at Shenzhen Universiade Sports Centre Stadium, with a sold-out crowd of over 40,000 expected to raise the decibel levels for a tough mission against a team spearheaded by one of the world's best strikers, Son Heung-min of Tottenham Hotspur.
"That was the first time I've represented Team China in a World Cup qualifier, and I'm very happy that our team managed to take the three points in our opening match. We tried our best and showed our spirit," said Chinese defender Jiang.
"As for the next qualifier, we will give it 200 percent against South Korea. As defenders, we have studied many videos of the South Korean strikers, and we've paid close attention to their opening qualifier.
"We saw how Son Heung-min was such an integral part of their team. We have devised some special tactics for Tuesday's game, and we will follow the instructions of our head coach. With a good plan, we will fight the hardest we can. I'm very confident."
'Play hard'
South Korea is the early leader of Group C after crushing Singapore 5-0 in Seoul on Thursday. But the South Korea squad, coached by Germany great Jurgen Klinsmann, is not taking Team China lightly.
"It won't be an easy game, and we will try our best. We hope we can secure a victory just like we did in our first qualifier," said South Korea forward Cho Gue-sung, who plays for Danish club Midtjylland.
"The match will for sure be tough, and I know the Chinese players will play as hard as they can. If we can be even tougher, then I believe we have a chance to win."
Cho was one of 11 players in the squad that faced Singapore who ply their trade in Europe. That impressive list also includes Spurs hotshot Son, Paris Saint-Germain midfielder Lee Kang-in, Bayern Munich defender Kim Min-jae and Wolverhampton Wanderers forward Hwang Hee-chan.
Cho, Son and Hwang combine to provide the visitor with a potent attacking threat, and Wolves youngster Hwang is raring to add to his goal against Singapore.
"The first qualifier went well for us, so I just want to enjoy the next match as much as possible," said Hwang.
"When we face the Asian teams, our goal is to secure the best result and produce the best performance. To achieve that goal, we should prepare as best as we can."
After Tuesday's game, Team China next faces Singapore in March.
The top two finishers in each group will advance to the third round of World Cup qualifying, and at the same time book their places at the 2027 AFC Asian Cup in Saudi Arabia. Of the 48 berths on offer for the 2026 World Cup, to be co-hosted by Canada, Mexico and the United States, eight and a half have been allocated for the Asian zone.
Team China's sole appearance at the World Cup finals was in 2002, with recent Chinese squads falling well short of ending that wait.
Veteran defender Zhang Linpeng says he and his teammates should approach that challenge with patience and courage.
"We need to make progress step by step. The journey for World Cup qualification is very long. When Marcello Lippi was in charge, we beat South Korea. We need to be brave enough to go for our goals and work hard in every training session," said Zhang.
"Facing South Korea is not easy. They are a very good team. They have a number of star players, and to be able to play against them is a great experience for us."
At 34, Zhang is not giving up on his World Cup dream just yet.
"I still want to try my best in the qualifiers," he said. "Even if I make some mistakes on the pitch, I will still give my all so that I leave no regrets on the pitch."
shifutian@chinadaily.com.cn