Three-day rally pushes RMB to 7-month-high
chinadaily.com.cn | Updated: 2017-06-02 15:15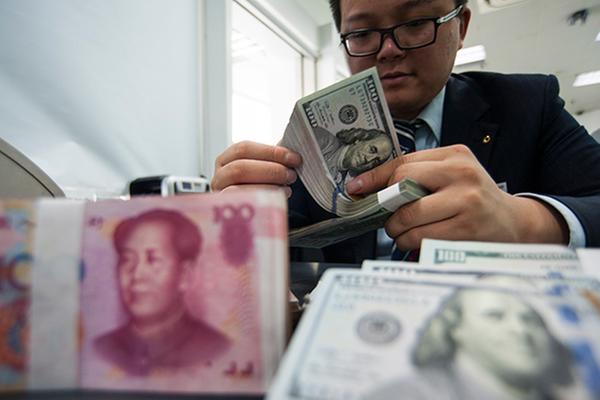 An employee at a bank counter in Nantong, Jiangsu province, counts renminbi and dollars. [Photo/China Daily]
The central parity rate of the renminbi has continued to rally, hitting a seven-month high on Friday, up 0.03 percent to 6.807 against the greenback.
The rise comes after the onshore yuan reached a peak of 6.78 against the US dollar on Thursday and offshore yuan reached its highest level since October at 6.72 per dollar.
Investment bank UBS raised its year-end forecast for the renminbi exchange rate from 7.15 to no more than 7, while projecting a mild slump of the currency back to no more than 7.1 by 2018.
The lowered risk of China-US trade friction has contributed to the renminbi's rally, UBS economist Wang Tao said, adding that the foreign exchange reserve will "likely remain above the $3 trillion mark this year".
The improvement also comes on the heels of a tweak to the formula used to calculate the renminbi central parity rate, announced last Friday by China Foreign Exchange Trade System. The new formula allows a dealer to incorporate a "counter cyclical factor" into the existing formula to hedge against fluctuation in market sentiment.
The move will "alleviate the potential for herd behavior in the forex market," according to a statement by the CFETS. Details remain unclear as to when and how the "counter cyclical factor" will be used.
Under China's market-based, managed floating exchange rate system, renminbi's daily trading band against the dollar has been widened to 2 percent around the central parity rate.
Tan Xinyu contributed to this story.