Chinese head home after hurricane
Share - WeChat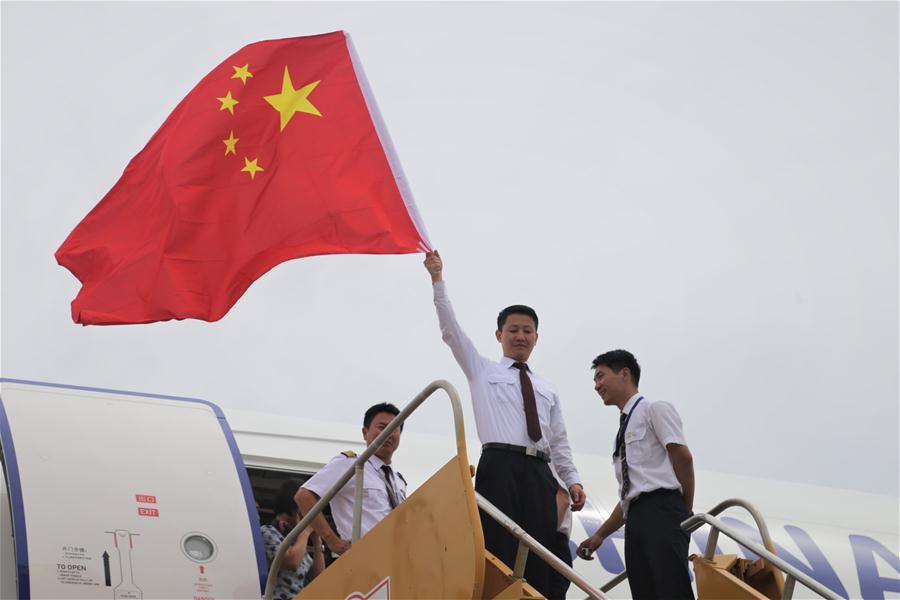 A China Eastern Airlines crew member holds a Chinese national flag at the V.C. Bird International Airport at St. John's, capital of Antigua and Barbuda, Sept 30, 2017. [Photo/Xinhua]
Meanwhile, the 64 China Eastern Airlines crew members had also prepared for the flight, which will take them over 19 countries. The total round trip is about 35,000 kilometers, said Guo Wanqing, one of the chief pilots in command. "We might not be able to send you to all the places around the world, but we have the ability to bring you back home when you are in trouble, wherever you are."
Embarking on the journey back home, relief and anticipation were clearly written on the faces of the formerly stranded Chinese. Everyone was holding a small national flag. Among them, a passenger held a sign saying "CCECC worker, gratitude toward the motherland".
Antigua and Barbuda also played a crucial role in helping the Chinese embassy get in touch with and transport Chinese displaced by the earlier Hurricane Irma.
Anthony Liverpool, director general of the country's Ministry of Foreign Affairs, Immigration and International Trade, said: "It was very easy for us to extend a helping hand in time of need to the people of China," he said. "This is something that we think friends should do for friends."
The two planes were scheduled to arrive at Shanghai Pudong International Airport on Sunday night, as Chinese people celebrate double holidays-National Day and Mid-Autumn Day-which happen to coincide this year.