Iconic structures and modern landmarks put city on the map
Share - WeChat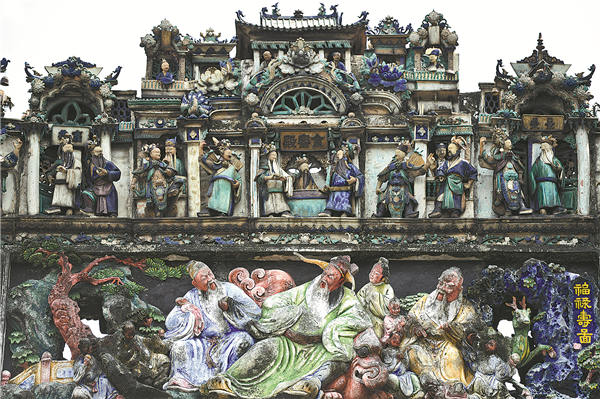 Guangzhou enjoys not only a long history and rich culture, but also modern international elements, showcasing its historical conservation and vitality to domestic and foreign tourists. Last year, the city attracted 185 million tourists earning gross income of 321.7 billion yuan ($48.64 billion).

Canton Tower

The 600-meter-tall Canton Tower, designed by Dutch architects, is the third-tallest tower in the world and the highest in China. The new television tower opened to the public in 2010 is a landmark of Guangzhou, which caters for urban sightseeing, tower climbing, culture, education, shopping and entertainment. Called "thin waist" by locals, the tower consists of two oval-shaped sections, arranged upside down. The shape looks like a girl's thin waist from a long distance. Because of the building's rotation, viewers can see the tower's different shapes from different angles. Standing at its top, visitors can overlook Baiyun Mountain, see the Pearl River and take in a panoramic view of Guangzhou's new axis.

Chen clan ancestral hall

Many historical buildings in Guangzhou have witnessed the changes to Lingnan-style architecture. The ancestral hall of the Chen clan is a representative of this change. It welcomes visitors to appreciate Lingnan and Cantonese culture. When they step into the ancestral hall, visitors will pass heavy wooden doors and be transported into the past, surrounded by brick walls, winding hallways, alleyways and vivid sculptures. Wooden sculptures are the most common decoration in the hall. In addition to the vivid sculptures of plants and wildlife, some sculptures tell the tales of historical figures.

Huacheng Square

Covering 560,000 square meters, Huacheng Square is called the reception hall of Guangzhou. It is the city's biggest public square, with 39 buildings set to surround it once completed. Among them, the Guangzhou children's palace, an opera house, a library and a museum have completed construction and opened to the public. There will be a man-made scenic lake viewing area, a large-scale fountain, a light square, and an artificial fog cooling system in the square, as well as more than 600 trees. In the north of the square, there are five flower islands. The gardens create a beautiful scenery of red flowers and green willows, which helps promote Guangzhou's name as the city of flowers.

Pearl River

A night cruise along the Pearl River is a good way to enjoy the city's picturesque night views, when all the buildings along the river are lit up. It is a name card of Guangzhou's tourism industry, where visitors can enjoy the unique charm of the city, and gain a sense of the cultural antiquities and fashion in the metropolis. From east to west, visitors can wander along the Pearl River corridor, enjoying numerous scenic spots, such as Bai'etan Street, the classical New Sidi Wharf, scenic Ersha Island, and Haixinsha Island.