Chongqing produces industrial tourism
Share - WeChat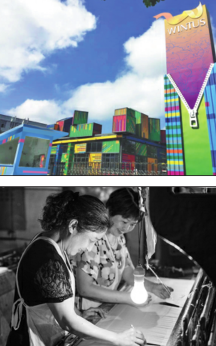 Chongqing's tourism and industrial sectors are not only growing but also increasingly fusing into industrial tourism-and producing positive results.
Hotpot-condiment producer Zhoujunji, which was founded in the early 1990s, has become a popular travel destination since it began offering tours in 2006.
Visitors explore a sightseeing corridor to witness the production process. An exhibition hall offers insight into the culture and raw ingredients used in the southwestern Chinese municipality's most celebrated specialty.
Guests can sample different ingredients and even make their own according to their tastes. They can also purchase condiments at the tour's end.
Zhoujunji receives over 400,000 visits every year, chairman Zhou Yingming says. The company's tourism generates 240 million yuan ($38.21 million) in 2017, accounting for over 10 percent of its total revenue.
Industrial tourism enhances the brand's image while promoting Chongqing's hotpot culture, Zhou adds.
Zhoujunji was named a national-level industrial-tourism facility in 2016.
Chongqing Wintus is another emerging representative of Chongqing's industrial tourism.
The company's 1,400-square-meter silk-making center popularizes silk culture, custom-made products, production, silkworm breeding and family fun.
Visitors can see how silk is produced, drink fresh mulberry tea and make their own silk products.
"Industrial tourism is an innovation and a new selling point for us," Wintus' Wang Xiaohui tells China Tourism News.
It enables tourists to understand the company's culture and production, and fosters closer relationships between consumers and the brand, Wang explains.
Chongqing has encouraged local businesses to develop industrial tourism since September 2017. It aims to enrich industrial-tourism resources and offer visitors diverse and quality travel experiences.
An increasing number of enterprises have been integrating manufacturing with tourism.
The Chongqing Industry Culture Expo Park has been built on the original site of the Chongqing Iron and Steel Group in Dadukou district.
The park features sculptures made of machinery parts, towering chimneys, mottled workshops and rusty girders. It fuses industrial history and modern art.
Jiangjin district has developed an industrial-and-red-tourism route that features two exhibitions related to historical revolutionary figures and two food-processing facilities. Each destination takes about an hour and costs around 70 yuan.
Fuling district hosts an underground nuclear-tourism project for sightseeing and education.
Indeed, it seems as if Chongqing is manufacturing an expanding industrial-tourism industry that's producing more options for more visitors.