New national parks in Tibet to benefit nature, tourism
Share - WeChat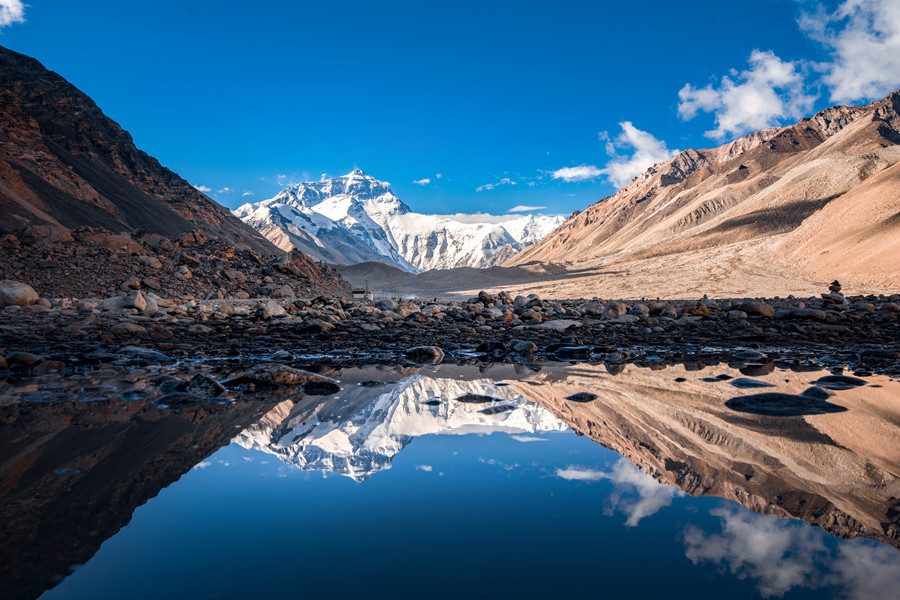 China plans to build five national parks in the Tibet autonomous region that collectively have been named after the high-altitude region's nickname: the Earth's third pole.
The Third Pole National Parks are to be part of the nation's growing effort to protect the environment while improving locals' livelihoods by boosting ecotourism on the Qinghai-Tibet Plateau.
The five locations encompass areas around Qomolangma, Bome and Medog counties, the Zanda Earth Forest in western Tibet, the Changtang Plateau and Serling Tso, which is Tibet's largest lake, according to Yao Tandong, honorary director of the Qinghai-Tibet Plateau Institute of the Chinese Academy of Sciences, who spoke with China Daily in an exclusive interview.
This year, park construction will start around the Gangdise mountain range in western Tibet, Serling Tso in southwestern Tibet and around Bome county in the southeastern Tibet city of Nyingchi, said Qi Zhala, chairman of the Tibet regional government.
In March, the National Forestry and Grassland Administration said it will prioritize the creation of pilot national park programs for Qomolangma, known as Mount Everest in the West, and for Changtang Plateau, a natural habitat for rare animals including Tibetan antelopes, wild yaks and black-necked cranes.
"The core purpose of building these national parks is to conserve and protect nature, not for tourism," Qi Zhala said. Yao added that plans for the national parks are in a preparatory phase, so most details are still in the works.
Scientists have a little more information for the national park in Serling Tso, saying it will likely cover around 38,200 square kilometers, home to 20,000 to 30,000 people, according to results from China's second scientific expedition to the Qinghai-Tibet Plateau, published last year.
The park is also expected to increase locals' earnings by four to five times, research found. "The Third Pole National Parks will have an exemplary effect on other Chinese national parks in the future, and facilitate international collaboration with parks from other countries, such as those in Nepal," Yao said.
China established the Dinghushan National Nature Reserve, the country's first natural reserve, in Guangdong province in 1956.
By the end of 2017, China had 2,750 natural reserves run by various levels of government. The number of national-level reserves increased to 474 last year, according to the National Forestry and Grassland Administration.
China began experimenting with national parks in 2014 with the launch of 10 pilot parks across the country from Qinghai to Zhejiang province.
The forestry and grassland authority defines national parks as those approved and managed by the State. Typically they are much larger than natural reserves and cover a wide range of biomes, landscapes and at times historical artifacts, like the Great Wall.
National parks are representations of a country's most iconic natural and cultural heritages, as well as habitats for wildlife species, said Zhou Zhonghe, a researcher at the Institute of Vertebrate Paleontology and Paleoanthropology.
"Tibet is often regarded as a pure land with rich natural resources and wildlife," he said. "But it also has a very fragile ecosystem. Hence it shows great foresight on the part of the government to protect and pass down its natural heritage to future generations by building these national parks."
The Qinghai-Tibet Plateau encompasses about 2.6 million square kilometers, most of which lies at an altitude of more than 4,000 meters above sea level, according to the Chinese Academy of Sciences.
Hailed as the "Roof of the World" and the "Water Tower of Asia", the plateau contains the headwaters of three major rivers: the Yangtze, the Yellow and the Lancang. For decades, visitors and scientists have flocked to the plateau for its unique wonders or to conduct research ranging from paleontology to climatology.
"The national parks must uphold the principles of preserving and protecting the original ecosystem, while also being a place for the public to learn and appreciate nature and conservation efforts," Zhou said. "They are not tourist sites, and therefore should not be tainted by shortsighted pursuit of profits and overdevelopment."
In 2017, the State Council issued a plan for China to create new national parks and put a unified management system in place by 2020. The National Park Administration was established last year to manage and protect national parks.
Park-related legislation and development plans are also in the works. Last year, the National Forestry and Grassland Administration issued a version of draft laws recommended by experts. The National People's Congress, the country's top legislature, has also been working on national park laws since last year.
Yao said the Third Pole National Parks will set aside specific areas and infrastructure where visitors can enjoy recreational and educational activities without damaging the environment.
"If people experience these natural wonders in responsible ways, it will increase their knowledge and respect for nature, and raise the public's scientific literacy and environmental awareness in the process," he said.
Local residents will be able to find work in the national parks as guides or park rangers that would pay better than traditional farming and herding, given the region's booming tourism economy, Yao said.
Last year, Tibet received a record-breaking 33.68 million visits, a year-on-year increase of 31.5 percent, according to the local tourism bureau. This brought in more than 49 billion yuan ($7.3 billion) in tourism revenue last year, a 29.2 percent year-on-year increase.
"The new national parks will benefit the environment while boosting the local ecotourism economy," Yao said. Local residents also will receive professional training if they wish to work for the parks, thus improving education and scientific literacy in the region, he added.
Still, compared with other countries with lengthy histories of national parks, like the United States, "China is still early to the game, and our scientists are learning the best practices from parks around the world," he said.
"We must take one step at a time, and not rush opening too many national parks without enough preparation and management to support them," Yao added.