Oil majors expand alliances and investments in Belt, Road economies
By Zheng Xin | China Daily | Updated: 2019-04-30 07:36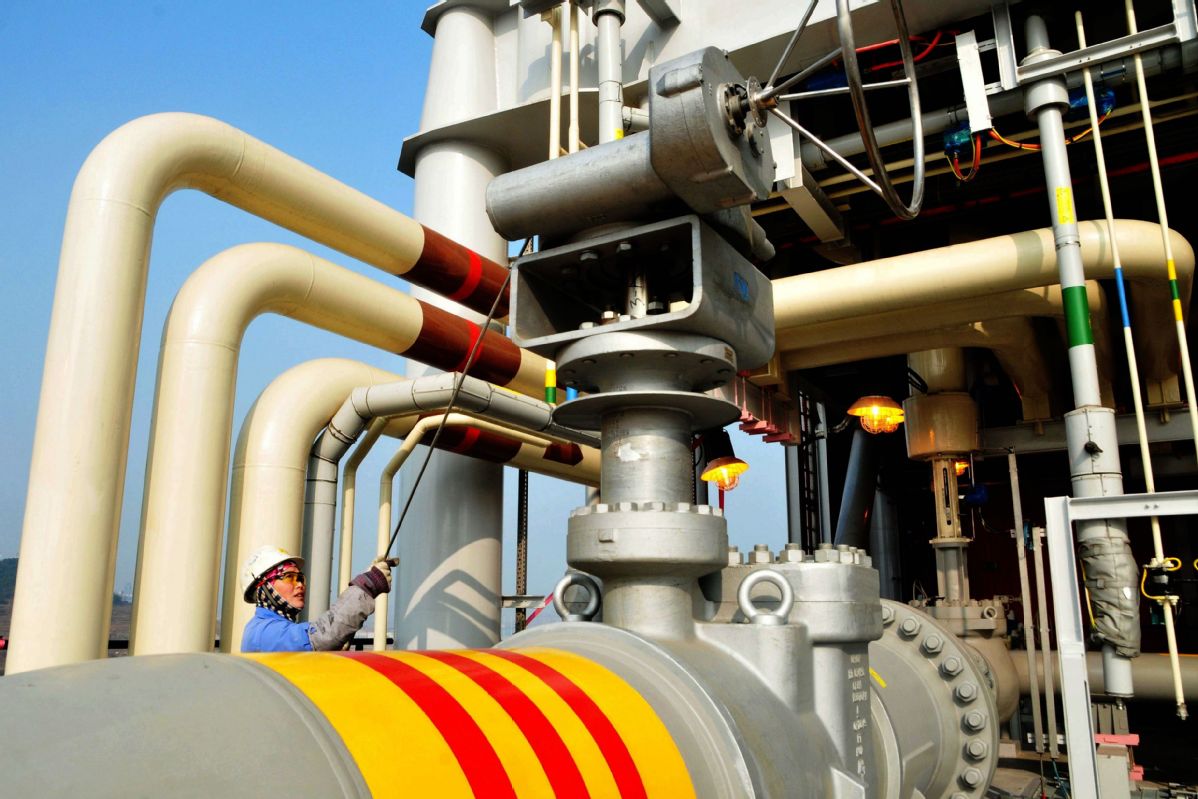 China National Petroleum Corp, the country's biggest oil and gas company, is planning to step up cooperation with countries and regions participating in the Belt and Road Initiative to further major project investments, oil and gas trade, engineering services, and new energy cooperation.
The company inked an agreement with Russia's top independent gas producer Novatek on April 25 to buy a 10 percent stake in its new liquefied natural gas project, Arctic LNG 2.
China already owns nearly a third in Novatek's first liquefaction plant, Yamal LNG, through CNPC's 20 percent and Silk Road Fund's 9.9 percent.
"China represents one of the key consumption markets for our LNG sales," Novatek's CEO Leonid Mikhelson said in a statement. "Arctic LNG 2 will be a game changer in the global gas market."
China National Offshore Oil Corp, the nation's largest producer of offshore oil and gas, has also purchased a 10 percent interest of the Arctic LNG 2 project, the second largest onshore conventional natural gas project led by Novatek.
Insiders believe that the deal is a step to continue strengthening the relationship between oil and gas major companies in Russia and China.
According to Resource and Environment Research Center of Sinolink Securities, the two Chinese companies have extended the partnership from Yamal to Arctic-2 on the back of this relationship as well as China's surging natural gas demand.
China imported 54 million metric tons per annum of LNG in 2018, which accounts for 27 percent of China's total gas consumption. Official sales and purchase agreement haven't been signed yet, but based on the Yamal case that PetroChina signed 3 million tons per annum out of the 16.5 million tons per annum capacity, the center believes PetroChina and CNOOC combined may again purchase at least 3 million tons per annum from Arctic-2 when the project starts production.
Australia and Qatar will still be China's largest LNG suppliers based on the current contracts, while Russia's market share in the China's gas market will be increasing considering the upcoming Russia-China East gas pipeline, it said.
According to Wang Yilin, chairman of China National Petroleum Corp, previous cooperation in the LNG project between CNPC and the Russian company has laid a solid foundation for future cooperation.
The deal is a major milestone for pushing forward the LNG 2 project, as well as the continuation of cooperation between CNPC and the Russian company, he said.
He added that the east line of the China-Russia natural gas pipeline will go into operation by this year, while the company is also actively pushing forward the modernization restructure of the Shymkent Refinery in Kazakhstan, as part of its efforts to push forward cooperation in fields of energy with countries and regions participating in the initiative.
Zhang Jianhua, head of China's National Energy Administration, said cooperation in fields of energy has been deepening in the past six years, with Chinese oil and gas companies pushing forward investment, trade, engineering services and capacity cooperation.
Cooperation in the energy field has achieved fruitful results during the past six years since the initiative was first proposed, with a large number of landmark energy projects successfully implemented, including the Yamal LNG project and the China-Kazakhstan natural gas pipeline project, he said during the second Belt and Road Roundtable for Oil and Gas Cooperation held in Beijing on Sunday.
All these energy projects have achieved good economic and social benefits to people in all countries and regions involved, said Zhang.