US pondering how to restore peace
Share - WeChat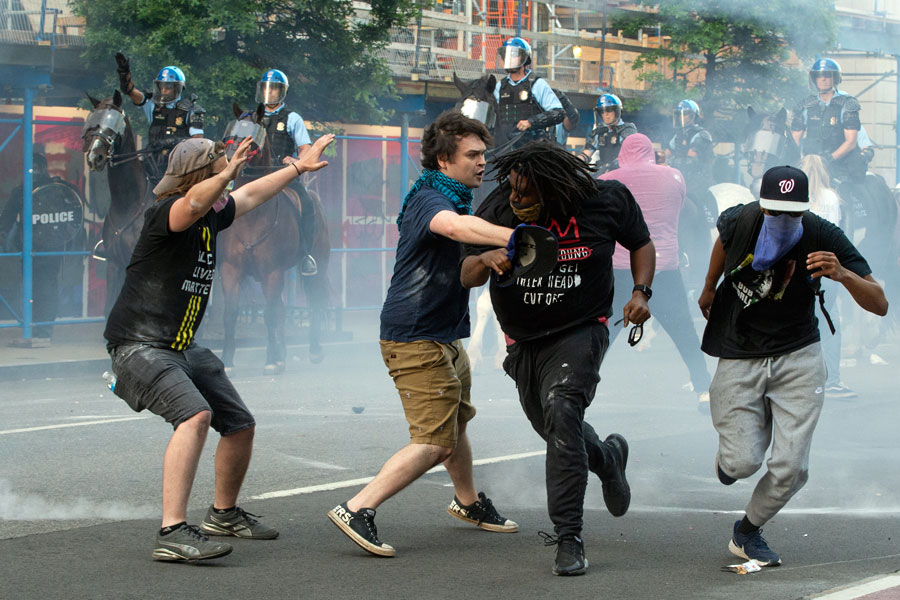 Trump says governors should 'dominate' streets amid protests
At 6:44 on Monday evening, about a quarter-hour before a curfew took effect in Washington, DC, two open-air events were being held simultaneously several hundred meters apart.
Speaking from the White House Rose Garden, United States President Donald Trump said the looting and violent protests following the death of George Floyd on May 25 were "acts of domestic terror". The unarmed Minneapolis black man died after a white policeman knelt on his neck for 8 minutes and 46 seconds, though Floyd cried out that he couldn't breathe before he stopped moving.
Meanwhile, to prepare for the president's speech and one of his evening events, police under federal command were firing tear gas to disperse hundreds of peaceful protesters who had gathered in Lafayette Park directly north of the White House as protesters shouted "Hands up! Don't shoot!" and "Black lives matter". The sound of tear gas canisters exploding could be heard as Trump was speaking.
The scenes lay bare how the specter of racism, heightened by incidents of police brutality, is roiling the country, with a president intent on quickly solving a problem by bellicose rhetoric and aggressive actions, an approach that seems only to have added fuel to the fire.
Seven straight days of demonstrations, which in many cases escalated into looting, arson and vandalism, have swept the country since a video went viral of Floyd being held to the ground by a police officer kneeling on his neck on May 25.
Trump said he would mobilize "all available federal resources, civilian and military" to quell the protests, declaring himself the "president of law and order". Earlier in the day, during a teleconference, he told governors that "most of you are weak "and he urged governors nationwide to "dominate" the streets.
The Pentagon on Monday ordered an active-duty battalion of military police soldiers from Fort Bragg, North Carolina, to deploy to the Washington, DC, area as the city braces for more violent demonstrations.
At least 26 states and the District of Columbia had activated 17,000 National Guard troops to assist local authorities in curbing civil unrest by Monday. More than 40 cities issued curfews, according to US media reports.
Many quarters of the nation's capital, which had just started to ease its "stay-at-home" restrictions on Friday, seemed to have been plunged into another "lockdown" on Monday.