Liu warns Team China to guard against complacency
Share - WeChat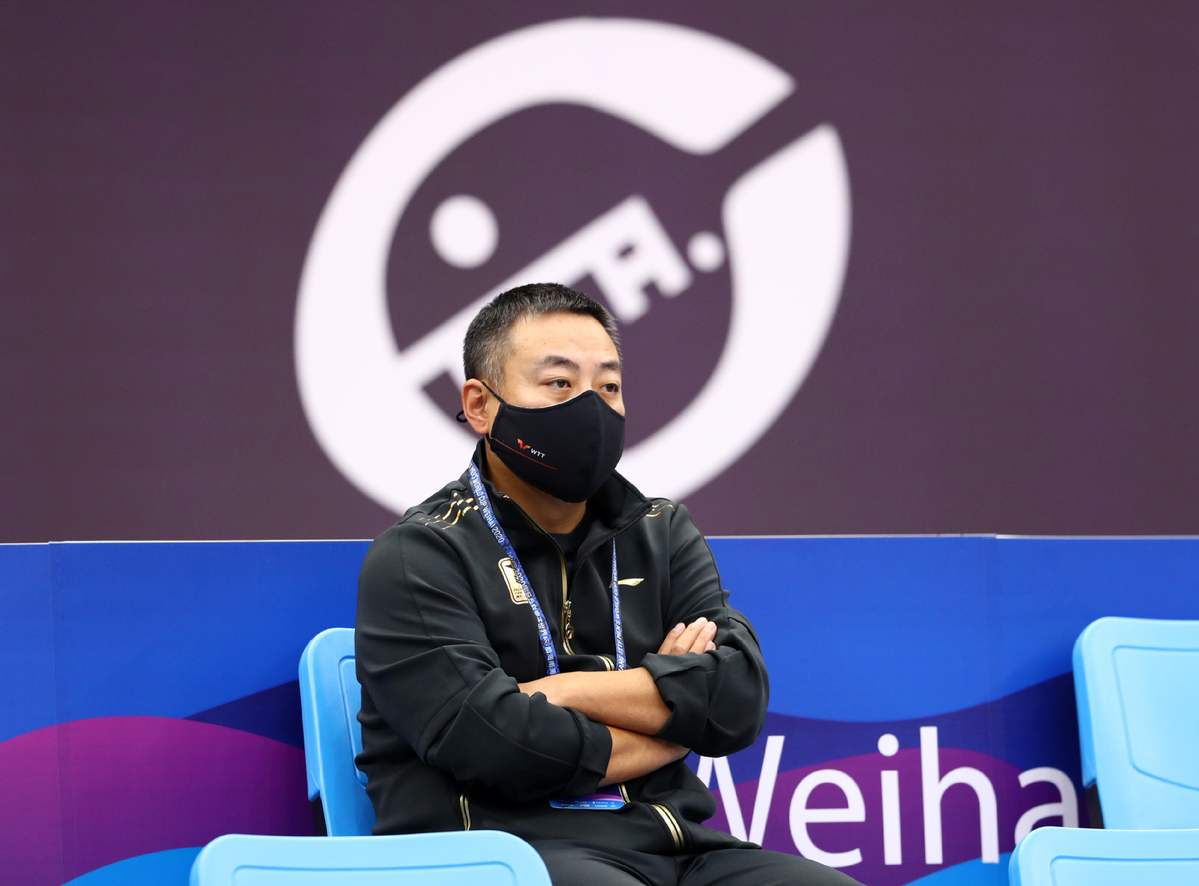 Despite Team China's domination at the recent ITTF World Cup, Chinese Table Tennis Association president Liu Guoliang believes the national squad still has plenty of room for improvement.
"We had the best results in the men's and women's tournaments, but looking back over the whole process, there are many things to improve," Liu, a legendary former Team China player and coach, told Xinhua after the action concluded in Weihai, Shandong province.
"For the past eight months, there were no international competitions due to the COVID-19 pandemic, so we were all looking forward to the World Cup. We hoped to test ourselves to see if we managed to maintain peak condition after the long hiatus. And we also wanted to observe our rivals."
China's world No 1 Chen Meng claimed her maiden title in the women's event ahead of second-placed compatriot Sun Yingsha. In the men's tournament, China's Fan Zhendong topped the podium for the host to win a historic third straight title after beating teammate Ma Long 4-3 in the final.
"Chen Meng gained confidence, while Sun Yingsha was able to defeat Japanese ace Mima Ito. That is very important for both of our best female players, who were participating in the World Cup for the first time," said Liu.
"Meanwhile, Fan Zhendong maintained a good condition throughout the World Cup. He has improved greatly in the second half of this year, which shows that he had the right direction in training and a good attitude during the pandemic. It's clear he's stronger now than before. Beating Ma Long was also a confidence-booster for him."
Liu hailed Ma's victory over 17-year-old Japanese prodigy Tomokazu Harimoto en route to the final in Weihai as a "textbook performance", praising the 32-year-old for drawing on all his experience to see off the teenager.
"Harimoto has made huge improvements to his game in the last two years. I lost to him last year in the World Cup. Even at 1-3 down I did not give up and my coach kept encouraging me and giving me tips," said Ma.
Part of Japan's new breed of lightning-quick counter-attacking paddlers, Ito and Harimoto have given Team China plenty to think about as the Olympics approach. Liu reckons the emergence of new talents across the globe bodes well for the sport's future.
"I can feel the overall strength of Tomokazu Harimoto is growing, and he's more mature than before... It's great to have a talented and strong opponent like him," said Liu.
"China also has a younger generation of players coming through. All the young paddlers now play in a super aggressive way, and this is the future trend of the sport. International table tennis will be more exciting if they face each other more often.
"Mima Ito has maintained her innovative style. She's very close to our elite players, so such rivalries will stimulate all Chinese players, especially the younger generation. I hope more of our players can face her and we can learn from each other."
The World Cup was considered a perfect opportunity for elite paddlers to test their skills against each other after the long pandemic-enforced hiatus. Players from different countries and regions even trained together at the tournament, in scenes Liu said summed up the essence of the global table tennis community.
Staging the World Cup was only possible thanks to China's success in its fight against the coronavirus, with local organizers in Weihai adopting strict health and safety measures. All foreign players had to pass COVID-19 tests before leaving for and upon arrival in China, and were also required to complete a 14-day quarantine before the tournament started. During the action, players could only travel between the arena and a designated hotel under closed-loop management.
"I would like to thank the local organizing committee and the International Table Tennis Federation, who, under such difficult circumstances, managed to pull off this huge event. I would also like to thank my team," said world No 1 Fan.
"Despite the pandemic, we could continue to train at a very high level. After eight months without international events, I didn't feel very rusty or unable to do what I set out to."