Xiong'an, China's shining city, emerges
By Mei Jia | China Daily | Updated: 2020-11-30 07:02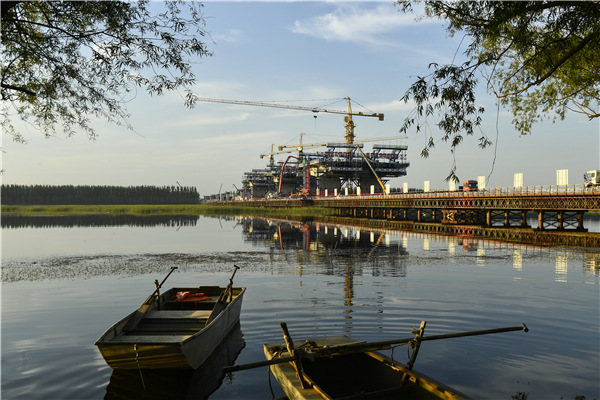 The vision for the country's showpiece is quiet efficiency-a place that's green, clean, convenient and tailored for the human dimension-as Mei Jia reports.
In Xiong'an New Area in Hebei province, one can feel the future. The city is emerging gradually, becoming visible to the eye, piece by piece, block by block.
In larger cities, the ability to send a child to school in five minutes, get to a hospitals from home in 10 minutes or reach places that provide daily necessities in 15 minutes, would feel like a dream.
But Xiong'an offers more. On its roads, there will be no manhole covers, no electrical wires overhead. All these are to be underground, out of sight.
Underground tunnels will also accommodate freight trucks without drivers. Powered by new energy, heavy carriers of goods and materials will be guided by advanced AI technology from station to station-all out of sight, returning the streets to pedestrians and their clean, quiet vehicles.
Above ground, most buildings will be no higher than 45 meters.
In Xiong'an, things are designed to be resident-oriented, with concepts of green living and green development implanted in its people and supported everywhere by cutting-edge, smart-city technology.
Seventy percent of the city will be covered by the so-called Blue and Green Areas-the respective zones for water and plants. Baiyangdian Lake, an important geographic feature, will nurture the new area's ecosystem, with a water surface of 270 square kilometers by 2019, and a plan for enlargement to 360 square km.
No wonder Bian Jianguo, director of the Xiong'an publicity center, says: "Here in Xiong'an, people will never be awakened by the alarm clocks, but by the birds chirping outside their windows."
Bian says before any actual construction begins, the ecosystem is considered, followed by planting and then by flood prevention and control.
The year set for the realization of the ambitious dream: 2035.