Measures needed to clear bottlenecks for development of vocational education
Share - WeChat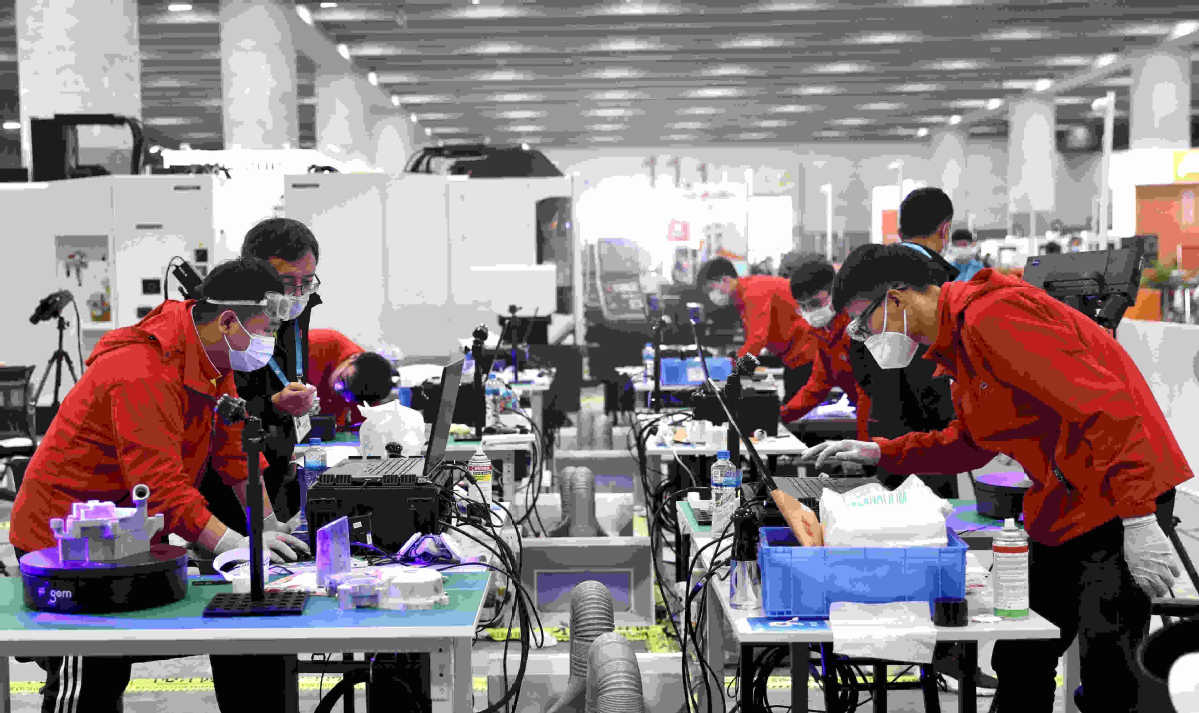 Editor's Note: The Chinese people have always attached special importance to education. In the 20th century, China has gone through a long, arduous journey from one-teacher schools to world-class universities and achieved excellence in different fields including science and technology. What will China's education journey be like during the rest of the 21st century? In the 10th of a series of commentaries, a senior journalist with China Daily searches for the answers:
Despite the government's best efforts, the vocational education sector has not developed to the desired extent. There are roughly 12,000 vocational education institutes in China which contribute about 10 million skilled workers to the job market every year. The current number of students in such institutes is about 26 million, among which nearly half are receiving three-year higher vocational education in colleges while the rest are in middle-level vocational training schools.
Vocational education was introduced in China at the end of the Qing Dynasty (1644-1911) when a few schools were established to train workers to operate machines imported from Western countries. After launching reform and opening-up more than four decades ago, the government introduced more such vocational training programs. I still remember my wife, who specializes in comparative education studies, busy translating vocational education materials from German to Chinese in the 1980s to help the authorities make the right decisions.
The Law on Vocational Education implemented in 1996 gave a big boost to vocational education as it described vocational education as a vital part of China's education system, a key promoter of social and economic development and an important provider of skilled workers. It also required governments at different levels to increase investment to ensure the healthy development of vocational education.
With vocational education's importance becoming even more important, the government realized the need to revise the law and accordingly published a draft revision law last year to solicit public opinions. Yet, for all the government's efforts and support, the development of vocational education has not been satisfactory. And without effective measures-such as quickly passing the revised law-the development trajectory of vocational education could slide further.
The problem is that neither local governments nor the people pay much attention to vocational education. Though the law requires local governments to substantially increase investment in the sector, surveys show more than 30 percent of the institutes say they don't have enough funds to keep their schools open, let alone spending money on improving facilities and recruiting more qualified teachers. In fact, many such institutes have been forced to shut down.
Unlike in many other countries where funds for vocational education mostly come from the government and donations from enterprises, in China, the major part of the funds comes from tuition. And since most of the middle-level vocational school students come from poor rural areas, high tuition is a heavy burden on their families. As a result, many youths who would otherwise have sought admission to such schools head to the labor market after completing their nine-year compulsory education-and since they lack skills, they find it difficult to get a decent job, with some joining the rank of the unemployed.
The lack of public awareness about the importance of vocational education, too, is responsible for the sector's poor development. The news media, including the mainstream ones, focus on compulsory and higher education and rarely talk about vocational education.
Shortage of funds has forced many vocational schools to compromise on their teaching and training quality. Many schools don't have necessary equipment to provide proper training for students; and underpaid teachers are forced to take classes in two or more such schools to make a decent living. To make things worse, vocational school graduates are often not competitive enough in the job market, further convincing parents against sending their children to such schools.
During the 14th Five-Year Plan (2021-25) period, reports say, the government will take measures to boost the development of vocational education. The government, in fact, has announced that provisions will be made to admit up to 2 million students to vocational institutes every year. To ensure that, the central government has allocated billions of yuan.
Hopefully, the central and local governments will allocate more funds for the middle-level vocational schools so they can pay decent salary to teachers and upgrade their facilities while providing students with better vocational education-because the healthy development of vocational education is critical to the sustainable development of China's economy.
The author is former deputy editor-in-chief of China Daily.
Most Viewed in 24 Hours
China Views