Kites by Yang family help industry, nation soar
Share - WeChat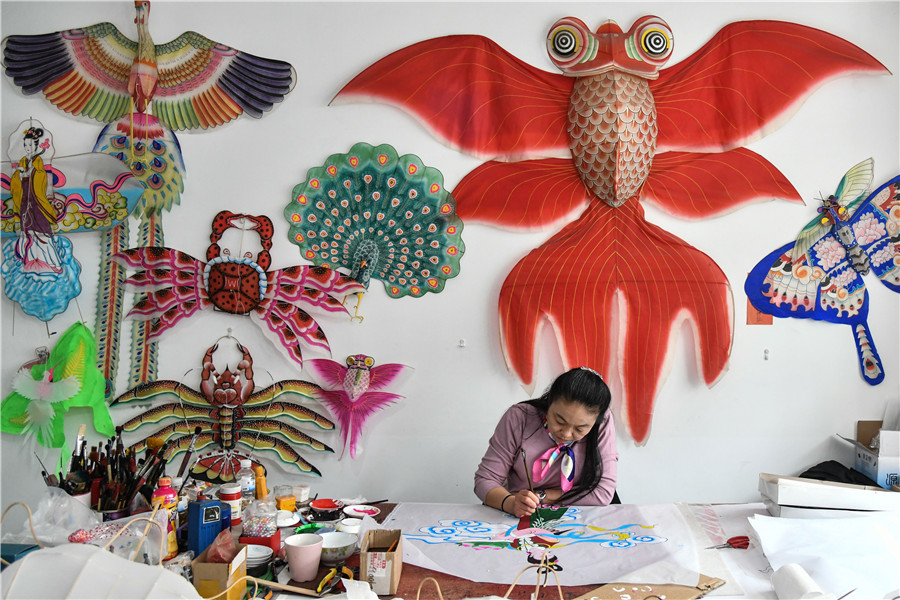 Yang Hongwei, inheritor of the intangible cultural heritage of East China's Shandong province, has been learning how to make kites from her grandfather Yang Tongke since 1982.
She had been making and flying kites in Beijing and Shenzhen, before returning home to Yangjiabu village, or Yang family village, in Weifang city, where she began focusing on the craft in 1992.
She developed the innovative approach of combining Chinese New Year paintings with kite making. The kites she creates are beautiful and also fly very well.
Known as one of China's four largest kite-producing areas, Weifang of Shandong has over 300 kite-making companies with an annual output of nearly 2 billion yuan ($308.50 million).
The domestic and international market shares of Weifang's kites are 85 percent and 75 percent, respectively, and the products are exported to over 40 countries and regions, including Europe, the United States and Southeast Asia.
Yang Hongwei has also been invited to tell Chinese stories about kites and the traditional ways of making kites in different countries including Germany, Australia, the US and New Zealand.
Promoting China's kite-making traditions has not only increased our income but also made us more confident in our national culture and that is a new benefit we have received, Yang said.