10 beautiful dawn redwood forests in China
Share - WeChat Editor's note: There were six or seven kinds of dawn redwoods during the Cretaceous Period and the Neozoic Era. It was believed that they were extinct until Chinese botanical experts found specimens of the rare world-renowned tree in Central China's Hubei province in 1941. In today's China dawn redwoods grow in areas to the south of Beijing. Thanks to its soft texture, the dawn redwood can be used for construction, panel veneer, paper making, and so on. The best time to appreciate its beauty is from the end of November to the beginning of December.
The dawn redwood is a fast-growing tree that loves sunshine. It is very adaptable to various environments and can grow in both soil and shallow water. It can also grow in temperatures between minus 34 C and 47 C. It usually grows on hillsides and in rivers and valleys with a mild climate and sufficient water.
1 Xuedou Mountain, Zhejiang province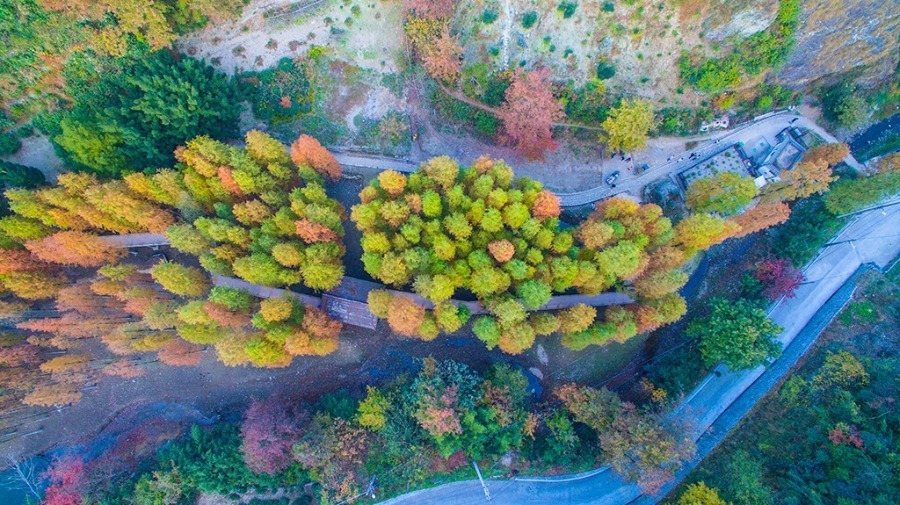 Location: Zhibukeng village, Jidong town, Zhejiang province
General admission: Free
Best viewing period: Autumn to early winter
With a history of hundreds of years, the tranquil ancient road on Xuedou Mountain in Shaoxing city, East China's Zhejiang province boasts fresh air and beautiful scenery of mountains, rocks, waterfalls, and sluiceways. In the autumn, the waterfalls, dawn redwood trees, ancient road, and wildflowers form an enchanting fairy-tale landscape.
The Xuedou Mountain will make your trip worthwhile. The steep slopes of the mountain create powerful flowing waterfalls. The stream resonates with the mountain, and the nearby lakes are as green as emeralds. The pure beauty there is the mountain's gift to you, to be enjoyed as you wander its ancient roads.