Consumption upgrade bringing new boon to top-end rice producers
By ZHENG YIRAN | China Daily | Updated: 2021-04-28 09:27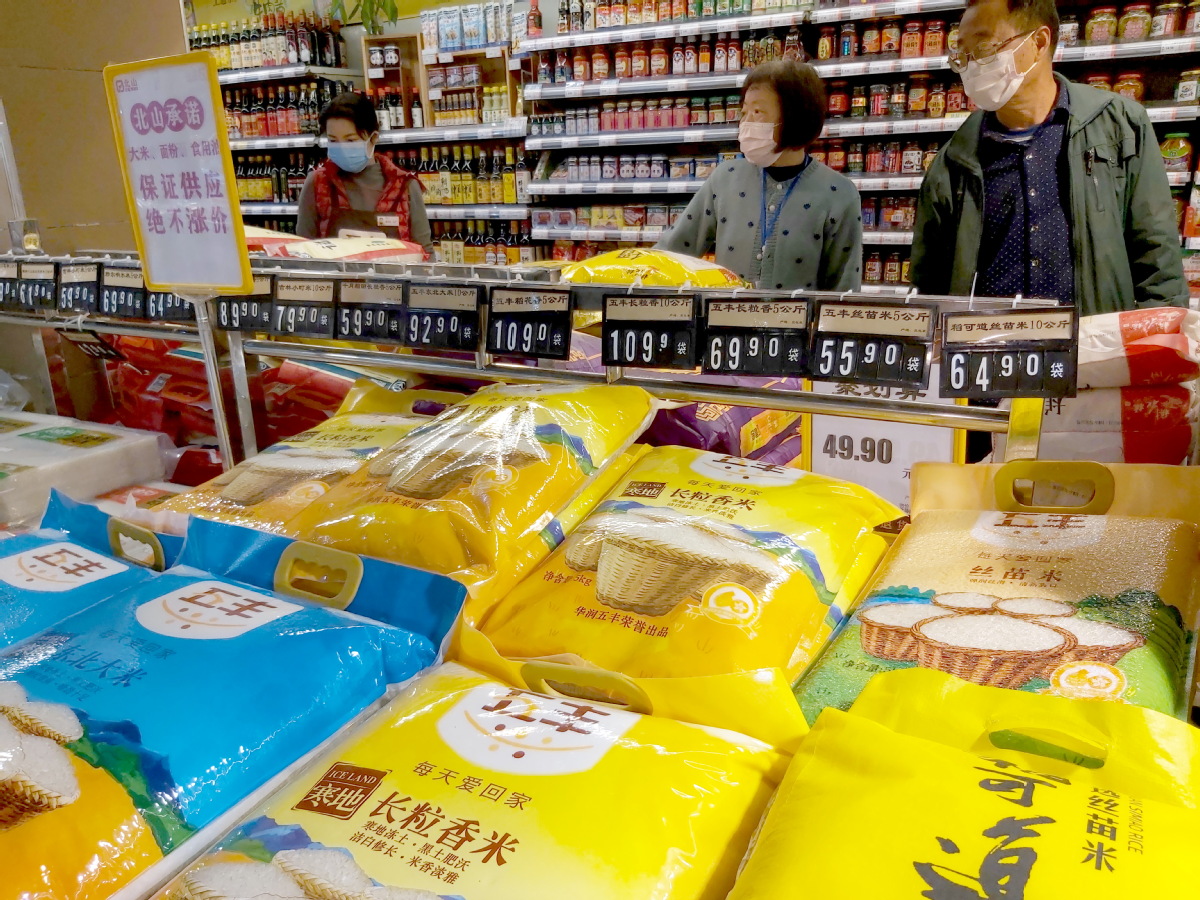 On Friday nights, Gu Mingming, a 30-year-old network engineer in Shanghai, typically takes out a bottle of uncooked rice, pours the rice into a rice cooker, then measures the amount of water needed to cook the rice using the now empty rice bottle.
About an hour later, a pot of freshly cooked rice is ready for Gu and his friends to enjoy.
"The price of the bottled rice is a lot higher than that of bulk packaged rice. However, for me, the design of the bottle that allows the perfect ratio of rice and water is worth the price. The perfectly-proportioned rice serves two to three people. Now, cooking rice is a pleasant experience," Gu said.
Gu's rice cooking method offers a glimpse of China's current tendency for high-end rice consumption. Sinolink Securities estimated that by 2023, China's high-end rice consumption market will reach 60 billion yuan ($9.2 billion).Between 2013 and 2017, the market surged from 12.3 billion yuan to 24.6 billion yuan, with a compound annual growth rate of 18 percent.
"With people's rising living standards, China's rice market has been experiencing a consumption upgrade in recent years. Consumers are paying more attention to healthy eating, place of origin, strains and processing methods. This has left great development potential for the high-end rice consumption market," said a report from 36Kr, a Chinese tech media site.
"From the 4 yuan per kilogram of rice bought in bulk, to the 30 yuan per bottle (600 gram) ones, Chinese consumers no longer simply care about price," the report said.
36Kr said the freshness of rice is one of modern consumers' top priorities. Data from Alibaba's Tmall showed that "new rice reaped within past year" and "new rice harvested within three months" are among the top rice-related search queries on the platform.
"Enterprises work with local rice suppliers and take advantage of the combination of offline stores and online digital logistics networks to deliver fresh rice to consumers within shorter time frames. This explains why enterprises that supply rice direct from origin are popular among consumers," said the report.
Meanwhile, China's high-end rice market has created many subcategories, satisfying specific demands from various consumer groups. For example, germinated rice and freshly ground rice target babies and the new mother market, while wash-free rice and rice in small packages are mainly designed for singles.
Furthermore, the report showed that functional rice varieties such as blackberry rice rich in anthocyanin, low-glycemic-index rice for diabetics and low-protein rice for those with kidney ailments are inevitable trends.
Wang Chikun, an independent economist, said: "China's consumption market has completed the transformation to inventory competition, as commodity shortages evolved to a commodity surplus status. Currently, the country's rice consumption market is highly developed, and enterprises compete in the high-end rice consumption sector for new growth points."
Improved agricultural technologies have helped boost yields.
Wang said that under the conditions of fierce industry competition, rice enterprises have acknowledged that merely focusing on operations cannot drive the growth of core business. Instead, they have begun to compete on strategic business levels such as upgrading products, launching diversified goods and conducting mergers and acquisitions.
To better tap into the sector, industry experts suggested that enterprises should pay attention to rice from all aspects.
"Packaging is critical, as it is the first thing consumers experience and helps differentiate high-quality products from ordinary ones. Additionally, enterprises may offer both bulk packaging and small packaging to satisfy needs of families and singles," said Zhang Zheng, a packaging expert.
"In terms of the product itself, enterprises should make efforts to raise the product value. Specifically, they may focus on the place of origin, culture, manufacturing standards, processing technology, safety and nutrition.
"Lastly, distribution channels are important. Enterprises should find high-end distribution channels to sell high-end rice, such as franchise stores, airports and five-star hotels. They should not sell the product randomly without first conducting due diligence," he said.