India desperate for oxygen amid record COVID surge
By APARAJIT CHAKRABORTY in New Delhi, ARUNAVA DAS in Kolkata and XU WEIWEI in Hong Kong | China Daily | Updated: 2021-04-29 07:45





Share - WeChat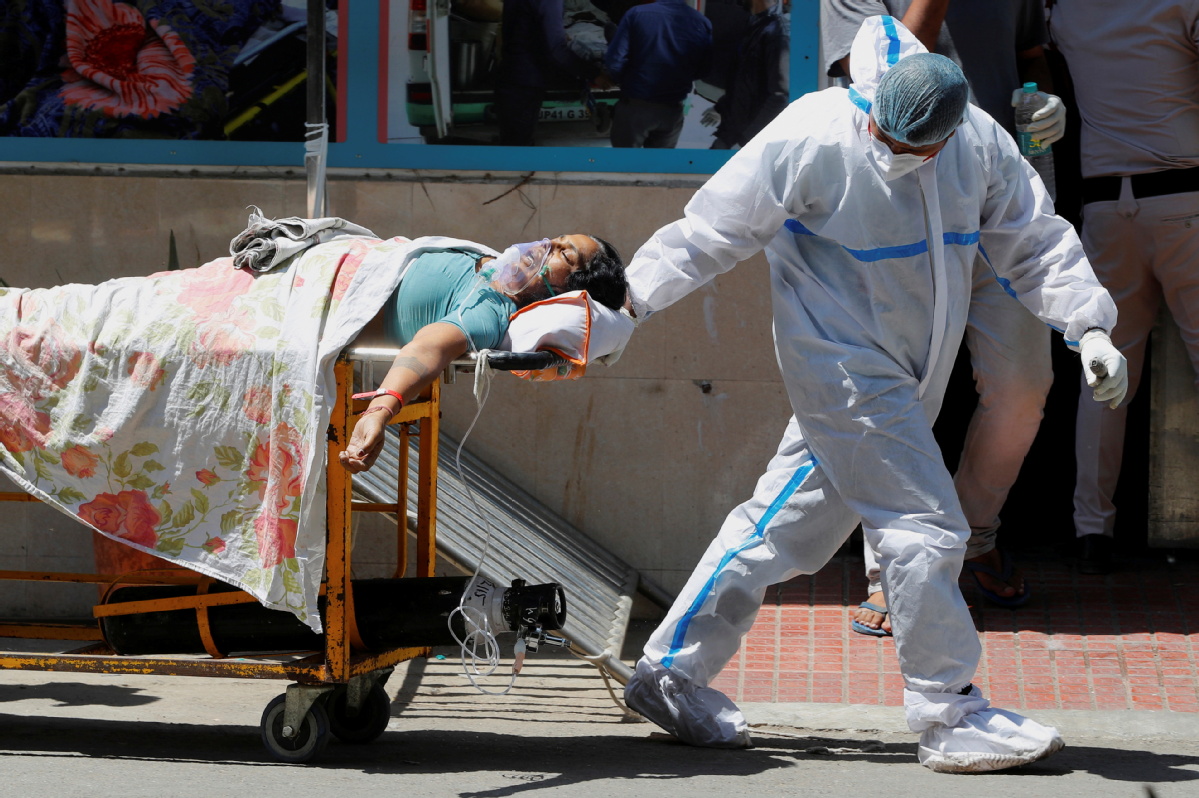 Long lines form at hospitals, but supplies quickly run out
India is clamoring for oxygen, with the number of COVID-19 cases in the country rising to record levels.
Patients at crowded hospitals are waiting for fresh supplies, their anxious relatives forming long lines in areas where oxygen is provided and at makeshift vehicles supplying it.
Suresh Kumar, director of Lok Nayak Jai Prakash Narayan Hospital in New Delhi, said on Sunday: "The number of people in the lines started to drop when we were down to the last few minutes of our supplies. A tanker carrying oxygen reached us five minutes ago, but it only has two tons of supplies, which will last us another two hours."
Several major hospitals in the Indian capital tweeted that they had less than two hours of oxygen left, while others in the city reported that they were suspending new admissions.
A senior doctor at Fortis, a major healthcare provider in India, said, "We are running on backup supplies, waiting for new ones to arrive."
Oxygen machines from China are on their way to India, while those that have already arrived are being prepared for immediate use. Medical supplies flown in from countries such as Singapore, Saudi Arabia and the United Arab Emirates, among others, have been sent to emergency units.
Each day has brought new heartbreak and an increased sense of helplessness in India.
Instead of the number of COVID-19 cases falling, the country has been setting records for newly confirmed infections and deaths since April 22,when 314,835 cases were reported in a 24-hour period, the highest single-day national figure globally since the pandemic emerged last year.
On Wednesday, India's coronavirus death toll passed 200,000 as a relentless wave of new cases swamped hospitals.
India, with a population of 1.39 billion, recorded 360,000 new infections-a global record-and more than 3,000 deaths on Wednesday.
World Health Organization chief Tedros Adhanom Ghebreyesus said on Monday, "The situation in India is beyond heartbreaking."
Earlier, he told a virtual briefing in the Swiss city of Geneva, "The situation in India is a devastating reminder of what the virus can do."
However, the worst may be yet to come.
Karori Singh, Emeritus Fellow and former director of the South Asia Studies Centre at the University of Rajasthan, said cases may continue to rise for the next two weeks, even though adequate preventive measures have been taken and medical services revamped.
Bhramar Mukherjee, an epidemiologist and biostatistician at Michigan University in the United States, said that when cases peak in mid-May, India would see 800,000 to 1 million infections per day and deaths would peak at the end of next month, at 4,500 per day.
Several experts and organizations have made similar predictions for India's accelerating second wave of COVID-19 cases and deaths.
The Institute for Health Metrics and Evaluation in Seattle, US, pointed out in statistical reports that the number of cases and deaths in India would peak in mid-May, before falling sharply.
Unlike the wave of infections last year, which mostly hit poor people reluctant to visit clinics, the new wave has affected the middle class, who are quickly exhausting hospital resources.
Long lines of patients and relatives have formed outside hospitals in cities such as New Delhi, Kolkata and Mumbai. Major healthcare facilities in many parts of the country have been battling acute shortages of oxygen for more than a week.