Hong Kong youngsters mark Youth Day
Share - WeChat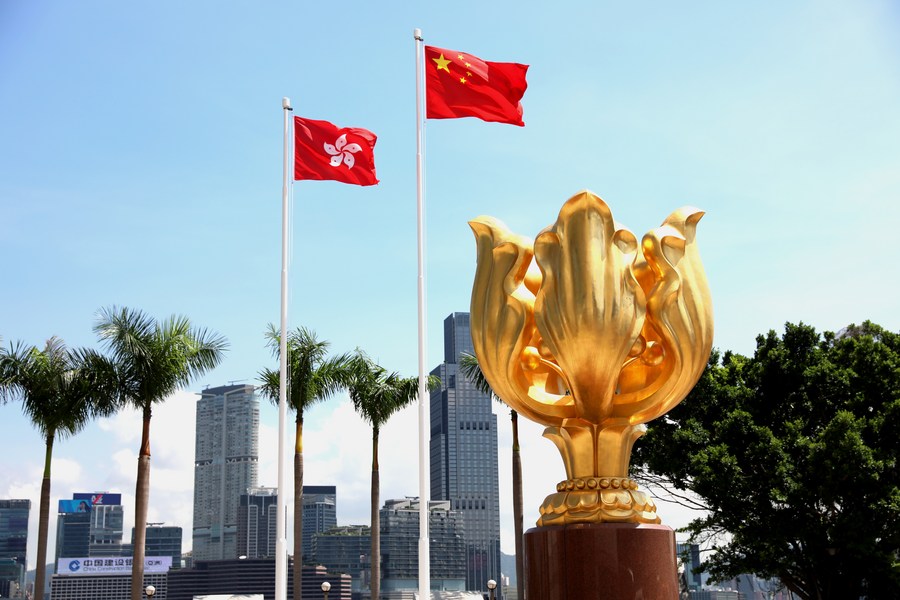 Hong Kong youth on Sunday participated in various events and activities-including a memorial ceremony for patriotic martyrs and community service-to celebrate the upcoming National Youth Day on May 4.
As part of the celebration, a group of youngsters paid tribute to the Cenotaph for Martyrs Against Japanese Militarism at Wu Kau Tang in the northern New Territories. The monument commemorates guerillas and villagers who died defending Hong Kong against Japanese invaders from 1941 to 1945.
In holding the event, Sharon Sun, executive chairwoman of the Hunan Youth Association of Hong Kong, said she hoped that it would help more youngsters gain a deeper understanding of the country's history.
Doing so would help them gain a better understanding of the city and the world, as well as Hong Kong's responsibilities as part of China, she said.
National Youth Day, which honors the patriotic youth movement that began 102 years ago, can be a teaching tool, showing today's generation that the city had not been spared while the country was suffering from aggression, Sun said.
"At the ceremony, we convey to the martyrs the achievements of Hong Kong and our country today, as well as our aspiration in carrying on their patriotism and fortitude," she said.
Young people should make positive contributions to the city's development as they will have more opportunities to share their opinions and be involved in decision-making under the improved electoral system, she noted.
Another group of young people from the technology and innovation sector volunteered to check and repair computers and other electronic devices for residents at three street booths in Shau Kei Wan on Hong Kong Island, Kwun Tong in Kowloon and Sha Tin in the New Territories as part of the Youth Day celebrations. They also briefed the public on information security.
Tong Kwan-ho, president of the Youth I.T. Network who was one of the volunteers, called on more young people in Hong Kong to use their professional skills to make technology more convenient and accessible to their neighbors.
The National Youth Day events are helping persuade Hong Kong's young people to devote expertise to the development of not only the city but of the country as well, said Hendrick Sin, president of the Hong Kong Internet Professional Association.