Festival: May Day celebration with live music
Share - WeChat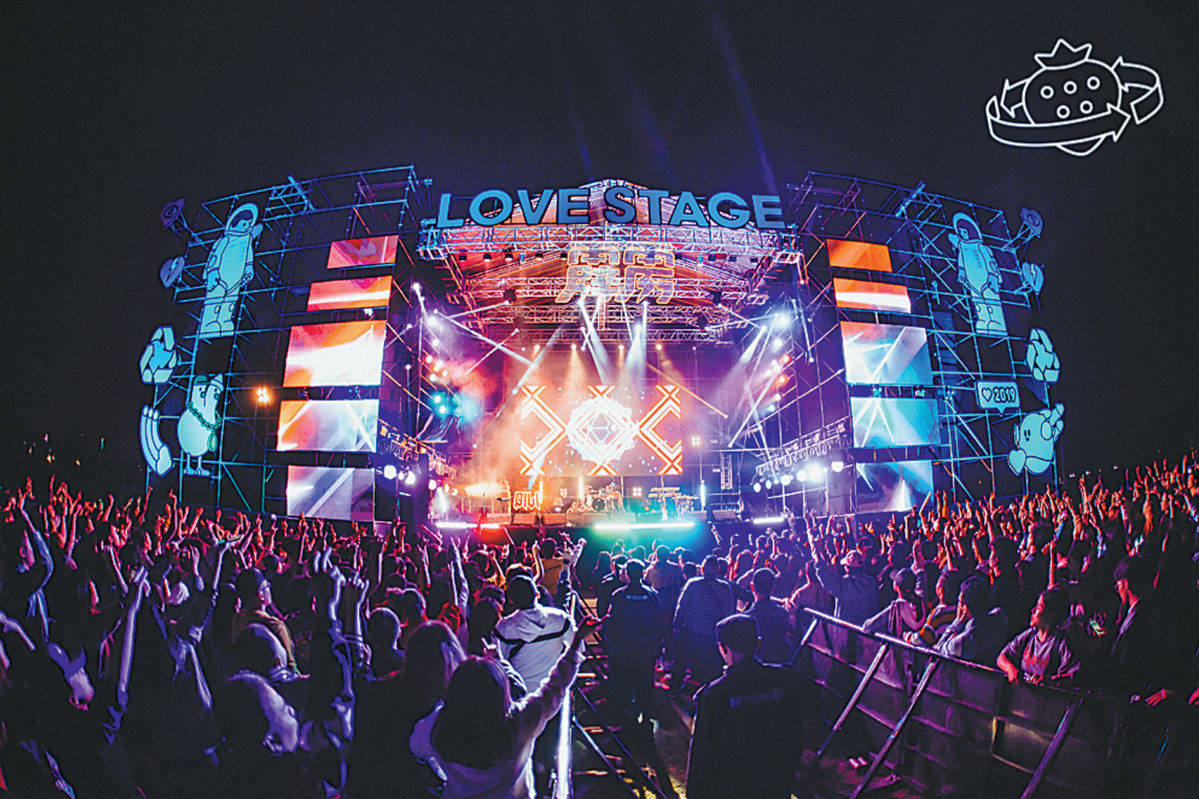 After the hiatus caused by the pandemic rock groups are again taking to the stage in front of appreciative audiences
Chinese indie rock band Miserable Faith gave an online concert on May 15, 2020. In itself, not that unusual. After all that is what rock bands do, right? Except this was their first show since the COVID-19 pandemic hit and the location was something special. It had been kept a secret until leading vocalist Gao Hu revealed it that night.
"The Yangtze River is right behind us. We are performing in Wuhan," Gao said to about 400,000 people who watched the online concert. Wuhan, the capital city of Hubei province, was the hardest stricken city when the pandemic hit.
"It was a very emotional moment for all of us. Though we didn't know when live music could come back to normal at that time, we were still full of hope and excitement about giving the virtual concert," recalled Gao.
As people embrace the return of their usual daily life and the trappings of normality, restaurants, shopping malls, transportation, delivery services and theaters, thanks to the government quickly bringing the pandemic under control, Gao, along with his band members-guitarist Song Jie, bassist Zhang Jing and drummer Chi Gongwei-are on the road again touring 24 cities. They returned to Wuhan on May 1 to perform during the Strawberry Music Festival.
"With my eyes closed, I love listening to the sounds of audiences at an outdoor music festival," says Gao. "The air, the wind, the noise of the crowds and the music, everything makes the moment of attending an outdoor music festival meaningful. It's about people getting together and sharing great music. I am so happy and grateful that we have made it happen again."
As one of the largest outdoor music festivals in the country, the Strawberry Music Festival, launched by Chinese recording company Modern Sky in 2010, has returned during the May Day holiday. It covers four cities: Wuhan, Beijing, Shanghai and Nanjing of Jiangsu province.
From May 2 to 4, Strawberry Music Festival is being held at Beijing Expo Park, which has 51 groups of bands and musicians perform at three stages. Pu Shu, Escape Plan, Miserable Faith and Queen Sea Big Shark, some of the bestselling rock bands and singer-songwriters are featured in the festival.
On May 1 and 2, 34 Chinese rock bands and indie musicians, headlined by Miserable Faith, Big Wave, Dada and Chen Li, performed during the Strawberry Music Festival in Wuhan Garden Expo Park. On May 3 and 4, the music festival is being held in Nanjing's Fangshan Music Valley, featuring similar lineups. On May 1 and 2, Strawberry Seeds Music Festival, another outdoor music festival brand by Modern Sky, which appeals to families, especially child audiences, was held at Agile Clearwater Bay, a beach resort in Hainan. From May 1 to 3, more than 50 bands perform during the festival in Shanghai's Oriental Land.
"It's been a long time since Strawberry Music Festival comes to Beijing and though it's a two-hour drive from downtown capital, I will go with my friends," says a fan leaving a message on Modern Sky's social media platform after the company announced the lineups of the Strawberry Music Festival in Beijing on April 19. "I cannot wait to dance to the music and spend a great day with my friends."
Last year, when COVID-19 hit, Modern Sky had to cancel all of its performances in the first half of 2020, including 50 outdoor music festivals. Modern Sky then launched online programs, either singer-songwriters performing from their bedrooms or bands playing acoustic versions of their hits, to keep in touch with their fans. From February to May, 2020, more than 30 online shows were held, which gathered 270 musicians and bands and attracted in excess of 42 million people, according to Shen Lihui, founder of Modern Sky.
The former rock singer-songwriter of Chinese rock band, Sober, Shen founded the music company in 1997, hoping to use it as a way to distribute the music of his friends and his own band. More than two decades later, the company has expanded into an international label with hundreds of staff members, and is home to over 300 artists and bands. It has offices in New York, London and Berlin, besides its headquarters in Beijing.
The Strawberry Music Festival has been held in 29 Chinese cities, and attracted more than 6 million people. Most, 86 percent, of them are people born after 1990.
Modern Sky held nine outdoor music festivals across the country from October to December 2020, which drew 160,000 people.
"The first priority is the health of the audience, so we have mapped out plans, such as limiting the number attending, temperature checks and disinfection measures. For the fans, it is a long-awaited holiday for outdoor music festival," says Zhang Chongshuo, vice-president of Modern Sky. "Many bands and indie musicians have restarted their music projects, which were postponed due to the pandemic, which is very exciting."
Besides the May Day holiday, Modern Sky has also made plans for this summer's outdoor events. On May 29 and 30, the festival was held in Chengdu. On June 12 and 13, Strawberry Seeds Music Festival will be held in Changsha, Hunan province, with the two-day event gathering 34 Chinese rock bands and indie musicians headlined by Miserable Faith, New Pants and Jiulian Zhenren.
Apart from the Strawberry Music Festival, the Midi Music Festival was held in three Chinese cities: Jinan and Binzhou, two cities in Shandong province, and Chengdu, Sichuan province, from April 30 to May 2.
About 50 indie rock bands and musicians performed during the Midi Music Festival in Shandong, including rock singer-songwriter Xu Wei, rock bands Carsick Cars and Joyside. At least 34 bands and indie musicians performed in Chengdu.
In its 21st year, the Midi Music Festival was born in the Beijing-based Midi School of Music, the nation's first contemporary music school. The first festival took place at the Midi School of Music featuring students from the school. During the past two decades, the festival has been staged more than 40 times across the country. Known as "China's Woodstock", a reference to the legendary music festival in the United States in 1969, it has propelled many rock bands to fame. Nearly all the country's rock stars have performed at the event, including Cui Jian and Tang Dynasty, one of the first Chinese heavy metal bands.
"The pandemic was a major blow to indie musicians since touring and performing at outdoor music festivals plays a big part in their lives," says Shan Wei, director of Midi Music Festival. "For the fans, who enjoy going to outdoor music festivals, it was also a great disappointment since all live entertainment was seen on a digital screen. Now we are bringing the outdoor music back."
The pandemic has caused musicians and bands to change their plans. One of them is Chinese folk singer Gong Linna, who, during the days without touring, focused on preparing for her new album. Titled Mountain and Sea, the new album was released on March 8, featuring ten songs written by her German husband, songwriter Robert Zollitsch, which were inspired by Shan Hai Jing, or The Classic of Mountains and Seas, a 2,000-year-old collection of mythic geography, animals and folklore.
The singer will tour nationwide in support of the new album, including concerts in Shanghai on May 29, in Changsha, Hunan province on June 25 and Beijing on July 29.
"We could not be certain of an immediate return to the theater when our schedules were disturbed by the pandemic, but we were definitely excited about making a new album and looking at every option to return to the stage as soon as we can," says Gong. "It's not just for Chinese artists but for artists from around the world. When the theaters reopened, that was great news-the moment we've been waiting for."
"We can feel the warm feedback of the audience who have anticipated live shows," says Ilchi, founder and a member of Hanggai, a Chinese rock band formed by ethnic Mongolian musicians in Beijing in 2004. Hanggai, the Mongolian term for a place with beautiful pastures, mountains and rivers, is known for tapping into the roots of Mongolian folk music whilst integrating them with contemporary rock music. They've appeared in international music festivals, such as Fuji Rock in Japan and Roskilde Festival in Denmark.
The band launched a 42-city tour last year, which ended with two performances in Beijing on Dec 4 and 5.
In March, they performed at the Blue Note Beijing and on April 18 they performed during an outdoor music festival in Shandong province.
"The live music scene is gradually back with live house venues packed with people again and the return of outdoor music events. We have a hectic schedule again. It's a great pleasure for bands, and giving live performances is a huge part of our lives," Ilchi says. The band, he adds, will perform during the Montreux Jazz Festival, one of the world's biggest and longest-running jazz festivals since 1967, which will have its first edition in Hangzhou, Zhejiang province, from Oct 5 to 8, 2021.
"It's true that people are embracing the return of outdoor music events. Amid the pandemic, we've implemented necessary safety precautions and followed local health guidelines while preparing for the music festival," says Cao Kai, organizer of the outdoor music festival, which was held on April 17 and 18 at Yin Jia Yu Pastoral Complex, an outdoor resort located in Yishui county, Linyi city, Shandong province. In its first year, the two-day outdoor music festival attracted about 10,000 people and 12 Chinese rock bands and musicians, including Hanggai, The Face, and singer-songwriter Laolang.