Teenager Yu Yiting lowers world junior record twice in two days
Share - WeChat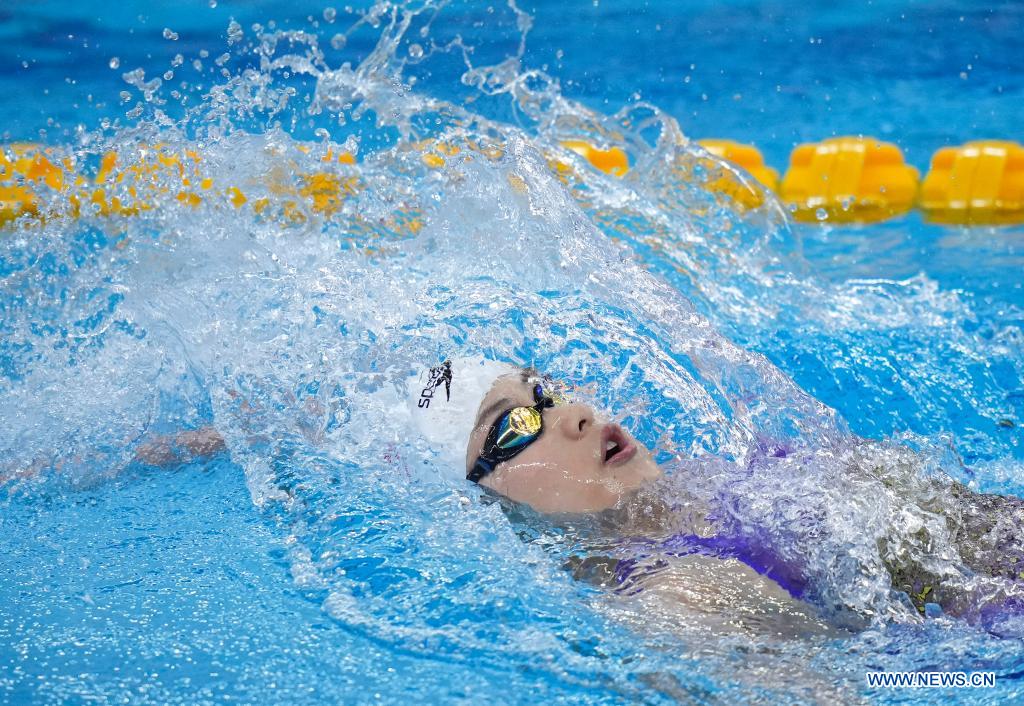 QINGDAO, Shandong-Fifteen-year-old Yu Yiting renewed the world junior record in the women's 200m individual medley twice in two days at the Chinese National Swimming Championships.
On Tuesday, Yu led the 200 IM final from start to finish to touch in 2 minutes 9.64 seconds and set a new world junior mark-the sixth-fastest time in the world this year.
"I smiled for so long that my jaw hurts," said the Ningbo youngster.
On Sunday, Yu clocked 2:09.88 in the heats to beat the previous world junior record, held by Japan's Rikako Ikee (2:09.98) since 2017. Yu also claimed silver in the 100m butterfly behind Zhang Yufei.
"I had no pressure before the final as my coach told me to follow my own heart and pace in the final," Yu said.
"I entered the national team at the end of last year and have increased my physical training, which has helped me a lot. But my weakness is the backstroke, where I really need to improve."
Yu started swimming when she was 8 and just two years later was called up to the Zhejiang provincial team. According to her coach, Wang Haibo, Yu is blessed with immense physical and mental strength.
Yu made the step up to the national team late last year, and with her training intensified, now swims about 7 kilometers in every pool practice session.
"Training with the national team is much more systematic," said Yu. "My strength and physical fitness improved a lot. My core strength is OK, but long-distance running is my weakness."
With training days beginning at 6:50 am and ending at 9 pm, Yu quipped that sometimes she "just wants to sleep".
"I am the extroverted and fun one on the team, but I actually practice too much every day; sometimes I even cry," she said. "But no matter how much I cry, I still have to continue to swim."
Yu lists world-record holder Katinka Hosszu of Hungary and Ye Shiwen as her idols. "How sister Ye came back from the lows of her career inspired me a lot," said the teen. "She often encourages me. She told me that I can do it and I really made it within 2 minutes and 10 seconds!"
Yu is one athlete who has benefitted from the postponement of the Tokyo Olympics.
"I didn't even think about the Olympics a year ago," she said. "The extension gave me more time to train. My goal for the Olympics is to improve myself, train well and perform well."
Meanwhile, 19-year-old Yang Junxuan broke her own Asian 200m freestyle record on Tuesday.
Yang's winning time of 1:54.57 shaved 0.13 seconds off the mark she set at China's Swimming Challenge meet in Zhaoqing, Guangdong province in early March, which is still awaiting official ratification by the Asian Swimming Federation.
Li Bingjie claimed silver in 1:56.64, with Tang Muhan third (1:57.83).
"I did not think about the record, but just tried to improve myself," Yang said.
XINHUA