Africa steering health infrastructure onto positive path
Share - WeChat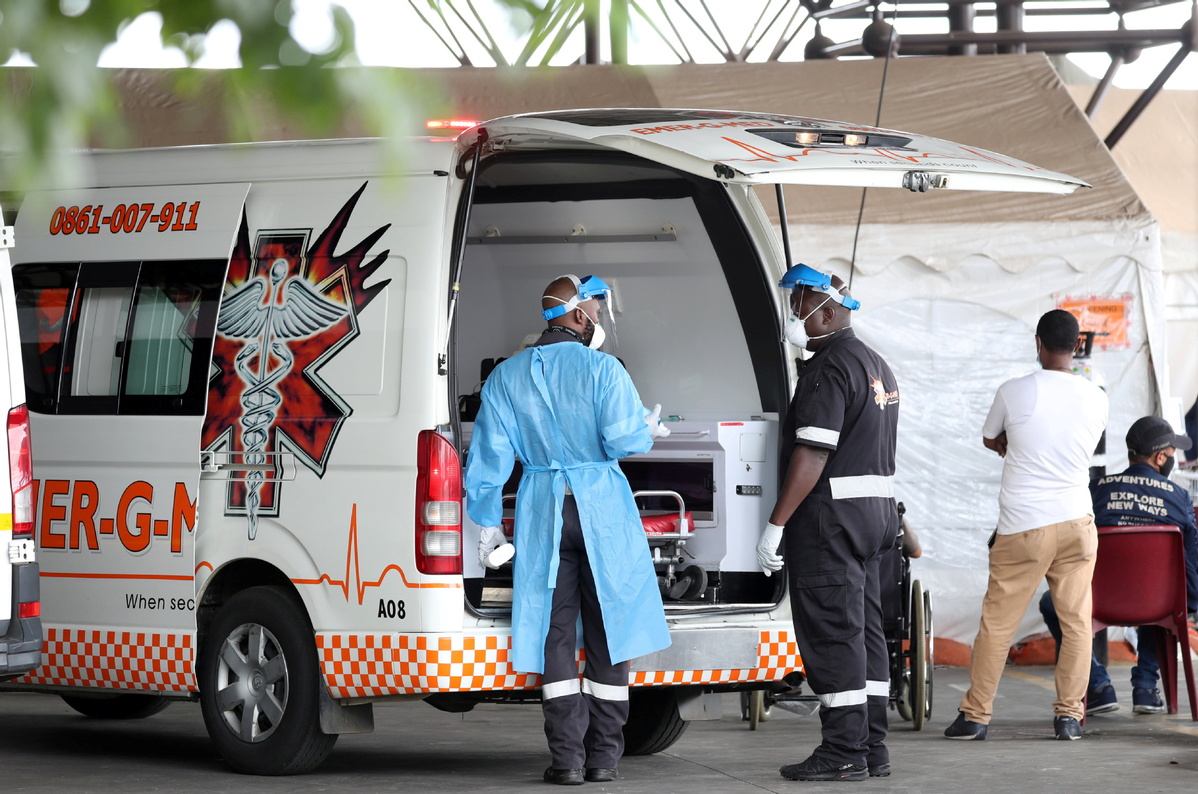 With social distancing and quarantines now standard worldwide, digital health practices provide opportunities to accelerate the battle against COVID-19.
In 2005, the World Health Assembly, the decision-making body of the World Health Organization, urged member states in a resolution on e-health to "consider drawing up a long-term strategic plan for developing and implementing e-health services, to develop the infrastructure for information and communication technologies for health, and to promote equitable, affordable and universal access to their benefits".
In 2013, the WHA adopted a resolution on e-health standardization and interoperability that urged member states to "consider developing policies and legislative mechanisms linked to an overall national e-health strategy".
In May 2020, while using cross-sectional data on internet usage and epidemic risk for 180 economies, the World Bank Group illustrated that countries with wider internet access and safer internet servers tend to be more resilient to epidemics such as COVID-19.
In this regard, the pandemic is compelling governments, health institutions and social media platforms across the world to turn to digital technologies to respond to the crisis.
For instance, in March last year, search engine Microsoft Bing launched an interactive COVID-19 map to provide widespread news on the disease. In July, Sixfold, a European supply chain software vendor, published a free live map of border crossing times for trucks, in order to enable all of Europe's supply chains to understand the expected delays in receiving shipments.
In addition, short-video app TikTok announced a new content partnership program with the WHO in May last year to help provide users with correct and timely facts related to COVID-19.
Furthermore, the US Centers for Disease Control and Prevention and the WHO are promoting telemedicine to monitor patients and reduce the risks of spreading the virus.
In India, telecommunications operators such as Jio, BSNL and Airtel are helping to promote awareness about the pandemic.
Facial recognition applications are being used in some US airports as part of a program to identify international travelers who enter or exit the country, rather than requiring them to present travel documents.
Meanwhile, by mustering resources at its disposal and deploying the latest technology, China has mitigated the effects of COVID-19 to a significant extent and profiled people at risk.
First, it has deployed robots to provide support to front-line health workers.
Second, China took steps, such as strengthening 5G-cloud network integration, to support the digital transformation of other industries.
This contributed to construction of the Huoshenshan and Leishenshan makeshift hospitals in Wuhan, Hubei province, and launched many information applications like a telemedicine system to support anti-pandemic efforts.
Third, artificial intelligence-enabled research and development has been used to support the development of a COVID-19 vaccine in a shorter time frame.
Fourth, the Chinese government joined hands with tech giants Alibaba and Tencent to develop a color-coded health rating system that is tracking millions of people daily.
Finally, Baidu, a Chinese multinational technology company, has built AI-based solutions to effectively screen large populations and detect a change in body temperature while people are on the move.
The pandemic has offered a perfect opportunity to leapfrog Africa's health infrastructure through digitalization.
In March, South Africa launched an online platform to roll out COVID-19 vaccines in the country, and mSafari, an information and communication technology hub in Kenya, has introduced a contact-tracing application for travelers.
Wiqaytna 6, an online application in Morocco, notifies people when someone they have been in contact with tests positive for COVID-19. In Ghana, Global Mamas is producing reusable masks and has designed automated, contact-free, solar-powered hand-washing stations.
Unfortunately, the digital divide has not allowed Africa to fully benefit from these opportunities, because only 28 percent of the population use the internet.
While millions of people in Africa are unable to connect to the internet, the COVID-19 pandemic has also accentuated inequalities beyond the digital divide. These include a lack of access to sustainable electricity, water, education and health services, among other basic needs.
In this context, African countries must first address the socioeconomic gap that feeds the digital divide.
Second, investing in broad-based digitalization will be a key factor in addressing not only socioeconomic challenges, but also those related to smart health, thereby unlocking development and economic growth.
The author is director of the Centre for Strategy and Political Management at the Kenya-based Africa Policy Institute.