Weaving a future from the past
Share - WeChat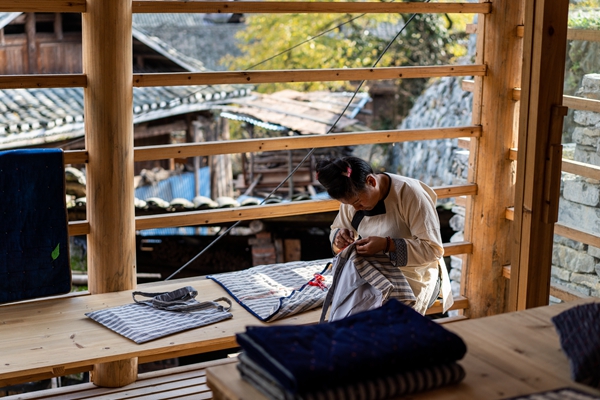 Architect's vision helps establish a cultural project that empowers women of the Dong ethnic group, report Wang Qian in Beijing and Yang Jun in Guiyang.
The book was there, on a shelf at her home. And when curiosity got the better of her and she opened it, her life changed. More than 10 years ago, Imprints on Cloth, by two Japanese anthropologists on textile traditions in Southwest China's Guizhou province, amazed and astounded Jenny Chou. As the title suggests, this was not a detective story, but then maybe it was, but the main players were fabric and technique.
She didn't expect that one day she would help introduce douran-a botanic dyeing method-to people across the world. It uses a dye-resistant agent mixing soybean powder, pulverized lime, egg white and local vinegar and indigowoad root as a dye to make the blue or dark, glossy cloth.
Despite being handed down over the course of centuries by generations of women from the Dong ethnic group in a remote village in Guizhou, the craft, once a normal part of their daily life, is seldom practiced by local young people. To find new outlets and provide a contemporary context for the traditional craft, a project was launched in Guizhou's Dali village in 2015 by the Global Heritage Fund, a nongovernmental preservation organization in the United States, and Beijing-based Atlas Studio with Chou as co-founder.
In 2017, Chou and her team brought Dali artisans and their craft to Beijing Design Week. In October of that year, the textile project won second place in a contest held during the China Intangible Cultural Heritage Week in Danzhai, Guizhou.
Their textile homewares, such as pillows, bags and cushions, have been sold in specialized shops in Beijing and Shanghai, with a price tag ranging from hundreds to thousands of yuan. This year, an online store for the items is expected to launch, according to Chou.