Guiyang legal clinic serves up remedy of justice
Share - WeChat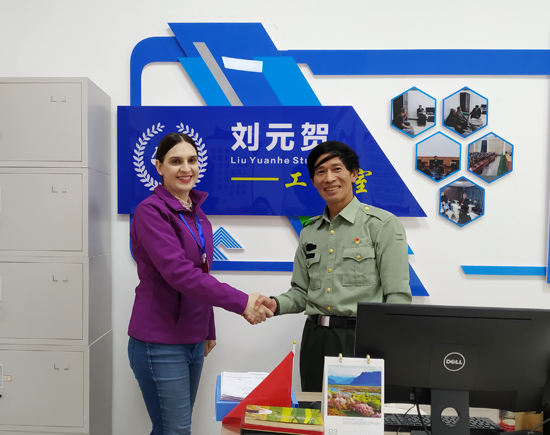 On a tour of the comprehensive service center for the Jinyuan community in Guiyang, the capital of Southwest China's Guizhou province, the last thing I ever expected our guide to say was, "This is our legal clinic."
A red sign with the Chinese characters for "legal clinic "hung just above the door, and inside, behind a desk, sat a middle-aged man wearing a military green button-down shirt. As I peered inside, I noted the curious smile on his face, as if he were just as surprised to find a foreigner observing him from the hallway as I was to discover this clinic. Never before had I seen a lawyer within the walls of a community service center anywhere in the world.
"Pardon me, but could I ask you a few questions?" I said to him, as I stepped into the clinic with an outstretched hand and my fascination.
He introduced himself as Liu Yuanhe, the head of the clinic's legal team and a retired soldier from the People's Liberation Army. While his career as a lawyer dated back to 1996, when he passed exams to become certified in the profession, he had been involved in legal aid service in the community over the past year. Liu said the clinic, which had officially opened its doors in January, helped people free of charge with anything at all involving the law. While typical cases involved matters like contract disputes and recovering unpaid wages, he emphasized they handled any legal problem and would even file lawsuits, if needed, at no cost. In his view, the work he did at the clinic was part of a selfless dedication to give back to society.
Moreover, he stressed the importance of justice to people's well-being. "What do people want? They want some form of happiness. What is the essence of happiness? I think it is a kind of social fairness and justice."
He invited me up to the center's second floor, where he walked me through the larger, additional office for the legal aid clinic, with a conference table, a desk, and a sign bearing his namesake-Liu Yuanhe-in bold white characters set against a royal blue background. Liu had a buoyancy about him throughout our conversation and the brief tour, as if uplifted by his noble work of serving the people through the law.
The entire encounter with Liu and his clinic stirred up a slew of emotions within me.
While I knew of legal aid clinics growing up in the United States, I had never once seen one housed within a community there. And US legal aid often came with glaring exceptions, reserving free help for the neediest groups only, such as the homeless and destitute. Average Americans, meanwhile, must generally fend for themselves in a legal system where real justice eludes those who can't afford lawyers.
But here was a community in Guiyang, which, in opening a legal aid clinic within its service center, had elevated the pursuit of justice to become a common good for everyone, based on need, not wealth.
Liu's clinic is a model not just for China, but also the entire world. If we ever hope to achieve justice for all, it might just start with building into every community a humble office with the words "legal clinic" affixed above the door, open to anyone seeking free help with the law.
Contact the writer at jocelyn@chinadaily.com.cn
Most Viewed in 24 Hours
China Views