Wishing a very happy birthday to my newspaper
Share - WeChat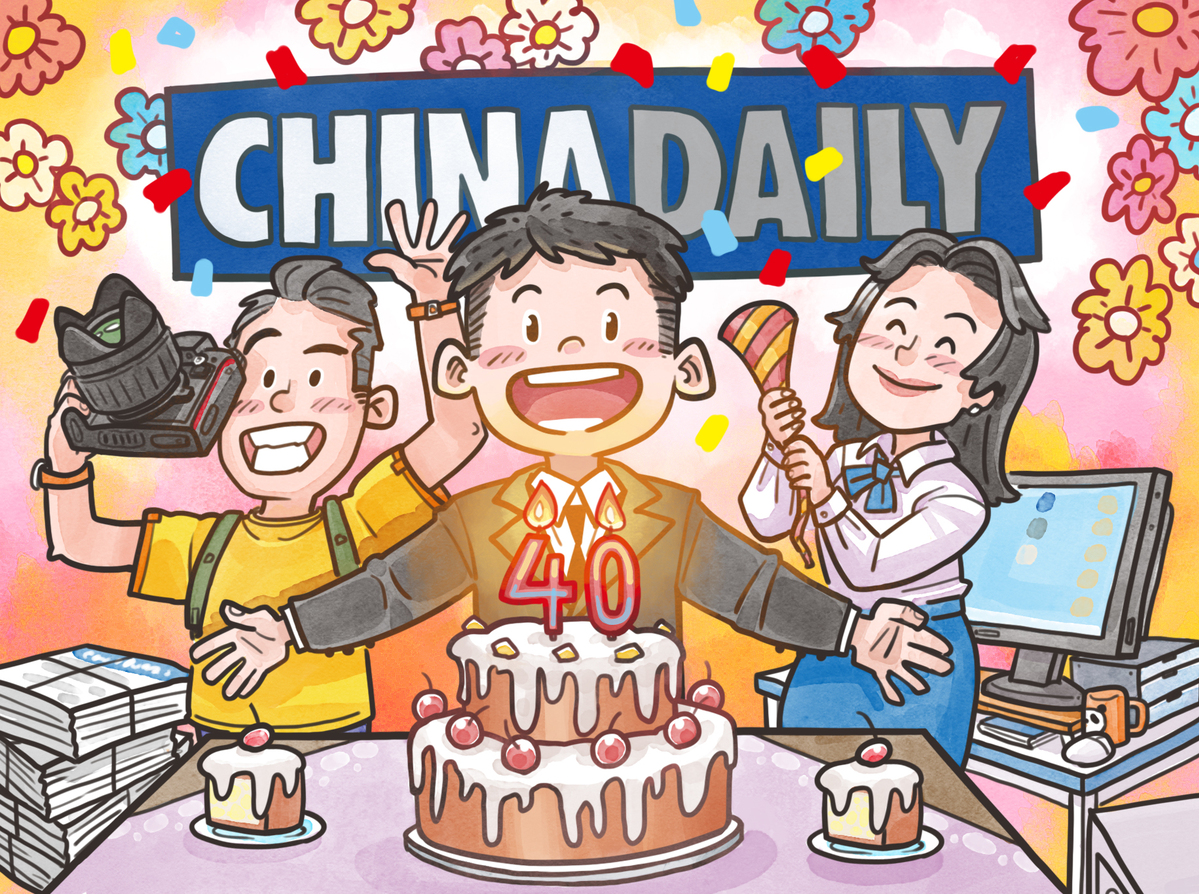 China Daily celebrates its 40th anniversary on Tuesday. That President Xi Jinping has sent a congratulatory letter on the occasion shows how much the country treasures the role China Daily has played in promoting communication and exchanges between China and the rest of the world. Add to that the innumerable messages of congratulations from readers and international organizations and you get an idea of the ever-growing influence of China Daily.
Launched on June 1, 1981, China Daily has grown into a global, multi-language, multi-media organization with newspapers, websites and apps serving more than 350 million readers around the world.
As a witness to and part of China Daily's four decades of development, I know too well what a long and tough journey China Daily has covered to become what it is today. I would attribute its development to the courage and creativity of its journalists and non-journalist employees, its reader-friendly approach, and China's increasing international influence.
Courage, right from the beginning, has been one of China Daily's strongest attributes. Initially, China Daily was planned as a translated version of a Chinese newspaper because China, at that time, did not have any experience of running a foreign language daily newspaper. To make things worse, professionals who could write and edit in English were very difficult, if not impossible, to find.
Undaunted, the founding team proceeded along the bumpy road to publish a "real" English-language daily. Professors of English along with some students were hired to help bring out the paper. Some of the students were sent abroad to study journalism even before graduating from college in China. And some professors and teachers were sent to work in newspapers in the United States, the United Kingdom, Australia, even Thailand, to learn the finer points of journalism.
On the other hand, journalists from other countries were invited to Beijing to teach the young and not-so young Chinese reporters and editors how to find a news peg, and how to write a lead that would draw the readers' attention to the rest of the story. From the introduction of new technologies to phototypesetting, to page designing, help came from many overseas friends.
When the newspaper was officially launched on June 1, 1981, it immediately drew global attention. While acknowledged as being "professional", it was also regarded as a vital symbol of China's opening-up. Today, we can safely say that it was the previous generations' courage that paved the way for China Daily's success.
Creativity enabled China Daily to overcome many of the difficulties. In its 40 years, China Daily has achieved many firsts. It was the first to use electronic typesetting, the first to introduce computers, the first to print and circulate abroad, the first to publish advertisements, the first to go color, the first to go on the internet. And every year China Daily wins dozens of national and international journalism awards. Behind all this is the staff's creativity, which was encouraged even during the preparations to launch the paper.
Despite having readers in countries with different reading habits, different cultures and different political views, China Daily has maintained a friendly approach by publishing objective news and views. The fact that each day, its stories and commentaries are republished by other media outlets or quoted thousands of times proves its reliability as an information provider. Not to forget its feature section, which through its colorful coverage of Chinese culture and people's lifestyle, gives readers a good idea about China of the past, present and the future.
While many newspapers around the world are facing challenges from other forms of media, including electronic and social media, China Daily has maintained its development momentum. The reason: it provides authoritative, accurate and objective information about China in foreign languages.
As the world's second-largest economy and a driver of the world economy, China has become a major global player. More and more readers, disgusted with biased reports in some Western media outlets and the rumors doing the rounds on social media, are turning to China Daily for information about the country that influences their daily life as well as their future.
Just like the past four decades, China Daily's development is linked to the development of China. Acting as a bridge between China and the rest of the world, China Daily will continue to present a true and multidimensional view of China.
Happy birthday, China Daily-my newspaper!
The author is former deputy editor-in-chief of China Daily.
Most Viewed in 24 Hours
China Views