Obsessive pop fans strike discordant note
Share - WeChat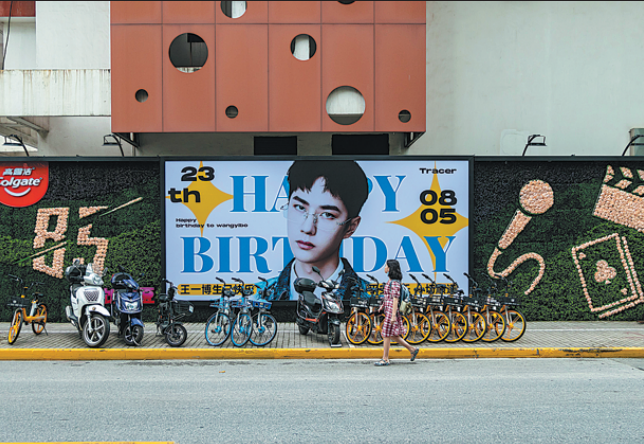 Milk incident
Fans made headlines when a video went viral over the five-day May Day holiday. The footage showed a group of people opening bottles of milk, pouring the contents into buckets, and dumping the buckets into a drainage ditch.
The fans only wanted the bottle caps, which had a QR code printed on the inside. Each code represented a vote. By scanning the code, fans were able to vote for contestants on Youth With You Season 3, one of the country's most-viewed reality shows, which is produced by iQiyi. The show's main sponsor is the company that produces the milk.
Since mid-February, when voting began, the 120 contestants have been narrowed down to just 20 after several rounds. After the final, the top nine will form their own boy or girl band. Voting by fans is the sole standard used to decide standout performers likely to achieve stardom.
Footage of the video quickly triggered widespread controversy online. Comments appeared on leading social media platforms about the "milk-pouring" incident. The fans were criticized for wasting vast quantities of milk, and their behavior sparked action by the authorities.
On May 10, the Beijing Municipal Radio and Television Bureau issued a notification aimed at strengthening the regulation and supervision of online reality shows.
"The reality shows are prohibited from getting votes through inappropriate ways, such as raising money and group funding," the notification stated.
Meanwhile, the Cyberspace Administration of China, or CAC, the country's top internet watchdog, pledged to make greater efforts to guide young people in following celebrities by further regulating online platforms. At a news conference on May 8, it launched the "Clear and Bright" campaign, aimed at controlling illegal online behavior, such as disorder relating to the entertainment sector and irrational behavior by fan groups.
Zhang Yongjun, head of CAC's network comprehensive management division, told the media on May 9: "We've made the control of online star-chasing behavior a priority this year. We plan to resolutely fight against those who encourage young people to follow stars irrationally, and harshly punish online platforms that indulge such behavior."
Concern about voting rules was also voiced by Zhang, who said the problem was not solely due to the uncontrolled pursuit of stars by fans, but also complicity by internet platforms and bad behavior by businesses.
"There's nothing wrong with young people chasing stars, but the pursuit of them without a bottom line is a problem. Online platforms that indulge such irregularities and refuse to mend their ways despite repeated criticism will face tougher punishments," Zhang said.
On May 11, more than 200 Chinese fan clubs released statements backing action taken by fans in support of their pop idols.
Even before the milk-dumping incident, there were reports of fans following their idols day and night, invading their privacy and causing inconvenience to others.
For example, some fans bought air tickets just to see a star take one particular flight. They blocked the boarding gate, delaying the plane for several hours. Some fans have also shoved their phones in stars' faces. Pushing and even injuries have been reported.
When a singer sparks controversy, some fans blindly defend their hero in cyberspace, frequently leading to online bullying of anyone daring to voice negative opinions about the star.
Fans are also highly organized and willing to spend to support their idols.
For example, the debut album of Teens in Times, a seven-member boy band founded in 2019, netted more than 100 million yuan (15.66 million) within five days of being released on May 5.
On May 15, Xinhua News Agency reported that a group funding website showed that fans had spent a large amount on voting for their idols who appeared on Chuang 2021, a talent show produced by Tencent Video.
One of the contestants, Liu Yu, 21, stood out among his peers and finished in first place. The website showed that more than 23 million yuan was raised to vote for Liu, who received nearly 50 million ballots.
Fans defend themselves by stating, "When a man devotes his passion, time and money to a car or other expensive items, he is usually free of criticism". They also say that incidents involving obsessive fans are often highlighted more than those about other followers who have joined forces for a good cause.
For example, early last year, after the pandemic emerged, some Chinese fan groups teamed up to raise funds to obtain surgical masks, protective clothing and other vital supplies to donate to medical professionals. They also launched charity foundations in the name of their idols to help people in need-for example, by donating books and sports facilities to schools in remote areas.
Li Jiajie, a 22-year-old singer, described her experience of being a "fan circle girl".
"Sometimes it's frustrating to face reality. My idol acts as my engine to work hard and pursue my dream, although he is far from me," said Li, who has taken part in talent shows and launched her career by being a member of the female group Lady Bees.
"I share my love for my idol with many other girls, and the fan club is like a utopia for us. It's a place where I share my life with my friends and we support our idol as a community, which is very satisfying and fulfilling," she added.