Legends back China to serve up fresh success
Share - WeChat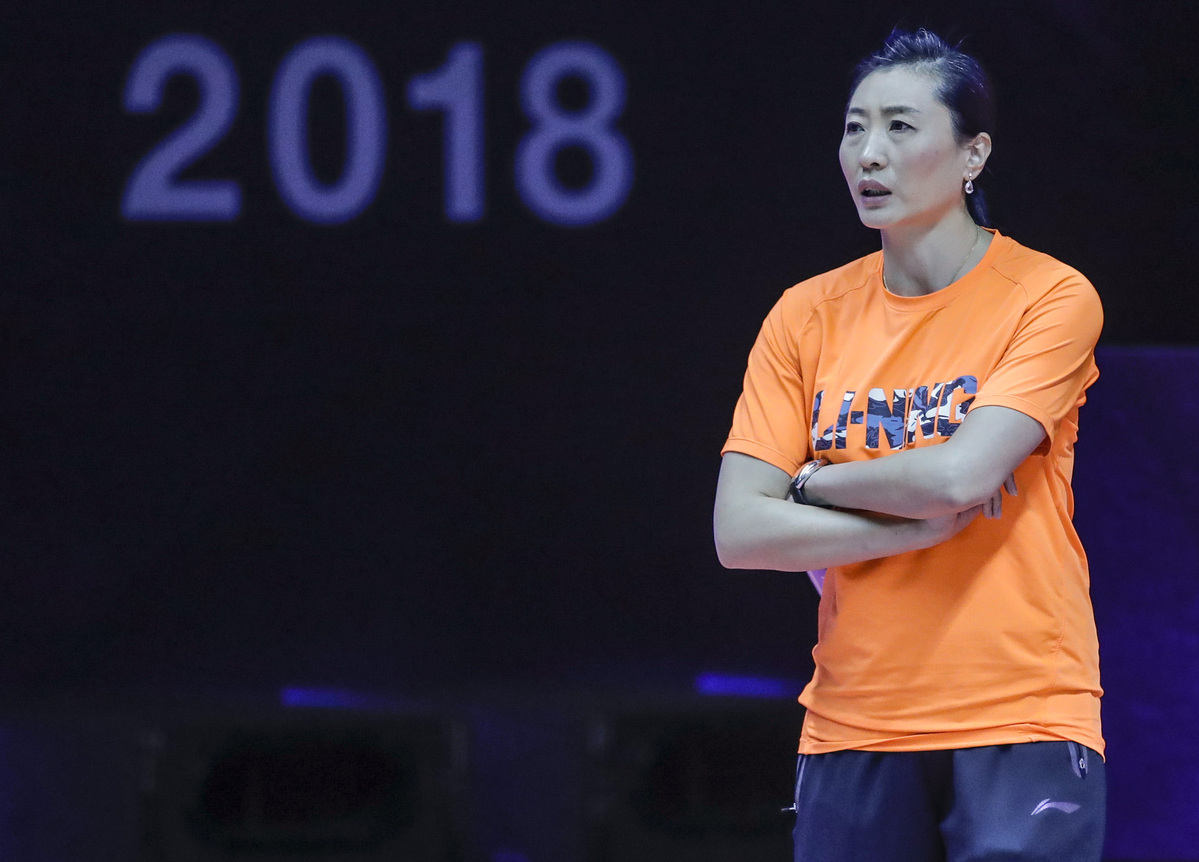 But Hall of Famers urge patience with new breed ahead of tough Tokyo tests
Despite no longer being the hot favorite in all the Olympic events, China's young badminton team remains a force to be reckoned with in Tokyo, according to the country's newly inducted Hall of Famers.
However, having spearheaded China's golden era on the court at the 2008 and 2012 Olympics, former women's ace Zhang Ning and men's doubles greats Cai Yun and Fu Haifeng cautioned about expecting too much from the new breed at this summer's Games.
"Mental adjustment is the key at this stage," said Zhang following an online ceremony for the three legends' Hall of Fame induction on Wednesday.
"Whoever enters the Olympic tournament confident and pressure-free will play to their highest possible level.
"I have faith in our current singles players that they have what it takes to beat whoever they encounter at the Games. They just need to trust in the process and stay focused without thinking too much," added Zhang, who remains the only female player to win successive Olympic singles titles.
Having secured nine qualification spots for the Tokyo Games, China will send a young team to the Japanese capital, led by defending men's singles champion Chen Long, the only player with Olympic experience in the squad, and women's world No 2 Chen Yufei.
Perennial powerhouse Indonesia and host Japan are expected to pose the biggest obstacles to Chinese success in Tokyo.
Following the retirements of Zhang, Cai, Fu and men's superstar Lin Dan, China's next-gen talents have struggled to live up to the standards set during the country's golden era in the sport-2000-2012, when Chinese shuttlers won 15 of the nation's total 18 Olympic golds.
The growing rivalries with Indonesia, Thailand and South Korea, as well as the fast-improving Japanese and Indian players, have reshaped the sport's landscape. Nowadays, the major events on the Badminton World Federation circuit, the world championships and Olympics are more open than ever.
However, Cai and Fu-the winning men's doubles pair at the 2012 London Olympics-are bullish on China's chances of one day regaining its dominance, citing the sport's nationwide popularity at the grassroots level.
"Currently, we might have some challenges at the international level, but I don't have concerns for the long run because of the huge population playing our sport," said Cai, who has been running a junior training program since retiring from competition in 2016.
Fu, who teamed up with Zhang Nan to win a second gold at Rio 2016 before retiring a year later, believes true mental resilience can only come from experiencing disappointments on the biggest stage.
"It was just after our tough loss at the home Olympics in 2008 that we managed to regroup and come back strong to win the gold four years later," said Fu, who, along with Cai, was beaten by Indonesian pair Markis Kido and Hendra Setiawan at the Beijing Games. "Sometimes, losing at big events is the most important step on the learning curve."
Boasting the world's top two teams in mixed doubles, China is expected to deliver at least one gold medal in Tokyo in this discipline, with two-time world champion pair Zheng Siwei and Huang Yaqiong the hot favorite.
With the men's doubles now dominated by Indonesian and Malaysian pairs, Team China is also hopeful of topping the podium in women's singles, where Chen Yufei can expect stiff competition from world No 1 Tai Tzu-ying of Chinese Taipei, and Japan's Nozomi Okuhara and Akane Yamaguchi.
Chen Long and youngster Shi Yuqi have it all to do in the men's singles, up against Japanese sensation Kento Momota.
With a combined career title haul of four Olympic golds and five world championship crowns, Zhang, Fu and Cai were hailed by BWF president Poul-Erik Hoyer Larsen at Wednesday's virtual Hall of Fame induction ceremony.
"For over a decade, they played at an incredibly high level, which helped them win every major title in badminton," Larsen said in a video message.
"Most importantly, the standards they set will always be a challenge for the younger generation of players who seek to emulate them.
"Their performances are an illustration of the excellence that the human spirit can aspire to, and they have contributed immensely to badminton. I am sure they will continue to inspire players of the future."