Annual book fair in capital attracts avid readers
Share - WeChat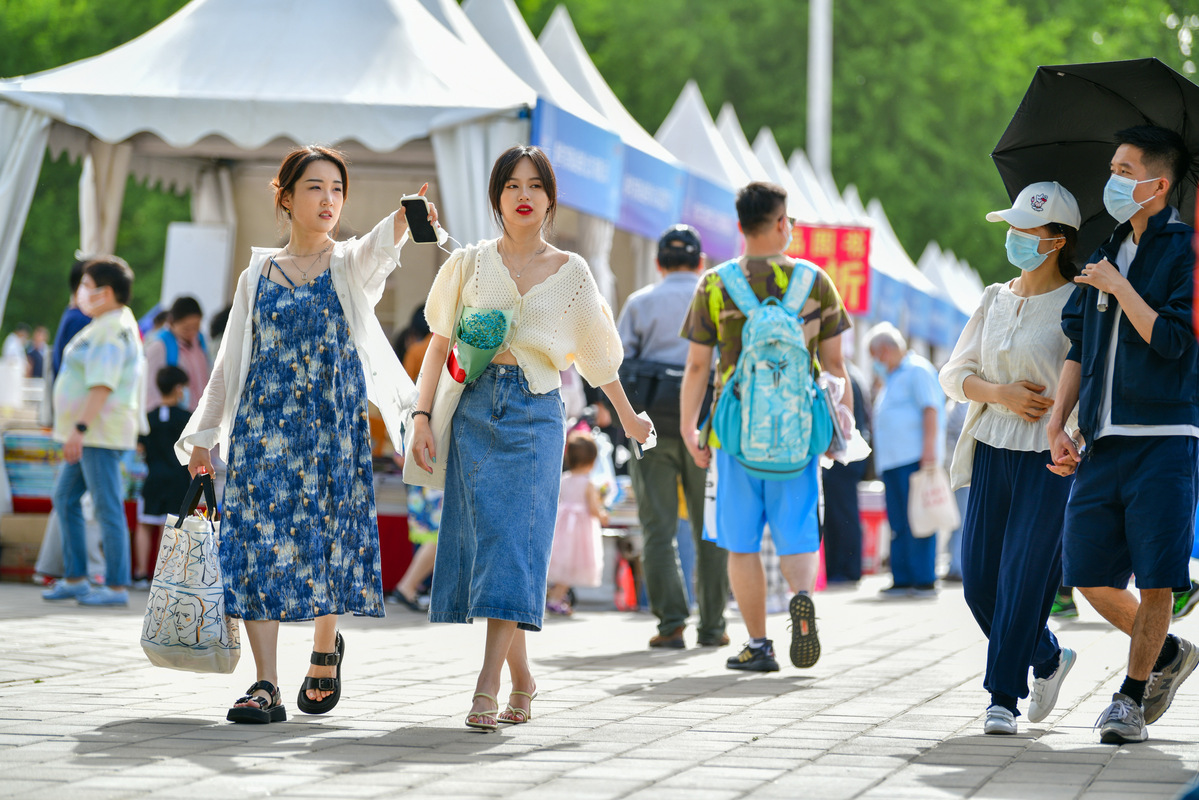 Latest trend
In view of the wealth of information available in the digital world, many people consider reading books to be old-fashioned.
For the majority of young people though, reading physical books has become popular, with many of them avidly turning the pages at every opportunity.
This year, the Beijing Book Fair, which was held in Chaoyang Park for 11 days from May 14, attracted more than 300,000 visitors.
Dong Yijin, a high school art teacher from Shanxi province who traveled to the capital to attend the event, said: "I love books on painting techniques, art theories and collections of artistic works, but they are usually expensive. At the book fair, I can buy such books at a 60 percent discount, which is a very good deal.
"It's not a good idea to buy these books online, as you cannot feel the quality of the paper."
Holding a bag full of huge books, Dong moved quickly among the booths to select the titles she needed.
Many readers headed for the Beijing Arts and Photography Publishing House booth for works on The Louvre, Roman and Gothic arts, which cost 998 yuan ($154) each.
Editors from the publishing house said its newest and best books were displayed, rather than low-priced titles.
Dong said she did not mind paying for such works, as long as they were worth the money.
Lin Fan, 30, a Beijinger who read numerous comic books at a booth displaying old titles, said, "I found many comic book series at the fair in previous years, which was great fun for me, as they bring back memories."
Displaying old and secondhand books is a tradition at the Beijing Book Fair, as many fans visit it in search of such volumes.
However, some visitors are seeking new books, while others simply want to enjoy the atmosphere at the event.
Lin Leilei, who is in her 30s and brought her 5-year-old daughter to the fair, said they enjoyed a good family time at the event.
"I love reading books, but I seldom have the time to do so. To bring my daughter here and select some children's books that she likes is both meaningful and relaxing," Lin said.
To attract the younger generation, including children, the organizer of the book fair added a number of activities.
The 500-square-meter square in Chaoyang Park was transformed into a "good luck" book market, where people could read, buy secondhand books and play outdoor games.
The organizer said most of the 10,000 books sold in this area were business management and children's titles. In addition to booths selling these books, 56 individuals were selected from 300 people who applied to sell their books online.
One woman selling books said: "It's a good way of communicating between book fans. It's a valuable experience talking with people who buy my books, as they have similar tastes as myself."
The organizer said this year's fair covered a total area of 10,000 square meters and included books, displays of innovative cultural works and a family zone.
Numerous events involving books were held, such as a theme day, book launches, signings, a reading forum and cultural shows.
Lin said: "It's all about culture, which is rooted deeply in Beijing. If I had the time, I would love to spend several days at the fair to attend these events."
High-tech was in evidence at the fair, with an electronic high-definition interaction wall enabling readers to quickly obtain information and maps about the event. Livestreaming was also used, allowing book fans who could not visit the fair to experience it online.