Motorist alerts people to danger in flooded tunnel
Share - WeChat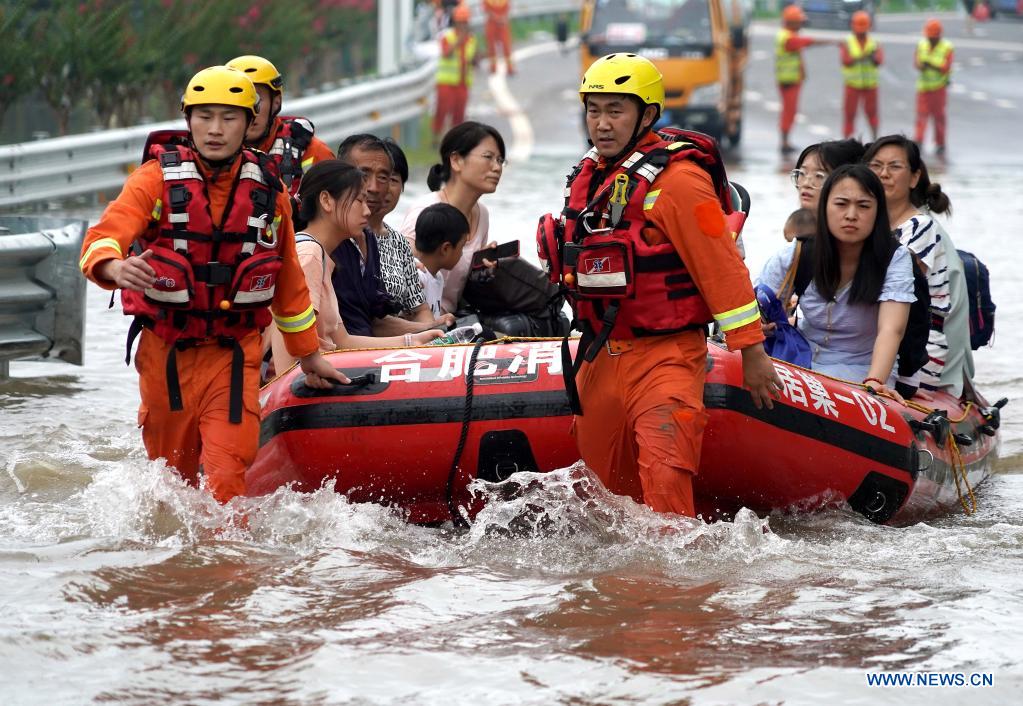 After noticing the rapidly rising water in a tunnel in Zhengzhou, Henan province, during the heavy downpour on Tuesday, Hou Wenchao recalled what had happened in Beijing in 2012 when a rainstorm caused the deaths of 79 people.
He immediately got out of his car and rushed to warn others in nearby cars to leave and move to a higher place-a move that helped save dozens of people.
Over the weekend, a video of Hou knocking on the car doors one after another went viral online. In the video, he shouted, "Get out now and go to higher places!" and "Do you want your car or your life?" His courage and care are being widely praised by netizens.
Hou, 43, is a native of Henan. He got stuck in traffic in the Jingguang North Road Tunnel, a major artery in central Zhengzhou, when the downpour hit the city.
"Around 4 pm, I was trapped in a relatively high place inside the tunnel surrounded by water, and at about 5:40 pm, I suddenly noticed that the water level was quickly rising, with the water reaching two-thirds of the way up the car's wheels in 10 minutes," he said.
Hou was working in Beijing when the capital was ravaged by a rainstorm in 2012. He read many media reports then about how people got trapped in cars in low-lying areas and then lost their lives, and the situation triggered his memory.
"I grabbed my phone and umbrella and quickly got out. I knew that if I stayed in the car and the water kept rising, I'd be unable to get out, and that would be a disaster," he said.
But Hou noticed that many people around him stayed in their cars. He rushed to knock on the car doors to tell them to get out.
"There wasn't much time, and it was too late to explain in detail, so I just told them if they didn't get out, their lives would be in danger," he said.
There were two main reasons people didn't want to leave their cars. One is they have limited knowledge about safety in such a situation, and the other is they don't want to leave their cars behind.
"But people quickly realized how serious the situation was when I shouted at them," he said.
Hou said he knocked on the doors of more than 20 cars, and other people also helped. About 400 people left the tunnel and went to a nearby viaduct to wait for rescue.
"There were children, women and old people, and we helped each other to get over the guardrail. The whole process lasted about 20 minutes, and when we looked back, all the cars were submerged," he said.
Hou got home around 2 am, and he later got sick from spending hours in the water and rain.
Recalling the dreadful moment, Hou said he just did what he was supposed to do.
"If I hadn't asked them to get out, and more people died, I would have blamed myself for the rest of my life," he said.
Rescuers were busy pumping water from the 1,835-meter Jingguang North Road Tunnel over the weekend. By 7 am on Saturday, all stranded cars in the tunnel, which numbered over 260, had been pulled out, and four bodies were found, according to a report by ThePaper, an online news outlet.