Hong Kong hero savors historic gold
Share - WeChat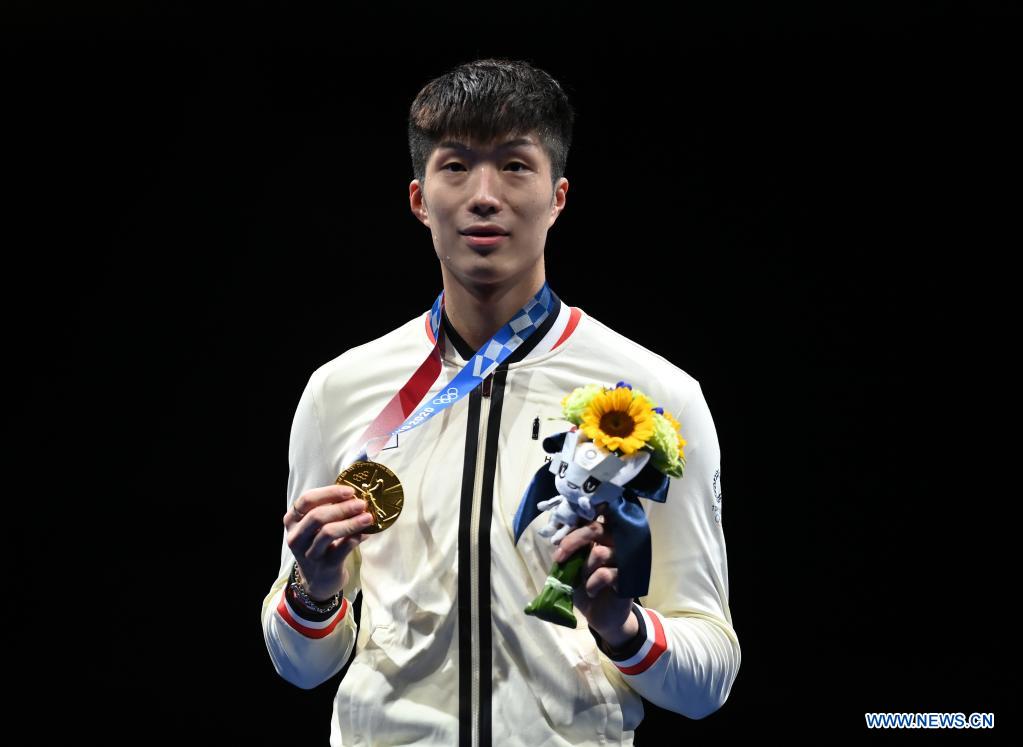 Fencer hopes shock victory inspires more of the region's young athletes to chase their dreams
Hong Kong's new Olympic champion, Cheung Ka-long, says his shock gold medal at the Tokyo Olympics is proof one should never be afraid of dreaming big.
The 24-year-old fencer defied expectations and the odds to beat Italy's defending champion Daniele Garozzo 15-11 in Monday's men's individual foil final.
Cheung said after his triumph that, in the eyes of many, being an athlete is a naive profession in which you have to invest a lot but are not guaranteed a return.
"But I want people to know, even though Hong Kong is a small city, you can (achieve your goals) when you believe," he added.
Cheung's gold was the Chinese territory's first Olympic gold since the establishment of the Hong Kong Special Administrative Region in 1997, and the city's second after Lee Lai-shan's windsurfing gold at the 1996 Atlanta Olympics.
"I want people to know that the Olympics is really not beyond their reach, so you can aim bigger and higher."
Roller-coaster career
Cheung has dealt with his fair share of ups and downs in his career, dropping out of the world's top 16 and admitting that he sometimes considered hanging up his sword.
His perseverance on Monday yielded the sport's ultimate prize, and afterward he thanked his family and coaches for sticking with him through good times and bad.
Away from the piste, the low-key Cheung enjoys K-pop and is something of a sneaker head, according to teammate Chan Cheuk-him.
Monday night's final between Cheung and Garozzo gripped Hong Kong, with several of the city's shopping malls packed with fans watching the live broadcast on giant screens, chanting and waving red banners in support of their new-found hero.
Many hugged and burst into tears as Cheung stood on the top podium and the SAR's regional flag was raised as the national anthem played. Cheung said that learning of the support back home gave him goosebumps.
"I didn't expect that a match could bring Hong Kong together," he said.
His historic win also proved a huge hit on Chinese social media, with the hashtag "First gold for Hong Kong China" racking up 400 million views on Weibo.
"For the first time in the history of the Olympics, the flag of the Hong Kong Special Administrative Region is raised highest with the national anthem of the People's Republic of China playing," read a message accompanying a video of Cheung's medal ceremony, which was viewed at least 2 million times.
High praise
Hong Kong Chief Executive Carrie Lam Cheng Yuet-ngor watched Cheung's victory live on television in her office, and afterward heaped praise on the fencer.
Lam said he "made history for Hong Kong with his outstanding skills and calmness as well as his perseverance in adversity".
"His excellent result is testimony to the capability of Hong Kong athletes and makes all Hong Kong people proud," she added.
The Liaison Office of the Central People's Government in the SAR issued a statement saying Cheung and the Hong Kong, China delegation have "demonstrated the enterprising initiative of the athletes and the determined spirit of young people in Hong Kong, China".
President of the Legislative Council Andrew Leung Kwan-yuen on Tuesday expressed his admiration for the perseverance of Hong Kong athletes. Leung pledged the city's legislature will continue to support funding related to sports and athletes' development, and will work with other sectors to advance sports development.
The SAR government's latest budget substantially increases the total subvention for the Sports Federation and Olympic Committee of Hong Kong, China and 60 sports associations from about $300 million to more than $500 million annually over the next four years.
Windsurfer Lee, Hong Kong's first Olympic champion, told Cheung by video link that she was happy to see another gold medalist 25 years after her triumph, and hoped there will be more to come.
Cheung told the audience and young athletes not to let the notion that "Hong Kong is too small" deter them from their dreams. Anything can be achieved if you put your best foot forward, he added.