US should start mending ways by stopping trade and tech wars
Share - WeChat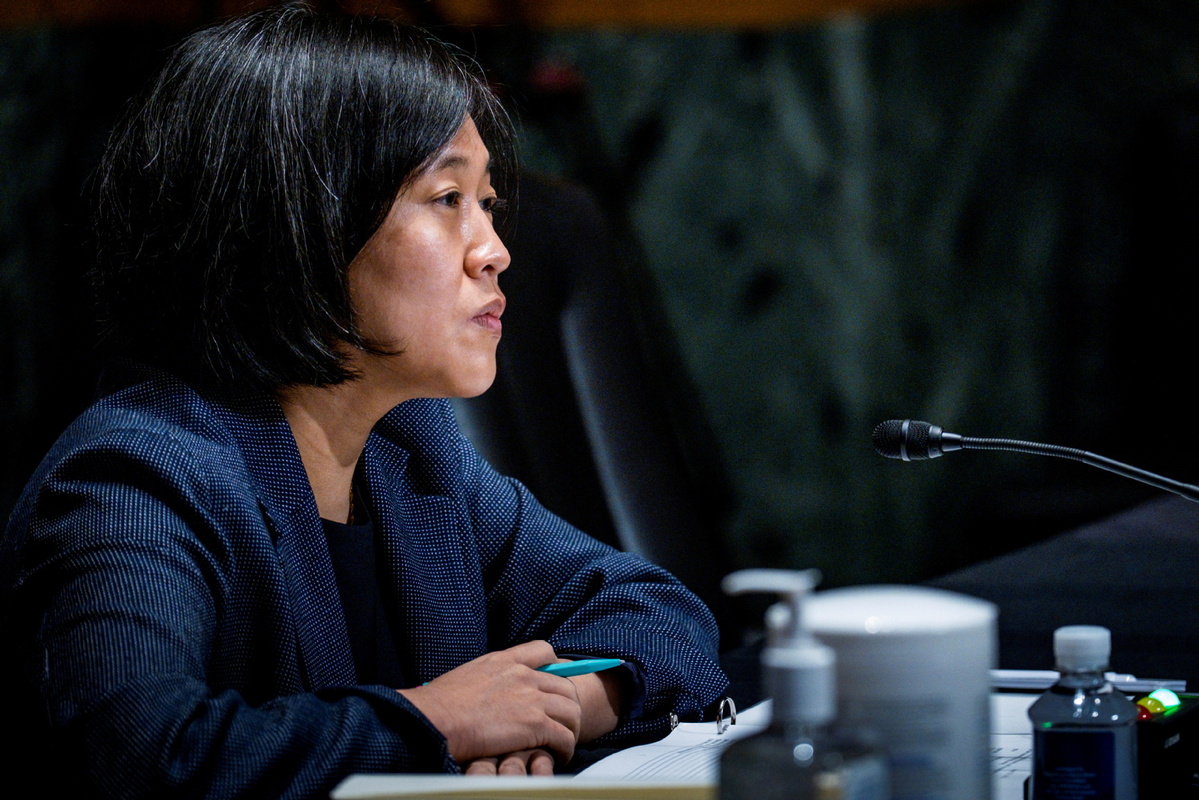 United States Trade Representative Katherine Tai's much anticipated speech on Monday on the Joe Biden administration's approach to trade relations with China, despite containing some positive messages, is hugely disappointing as it reflects some of the previous administration's disastrous measures.
Speaking at the Center for Strategic and International Studies in Washington, Tai said the Biden administration will "take a new, holistic, and pragmatic approach" to dealing with the trade relationship with China and "our objective is not to inflame trade tensions with China".
She also talked about "durable coexistence" and dismissed talks of full economic decoupling with China and instead proposed "a kind of recoupling" while providing no clues about how the US would do so.
While saying the Biden administration "will start a targeted tariff exclusion process", Tai failed to condemn Donald Trump's tariff war against China. Worse, she tried to justify the punitive tariffs, especially under the controversial Section 301, as a useful and effective tool. Her defense of managed trade also contradicts US rhetoric of rule-based global trade.
Just a year ago, a World Trade Organization panel ruled that the Section 301 tariffs against Chinese goods are inconsistent with Washington's WTO obligations.
Tai's words also contradict her claims that the US trade policy will center on US workers as well as Biden's early criticism of the Trump tariffs, and his pledge to remove them once he assumed office as US president.
In a letter to Tai and US Secretary of Treasury Janet Yellen on Aug 5, more than 30 US business associations had complained that the tariffs are "costly and burdensome". The letter cited the Congressional Budget Office estimate that tariffs cost the average US household nearly $1,300 in 2020 alone and Moody's analysis that US importers have had to bear a far greater share of the costs resulting from the tariffs than have Chinese exporters.
While many expected Tai to talk like a trade professional, her speech was full of geopolitics.
She failed to state the fact that Sino-US trade has brought huge benefits to the US economy, businesses and consumers, which suggests that talking about the positive aspects of bilateral relations is toxic in today's Washington.
Instead, she kept pointing fingers at China, citing examples such as the country's state subsidy and the pace for implementing the Phase One trade agreement, in a bid to continue to mislead US public about the win-win nature of US-China trade.
The US has also increased its state support for the economy, especially in the semiconductor and digital sector. For example, the US Senate passed a bill early this year to invest $250 billion in science and technology with the aim of boosting US competition with China.
In fact, the US tech war against China will justify and encourage more Chinese government support for the country's chip industry when the US resorts to sabotaging China's tech sector rather than adopting a fair competition strategy to curtail China's rise.
Tai didn't really answer the question about China's application last month to join the Comprehensive and Progressive Agreement for Trans-Pacific Partnership, which addresses issues from intellectual property rights, labor and environmental problems to, transparency, state-owned enterprises and public procurement. She was embarrassed because opposition to any new free trade agreement is sadly a bipartisan consensus in the US.
She should applaud such a positive step by China to further integrate into the global system after joining the Regional Comprehensive Economic Partnership and concluding talks with the European Union on a Comprehensive Agreement on Investment.
Unilateral US trade actions, especially in the name of national security, have not only violated global rules but created obstacles for resolving critical bilateral trade issues. It is time for the Biden administration to revoke those policies, starting with lifting Trump's punitive tariffs and stopping the trade war against China.
The author is chief of China Daily EU Bureau based in Brussels. chenweihua@chinadaily.com.cn
Most Viewed in 24 Hours
China Views