Flame lighting ritual starts countdown to 2022 Games
Share - WeChat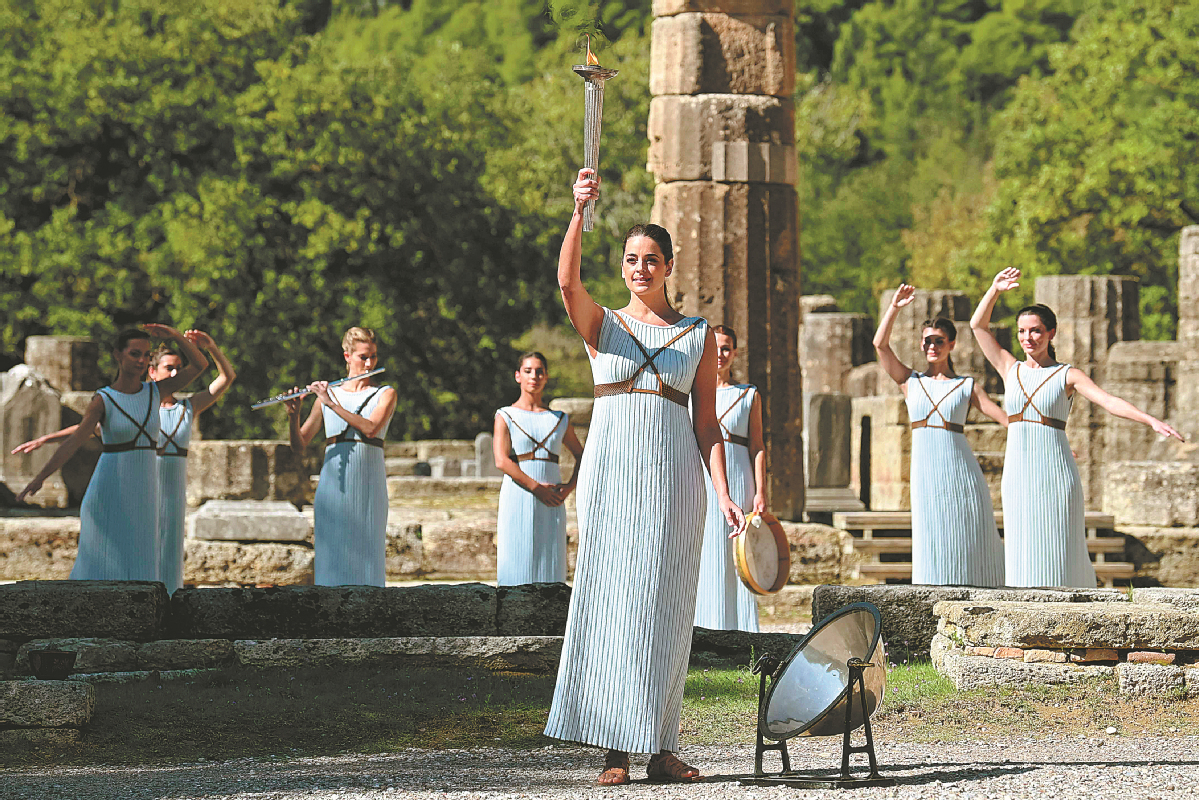 Amid radiant sunshine and a reverent hush, the flame for the Beijing 2022 Winter Olympics was lit in Greece on Monday, kicking off the final countdown to the Chinese capital's encore as a Games host.
After a series of traditional ceremonies at the site, Greek actress Xanthi Georgiou-portraying a high priestess-knelt before a parabolic mirror and gathered the sun's rays into a bloom of flame in front of the Temple of Hera in Olympia, the birthplace of the ancient Olympic Games. She also ignited worldwide anticipation for the opening of the winter sports event on Feb 4 in Beijing.
Although skies were cloudy for a dress rehearsal the previous day, the sunshine broke out just in time on Monday to guarantee a smooth operation of the sacred ritual witnessed by dignitaries, including Greek President Katerina Sakellaropoulou, International Olympic Committee President Thomas Bach and IOC Vice-President Yu Zaiqing, who also is a vice-president of the Beijing 2022 organizing committee.
Yu, on behalf of Chinese organizers, sent a warm welcome to the world, inviting international winter sports athletes to visit Beijing in just over 100 days.
"The Olympic flame embodies our unswerving pursuit of excellence … and it sheds light on our journey ahead, to overcome difficulties with greater solidarity and closer cooperation," Yu said.
"The lighting of the flame today, carried by the torch of the Beijing 2022 Winter Games, will connect two ancient cultures in Greece and China again, and will rekindle Olympic passion and dreams among 1.4 billion Chinese people," he added.
Bach, citing the significance of the Olympics' return to China, hailed the Beijing event as a game changer for the international winter sports community.
"The Olympic Winter Games Beijing 2022 will connect the Chinese people with the world, bringing to life China's vision to engage 300 million people with sport on snow and ice, changing winter sport forever. The entire world will see this passion when China welcomes the best winter sport athletes," Bach said in a speech before the flame was lit.
Due to COVID-19 restrictions, the ceremony was held without spectators under a plan that also saw the traditional multiday relay in Greece replaced by a brief relay just in Olympia.