Carrie Lam highlights need for national education in online talk for teachers
Share - WeChat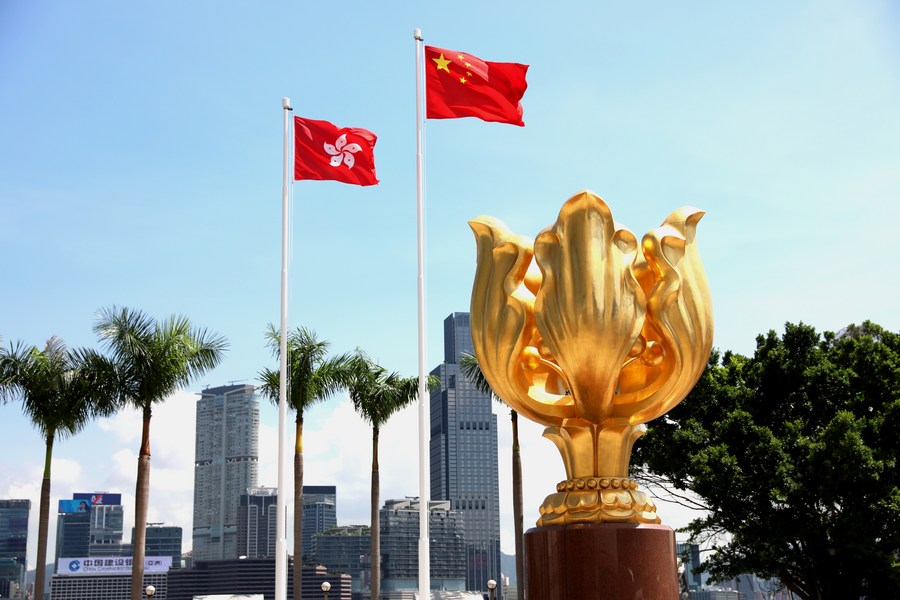 Chief Executive Carrie Lam Cheng Yuet-ngor said on Thursday it has become increasingly evident that the key to maintaining the relationship between "one country" and "two systems" is to firmly safeguard the central government's overall jurisdiction over the Hong Kong Special Administrative Region.
What happened over the past three years or so has made it clear to Hong Kong that pitting "two systems" against "one country" will harm Hong Kong's long-term stability and prosperity and jeopardize national security, she said.
Lam made the remarks to teachers of the subject "Citizenship and Social Development" in an online talk on the constitutional role of the SAR's top leader.
Lam attributed the fallacies on the relationship between "one country" and "two systems", which is a fundamental issue, to the failure of the SAR government and education sector to explain it the public.
The live-streamed session, held by the Education Bureau, aimed to give principals and the teachers of Citizenship and Social Development classes a better grasp of the constitutional status, powers and functions of the chief executive under the "one country, two systems" principle.
She highlighted the significance of national education, saying it is the most important part of solving a series of problems that the city is facing.
"If we cannot let residents, especially our young generation, have a full grasp of the relationship between the central government and the Hong Kong Special Administrative Region, national identity, the nation's sovereignty, national security and jurisdiction, we will continue to face various problems," Lam said.
During the session, Lam touched on five topics in her 45-minute speech, including the history of "one country, two systems", the constitutional order of the Hong Kong SAR, the method for the election of the chief executive and his or her powers and responsibilities, and how the chief executive executes duties, with examples of her own experience.
Lam expressed hope that the city's teachers will be proud of the nation's achievement and development. She also encouraged educators to cultivate young generations with a sense of national identity, patriotic spirits and an international perspective for the city's bright future.
Lam then spent about half an hour answering teachers' questions.
Lam said that about 100 educators attended the talk offline and over 1,000 participated in the event online. The enrollment in the talk ended on Friday, and each school was allowed to sign up no more than eight teachers for the event.