Experts voice confidence in HK's democratic development
Share - WeChat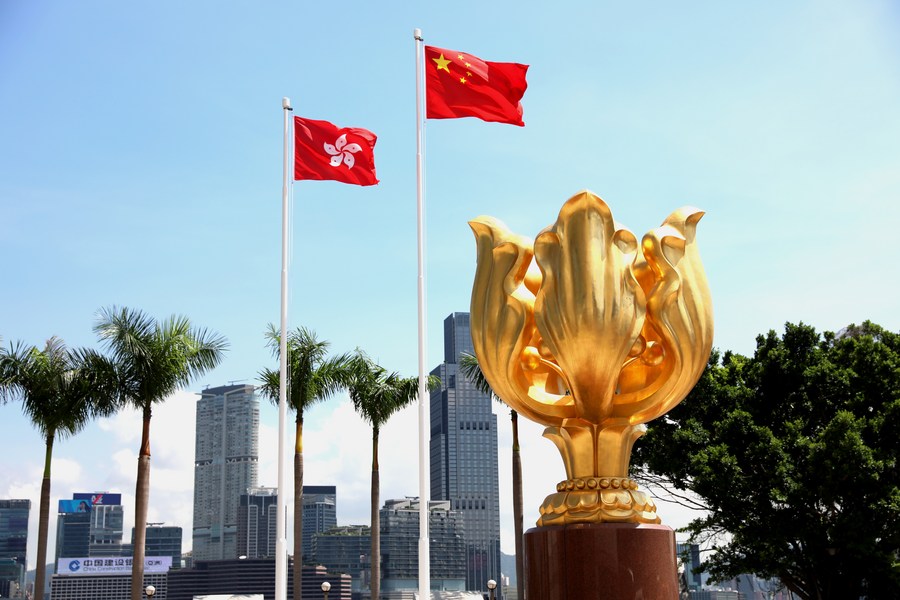 Political heavyweights and scholars on Tuesday expressed confidence in the city as it charts a new course of democratic development with Hong Kong characteristics under "one country, two systems".
The remarks were made at a seminar on the Hong Kong Special Administrative Region's democratic development.
The event, organized by the Chinese Association of Hong Kong and Macao Studies, the One Country Two Systems Research Institute, and Our Hong Kong Foundation, was attended by around 100 experts and scholars, both online and in person, from the Chinese mainland, Hong Kong and Macao.
Wang Zhenmin, director of Tsinghua University's Centre for Hong Kong and Macao Studies, said in his keynote speech that Hong Kong's democracy should be a kind of high-quality democracy that can play a role in safeguarding the city's safety and stability, ensuring good governance and helping improve people's livelihoods.
Wang, who is also vice-chairman of the Chinese Association of Hong Kong and Macao Studies, said if the city hopes to pursue high-quality democracy, it should say no to Western democracy, in which power-for-money deals are common.
Wang said that with the city's revamped electoral system, China has the confidence and capability to explore and establish a democratic system with HKSAR characteristics and in line with the city's reality.
Xu Ze, president of the Chinese Association of Hong Kong and Macao Studies, said at the event that the Communist Party of China and the central government are the designer, creator, guard and facilitator of the SAR's democratic system.
Xu said the "patriots administering Hong Kong" principle must be upheld in the city's democratic development.
Tam Yiu-chung, Hong Kong's sole deputy to the Standing Committee of the National People's Congress, said the "one country, two systems" policy gets Hong Kong to a new era in exploring its democratic system.
With the National Security Law for Hong Kong in place and with the improved electoral system, Hong Kong's democracy is back on track, Tam said, adding that he believes the city will embrace a bright future.
Maria Tam Wai-chu, deputy director of Hong Kong's Basic Law Committee, in her speech said that there was no democracy in Hong Kong before the city's return to the motherland in 1997.
It was Britain's tactic to hastily push for democracy in its colonies before its retreat, Tam said, saying it was intended as a bargaining chip to be leveraged in negotiations before a full withdraw.
Zhi Zhenfeng, a researcher of the Institute of Law of the Chinese Academy of Social Sciences, said the central government has unshakable determination to support the HKSAR as it develops its democracy and the city's electoral system and mechanism are constantly revamped.
Zhi said he has confidence in the city's democratic development system, which is led by the central government and implemented under "one country, two systems".