Policies lay foundation for realizing carbon goals
Share - WeChat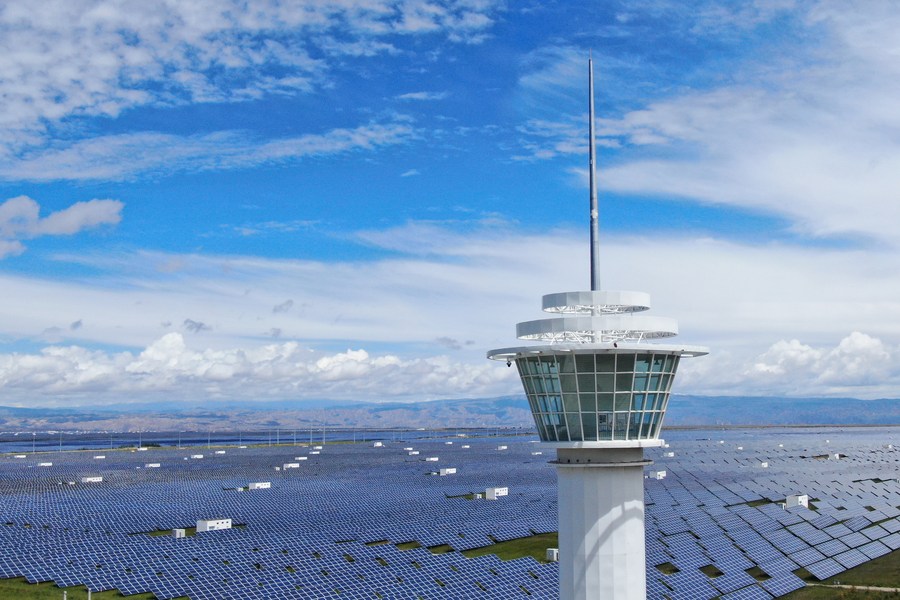 Laying the foundations for China to achieve its climate targets is like building a giant skyscraper, but a lot of preparations have been done for the difficult work and the country is ready to roll out more measures, experts said.
They made the remarks following the three-day Central Economic Work Conference, which concluded in Beijing on Dec 10. At the annual meeting, President Xi Jinping, who is also general secretary of the Communist Party of China Central Committee, reviewed the country's economic work for the year and mapped out plans for 2022.
China's goal of having carbon dioxide emissions peak before 2030 and realizing carbon neutrality before 2060 was highlighted in a statement released after the meeting.
The release stressed the importance of properly understanding the target. Crucial for the country's high-quality development, the target should be promoted "unswervingly", it said; however, the work "cannot be accomplished in just one stroke".
Reforms were also promised in how the government sets key goals as it aims to become carbon neutral.
Currently, the country's efforts focus on capping energy consumption and controlling energy intensity, or energy consumption per unit of GDP. Aside from national goals stipulated in the national five-year plans, specific tasks are set for each provincial-level region, and performances in different areas are regularly appraised.
It was decided at the conference that renewable energy and energy used for raw materials would be excluded from the cap on total energy consumption.
At a recent China Center for International and Economic Exchanges meeting, Ning Jizhe, deputy head of the National Development and Reform Commission, said that instead of resulting in carbon dioxide emissions, 80 percent of fuels used in the coal chemical and petrochemical sectors are usually transformed into raw materials.
Wang Weiquan, deputy secretary-general of the Chinese Renewable Energy Industries Association, said the exclusion of renewable energy from the cap will give a big boost to China's development of nonfossil energy.
Despite the government's endeavors to promote renewable energy production, people's willingness to consume such energy has been relatively low because of intermittent problems, he said.
Exclusion from the cap could help address the problem and motivate consumers to increase nonfossil energy consumption. "An enlarged consumption market will drive development on the supply side, resulting in a circle favorable for nonfossil energy development," Wang said.
According to the National Energy Administration, nonfossil energy currently makes up about 16 percent of China's primary energy mix.
However, Wang said nonfossil energy consumption has not been excluded from calculating energy intensity. Curbing energy-intensive development remains a major concern of the government.
The release from the economic conference said China will "create conditions" to shift the focus of its goals to capping carbon emissions and reducing carbon intensity "as early as possible".
In an interview with China Environmental News, Zhou Dadi, former head of the National Development and Reform Commission's Energy Research Institute, said the shift means more industries beyond the energy sector will be involved in the new approach to cap carbon use. Aside from carbon dioxide, it aims to control other greenhouse gases as well.
China introduced an energy consumption cap and targets to reduce energy intensity during the 12th Five-Year Plan (2011-15) period, Wang said. So far, the approach has played a significant role in conserving energy in the country, which is heavily dependent on oil and natural gas imports.
"Due to the significant improvements in energy intensity, total primary energy supply (in China) is much less than it would be otherwise," said a 2018 report from the Energy Charter Secretariat.
Without the improvements in energy intensity achieved between 2013 and 2015, electricity consumption in China would have grown by more than 800 terawatt hours in 2015, compared with the actual growth of 259 terawatt hours, the report said.
Capping energy consumption and controlling energy intensity can still play an effective role in helping China reach a carbon dioxide emission peak as it moves further toward carbon neutrality, Wang said.
The country has been preparing for the green transition. But more work still needs to be done, he said. For example, a statistical and accounting system needs to be established for carbon emissions.
The work to make carbon neutrality a reality is like building a giant skyscraper, and the most important thing is to lay the foundation, he said. "Good preparations are key to success," Wang said.