Ramping up investments as camping catches fire
Share - WeChat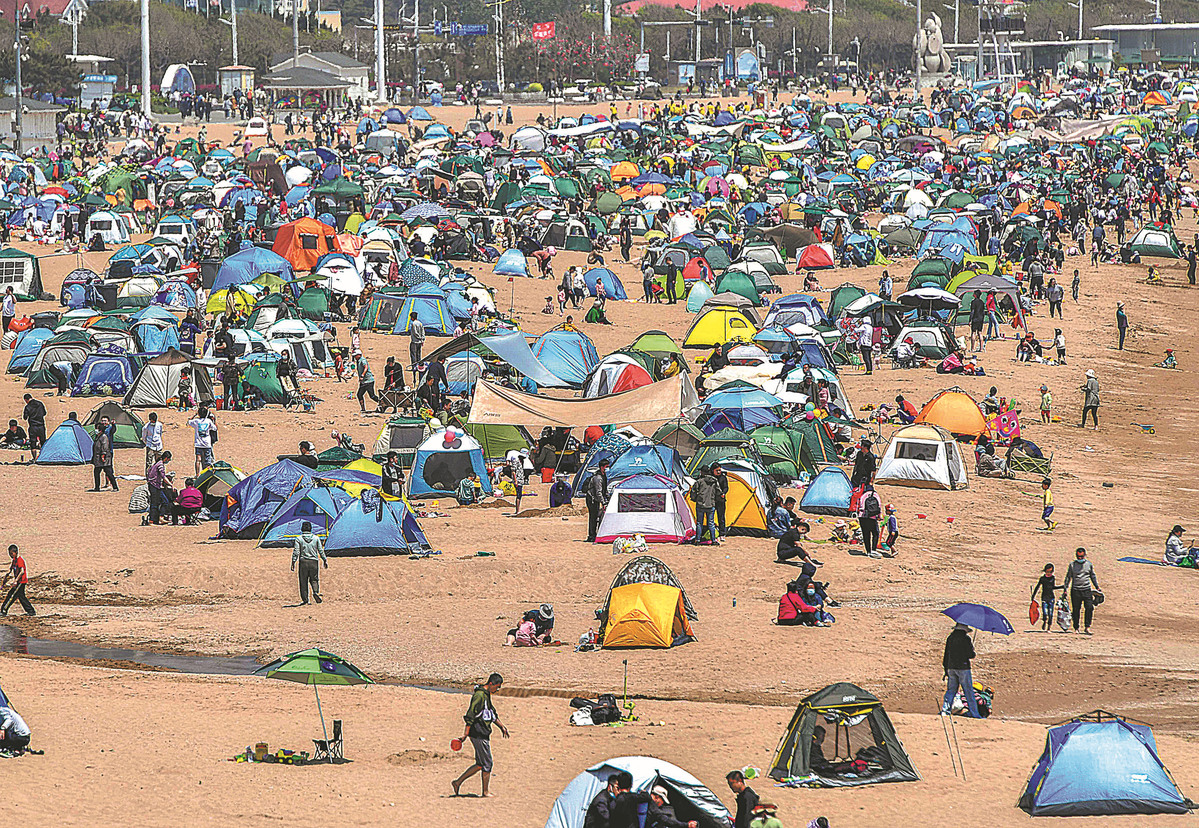 Amid COVID-19 resurgence, measures to boost consumption and zest for life pay off
Fresh COVID-19 cases in multiple cities have dimmed traditional segments of the 3.81 trillion yuan ($563.06 billion) tourism industry in China, but camping in suburban areas has emerged as a bright spot, spawning a niche business that could be worth 35.5 billion yuan in annual sales revenue this year, insiders said.
Consider these figures from Tianyancha, a corporate information provider: China already has more than 5,800 companies involved in operating camping sites. In addition, there are 33,000 tent manufacturers, more than 5,000 sleeping bag producers and over 1,200 foldable chair makers.
If there are so many suppliers, there must be a huge number of consumers willing to buy their products? "China is the market to be in for outdoor fun enablers," said Ren Tian, a department director at Qunar, a Beijing-based online travel agency.
Besides camping, other activities like short stays at bed-and-breakfast facilities, sightseeing and visits to urban parks have also gained traction among people with never-say-die attitude, all reinforcing the fundamental role of consumption in economic development.
Young travelers seek high-end camping experiences complete with barbecues, bonfire parties, fireworks and much photo-taking, and demand for such fun is getting increasingly diversified, industry insiders said.
Earlier, most camping sites provided only the space and did not offer much recreation. That format, however, has become old-fashioned and less competitive. Now, sites come integrated with matching services to serve comprehensive entertainment to consumers.
As a lifestyle trend, camping spread to China from the United States and Europe, tapping outdoor activity lovers and climbers in the beginning. It gained in popularity in China after the COVID-19 outbreak in 2020, as more consumers tended to go on trips to nearby suburban regions due to restrictions on long-haul or cross-provincial tours.
During the five-day May Day holiday in the first week of this month, camping erupted as the preferred outdoor activity among young consumers. Sales of admission tickets to parks that allow camping surged more than 50 percent year-on-year. Bookings for camping-related products such as accommodation tripled over the same period of last year, Qunar said.
Even regular city parks came alive with ubiquitous colorful tents of various sizes as revelers sought to beat COVID blues. Related products like approved butane stoves and mats began popping up on e-commerce platform recommendations. And new arrivals like outdoor clothing, footwear, accessories and other supplies lent fresh looks to outlets of outdoor product retailers like Decathlon. Even eateries and restaurants reported takeaway sales as campers went prepared with food and beverages to their getaways.
The growing popularity of camping in China can be seen also in the rising sales of related equipment. A number of travel agencies and gear makers are ramping up their investments. Travel agencies launched packages that integrate camping with picnics, sports, deserts or islands.
Ahead of the May Day holiday, Qunar launched an online store that focuses on providing products related to camping. The store sells different brands of products like tents, hammocks and lights for campsites. A week before the holiday, such products were all sold out, the company said.
"Camping" also emerged as the keyword with the highest online search volume on Tujia, a Chinese short-term lodging rental platform. It was followed by "flower-viewing"," picking", "mountain climbing" and "cycling".
"A large number of female consumers have taken a shine to camping, which has become more exquisite, boasting a sense of ritual. It's no longer limited to individual backpackers. Travelers care about the comfort level of camping, and they care more if they could take decent pictures at the campsites. Some lightweight and portable devices can help significantly enhance the experiences," Ren of Qunar said.
"On Qunar, travelers can book products such as admission tickets to camping sites, camping with simple tents, camping coupled with picnics, and camping with overnight accommodations. The booking volumes of camping options that offer children's playgrounds and various outdoor gear have grown significantly," Ren said.