Ukraine crisis used as excuse
Share - WeChat Editor's Note: China Daily presents a series of analyses to help readers around the world better understand the how and why behind China's views and decisions on the Ukraine situation. This is the seventh installment of the series.
US walkouts at G20, APEC venues blasted for disrupting recovery efforts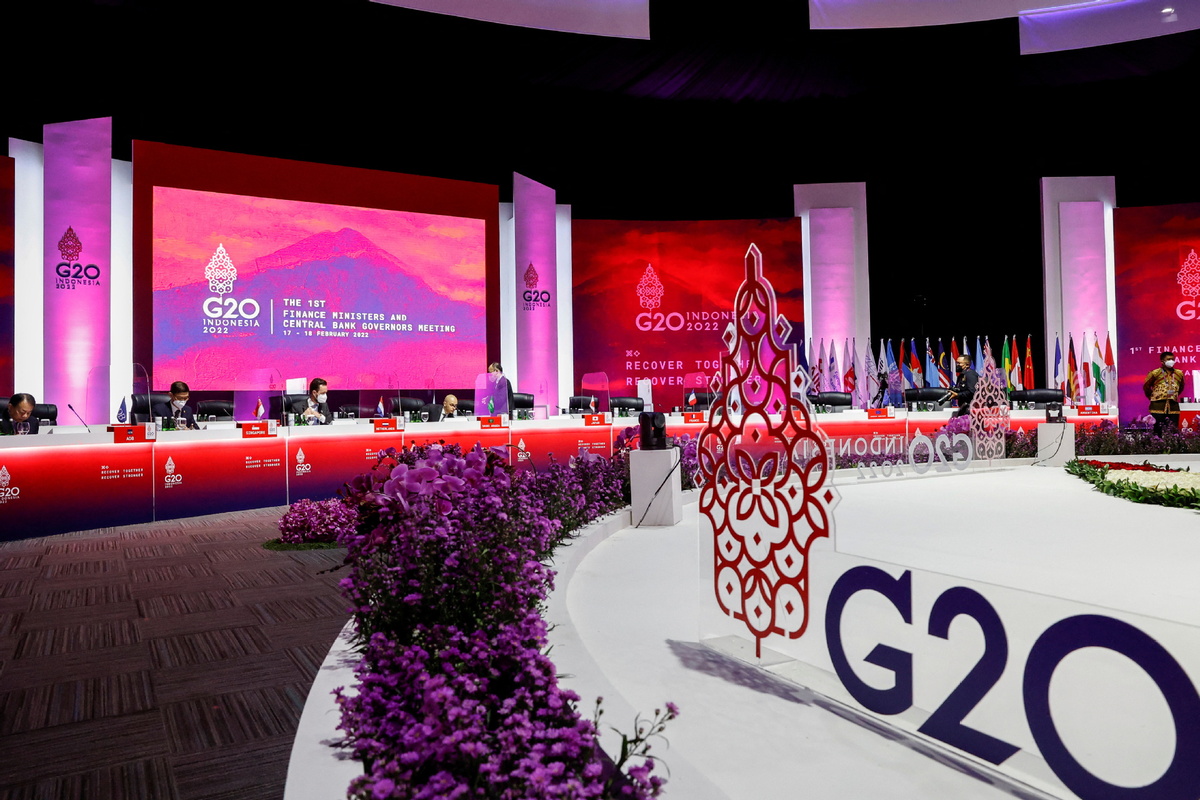 The United States and some of its allies have stunned and angered other countries over the past month as they walked out of venues of major global economic forums such as the G20 and APEC in the name of boycotting Russia over the crisis in Ukraine.
Senior officials and scholars from countries including China have stood up against such walkouts, saying that they are turning cooperative platforms into "weapons" serving the West's own cliques, worsening the world's fragmentation and sabotaging viable paths for tackling the global economic downturn.
As a multilateral platform connecting the world's major developed and emerging economies, the G20 represents roughly more than 80 percent of the world's GDP, 75 percent of international trade and 60 percent of the world's population.
US, Canadian and British officials left the G20 finance ministers meeting in Washington DC on April 20 as Russian delegates spoke.
In an interview with CNN, Sri Mulyani Indrawati, finance minister of this year's G20 host country Indonesia, said her country received "a lot of sympathy" as many G20 members privately said that "they want this cooperation as a premier economic forum for collaboration... to be continued".
Another walkout took place on Saturday as representatives of the US, Japan, Canada, Australia and New Zealand left the trade representatives meeting of the 21-member Asia-Pacific Economic Cooperation grouping in Bangkok, Thailand, this year's host of the APEC meetings.
The meeting also failed to issue a joint statement, which "is the last thing China and many other APEC members hope to see," Foreign Ministry spokesman Wang Wenbin said on Monday.
All parties should "respect APEC's nature as an economic forum and the mandate of the meeting itself, focus on economic and trade issues, and avoid introducing geopolitical issues", Wang added.
"The momentum of politicizing global economic forums and using them as 'weapons' is actually developing, and the US-led countries may even do more like this in the near future," said Zhu Jiejin, a professor of global governance studies at Fudan University's School of International Relations and Public Affairs.
"Washington and some of its allies are trying to diminish and create rifts in the G20 and APEC by replacing such forums with their own cliques and their own agendas, such as the newly released 'Indo-Pacific Economic Framework'. This is sheer selfishness," Zhu said.
In a speech on May 10, International Monetary Fund Managing Director Kristalina Georgieva warned of a world "that could fragment into 'economic blocs', creating obstacles to the cross-border flow of capital, goods, services, ideas and technologies".
Experts said that it is ironic and deplorable for Washington to disrupt the functioning of the G20, a major global forum it initially sought for tackling the aftermath of the global financial crisis in 2008.
Vasuki Shastry, associate fellow of Chatham House's Asia-Pacific Programme, warned that "the tussle over Russia's continued participation is likely to consume political capital and seriously impair the grouping's ability to deliver for the next two years".
"A reversion to the pre-2008 world order, when the G7 was the only game in town, seems inevitable, but would be deeply unrepresentative of the global economy today," Shastry wrote in an article on the Forbes website last month.
Xu Xiujun, director of the International Political Economy Department of the Chinese Academy of Social Sciences' Institute of World Economics and Politics, said, "Key venues undertaking multilateral coordination-such as the G20 and the APEC-should have played larger roles and better lived up to the expectations and needs of the international community."
"However, the US and some other Western countries are still drifting away from the world's mainstream as they push for politicizing such multilateral bodies, and use them as tools and weapons, thus leading to the bodies' malfunction in some cases. Such practices had begun way ahead of the Ukraine crisis' breaking out," Xu said.
"Rising populism and widening wealth gaps back at their homes have given rise to serious social problems, prompting their governments to take a more hard-line approach overseas to shift blame to other nations," Xu added. "That's how the developed countries made the vital mistake in the first place."
Opposing fragmentation
As a sign of shoring up global unity, the foreign ministries of Cambodia, Indonesia and Thailand issued a rare joint news release on May 4 in their respective capacities as host nations of this year's Association of Southeast Asian Nations, G20 and APEC meetings.
"As chairs of these important meetings this year, we are determined to work with all our partners and stakeholders to ensure a spirit of cooperation," said the release.
China staunchly supports Indonesia in its role as G20 president, and eliminating interference to achieve the established agenda goals and lead the G20 in the right direction, State Councilor and Foreign Minister Wang Yi said in a phone conversation on Wednesday with Indonesian Foreign Minister Retno Marsudi.
The United Nations Security Council is the right platform to discuss political and security issues, while the G20 should stay committed to focusing on macroeconomic policy coordination and fulfill its due mission, Wang said.
In an opinion piece published in the Bangkok Post on May 12, Korn Chatikavanij wrote, "The West must also realize that their narrative is not necessarily considered to be received wisdom in Asia.
"Their boycott and disengagement would leave a void that would be filled by alternative views that could further reduce the West's influence in this region."
Yang Baoyun, a professor of ASEAN studies at Thammasat University in Bangkok, said that behind the confusion over the major global forums are the drastically different ways between developing countries-such as China-and the US-led Western countries of addressing globalization and world economic growth.
"The US and some of its allies are obsessed in bloc-based confrontation and cliques that are unconstructive, disruptive and aimed at what they antagonize. Still, China is dedicated to keeping economic globalization afloat and building a community of a shared future for mankind," Yang said. "Also, a growing number of developing countries are getting a clearer view about what's going on."
Arsjad Rasjid, chairman of the Indonesian Chamber of Commerce and Industry, said that the G20 "should not be turned into yet another battleground for great power rivalry" at a time most countries are currently grappling with inflation and shortages and "the world's post-pandemic recovery is looking fragile".
"Without addressing the global economic downturn, peace cannot be assured. All forums for communication must be kept open, especially in times of distrust," he wrote in a signed article in the South China Morning Post on May 13.