Medicinal herb is a healthy harvest
Share - WeChat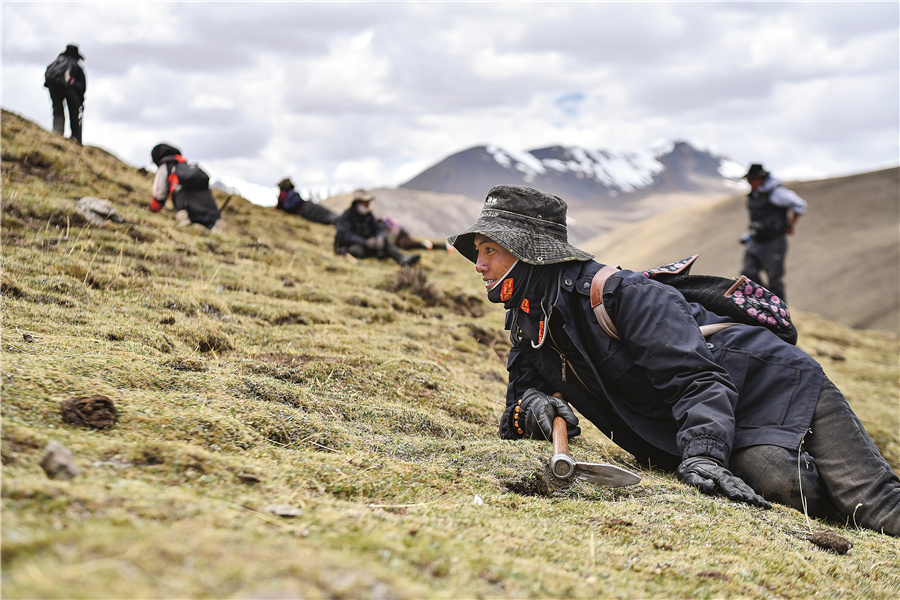 Cordyceps sinensis is a tonic herb, known as "soft gold" in the Tibet autonomous region. It is mainly distributed in the Qinghai-Tibet Plateau at an altitude of 3,500 to 5,000 meters. The harvesting season in Tibet started in late May.
Nagqu is the "north gate" of Tibet, with an average altitude of more than 4,500 meters. Its sunshine, timely monsoons and snow provide the best conditions for the reproduction of cordyceps. The city's Biru county is one of the most famous and productive areas for growing cordyceps. Here it takes on a light brown color, which suggests higher doses of adenosine.
Donning masks, gloves and hats, the herdsmen have to crawl on the grass to spot the herb. Normally, herdsmen spend at least one hour after going up the mountain to find their first cordyceps. They climb along the steep hillside to an altitude of more than 4,700 meters to the meadow where cordyceps seems to hide. With one leg bent, the other straight, elbows against the turf, herdsmen look for this particular brown bud.