Newest super ship docks at Ningbo Zhoushan Port
Share - WeChat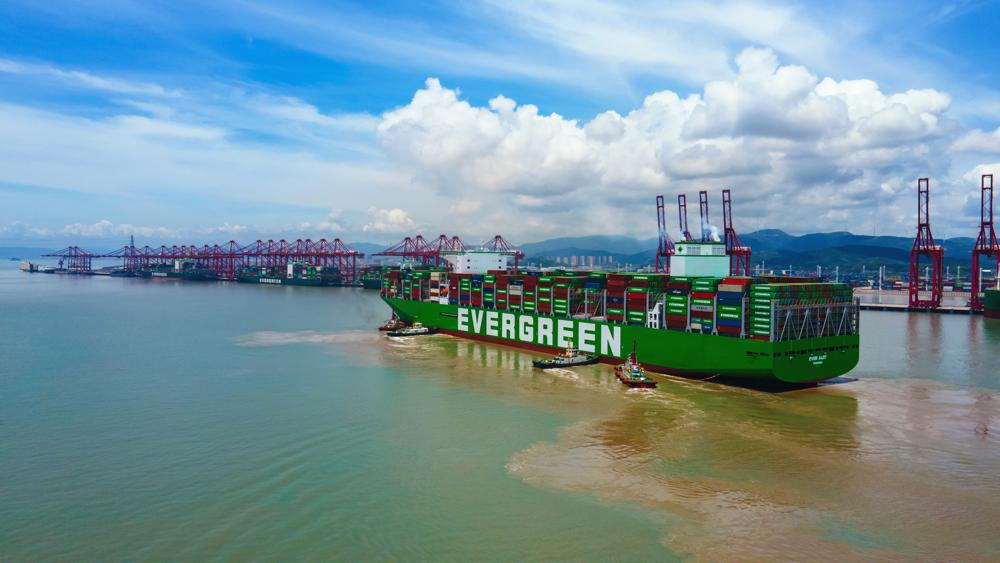 The world's largest container ship, Ever Alot, docked at the Meishan area of Ningbo Zhoushan Port on Sunday.
The new super ship, designed and built in China and owned by Evergreen Marine Corp, overtook Ever Ace as the world's largest container vessel when it was launched in late June.
At 399.9 meters in length, the vessel is the first in the world to surpass the 24,000 TEU (20-foot equivalent units), and 8,469 containers are expected to be loaded and unloaded at Ningbo Zhoushan, one of the world's top container facilities.
The Meishan dock, where both colossal vessels are berthed, has nine giant parking spaces that can simultaneously accommodate several 200,000-metric-ton container ships. It features smart technologies and cranes that can be controlled remotely.
In 2021, Ningbo Zhoushan handled 1.22 billion metric tons of cargo, up 4.4 percent year-on-year, topping the global rankings for the 13th straight year. The port's container throughput reached 31.08 million TEUs, up 8.2 percent year-on-year and ranked third globally.
Xiang Wenjian and Yu Yin contributed to this story.