Foreign executives experience Sichuan's cultural hotspots
Share - WeChat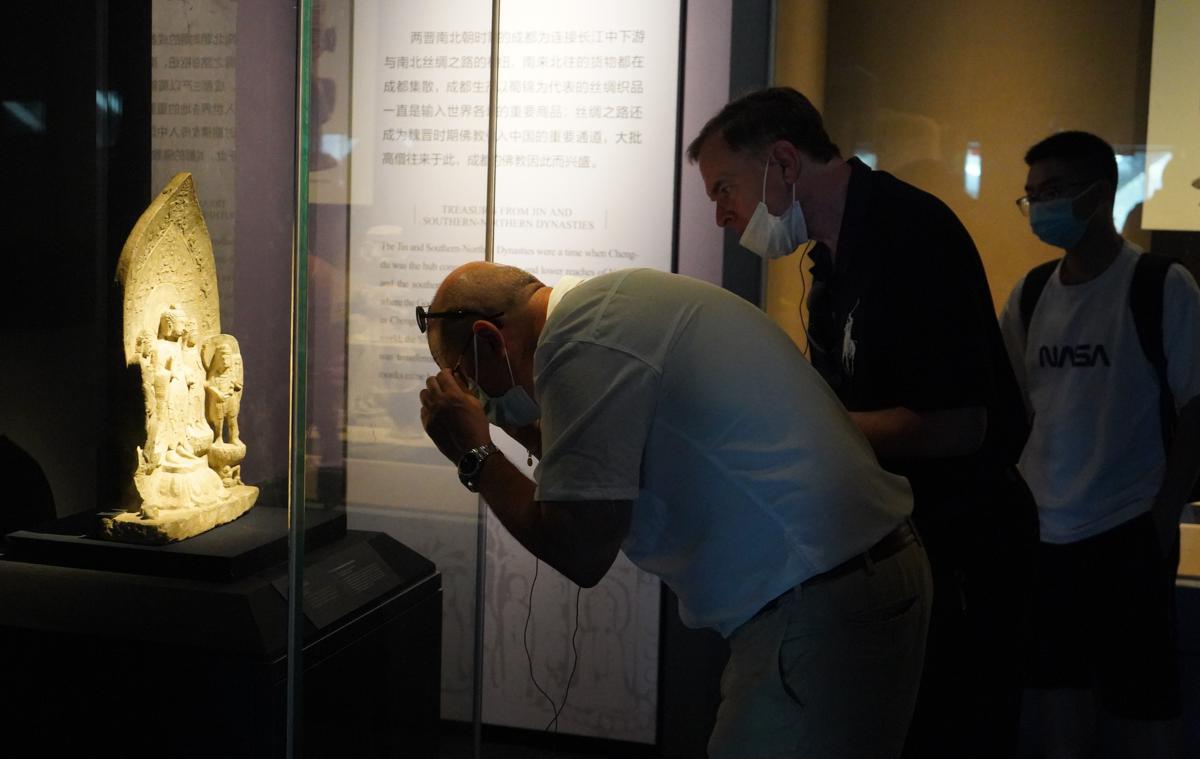 Kevin Schooling recited the lines "Morning and I see a damp redness on the branches, Laden down with flowers" from Du Fu's poem "Rain on a Spring Night" during his recent visit to the Du Fu Thatched Cottage Museum in Chengdu, Sichuan province.
"They are my favorite lines", said the American head of the Golden Apple Jincheng Secondary School in Chengdu. He added after watching Du Fu: China's Greatest Poet, a BBC English documentary that premiered on April 6, 2020, he had loved the poet ever since.
Schooling, along with other foreign executives based in Chengdu, were at the museum as part of the four-day "Journey Around Sichuan - Trip of Ancient Shu Civilization" tour, which started last Monday. Shu is the ancient name for Sichuan.
Sponsored by the Publicity Department of the Sichuan Provincial Party Committee and organized by Vision Sichuan Magazine of Sichuan Daily Group, executives from Spain, Italy, France, the United States and Canada visited the Chengdu Museum and the Du Fu Thatched Cottage Museum in Chengdu, Li Bai Memorial Hall and Qiqu Mountain Grand Temple in Mianyang, Mianzhu New Year Painting Village, Jiannanchun Distillery and Sanxingdui Museum in Deyang to experience Sichuan's cultural heritage and natural scenery as well as its high-quality development and business environment.
For poetry lovers, the Du Fu Thatched Cottage Museum in Chengdu is a must-visit.
During his nearly four-year stay in the cottage, Du Fu (712-770), one of China's most revered poets, penned 240 of his 1,400 extant pieces.
Couplets with lines from Du's poems grace gates, pillars and halls in the museum. While visiting, foreign executives made rubbings of his poetry and drank tea behind his cottage to simulate his experience there.
Most items in the Sanxingdui Museum are from two sacrificial pits full of bronze artifacts, including masks and human figurines, unearthed in the Sanxingdui Ruins in 1986.
The discoveries confirmed the site housed the ruins of an ancient city that was the political, economic and cultural center of the Shu Kingdom.
The site is considered to be one of the most important archaeological discoveries in China in the 20th century.
"It's amazing, "said Radek Cais, general manager of St Regis Chengdu, after viewing the masks in the Sanxingdui Museum.
Thursday marked his first visit to the museum, but he'd wanted to visit for a long time because his friends said not coming to Sanxingdui is equivalent to not coming to Sichuan, he said.