When HK returned, I was left holding the baby
Share - WeChat Twenty-five years ago on July 1, 1997, I woke up very late in my apartment in Singapore.
I jumped out of bed in a little bit of a panic. I woke up my 8-year-old daughter Avy, who was not exactly in a hurry to get out of bed.
"We're late for school," I half-yelled at her.
I finally got her into the shower, dressed her hurriedly and made it to the nearby bus stop in time.
Thankfully, the school was only two stops away. We got in, partly rubbing our eyes as the sunlight streamed into the bus.
When we arrived, my daughter said, "Hurry, they're about to go in."
I managed to get her to the back of the line and she filed into the school, just in time.
My daughter turned to look at me for a minute and muttered, partly in rebuke: "I want mommy."
Her mom was not in Singapore that day. She had flown to Hong Kong several days earlier on assignment for the Philippine newspaper Business Day to cover the handover of the city's return to China.
I had taken the week off from my job to help look after our daughter, and ensure she made it to school, while her mother was in Hong Kong.
I would pick up my daughter from school around midday. We'd go to a nearby mall, slip into a nearly empty McDonald's and would order Chicken McNuggets, maybe a spaghetti.
Not exactly a healthy lunch for a growing kid, but that was the food she wanted and, like a lot of parents, that was the path of least resistance.
At the end of the day, I would watch the news on TV, which had led the entire week with the historic events happening in Hong Kong.
I would wonder where my wife was in the crowd that was gathered to witness the handover.
The year, 1997, was fraught because the Asian financial crisis began, I think, around April. The Thai baht was hit, followed by the South Korean won and, like a contagious virus which spreads rapidly, the financial system seized up.
For that week though, that was the least of my worries.
To make it up to my daughter, I would let her swim in the apartment compound's pool about three or four times that week. She loved swimming and it allowed me to chill in the shallow part of the pool in the late afternoon.
I made sure to get a good night's sleep the rest of the week, so we did not have a repeat of July 1.
My wife was very busy during the handover, chasing down stories in Hong Kong as the British flag was lowered for the last time.
Twenty-five years later, in Beijing, she tells me that her memory of that time is a bit of a "blur".
I later spent a few years in Hong Kong working for another publication, but my enduring memory of the days surrounding its historic return to China was the time I spent as a babysitter, although, it is kind of hard to call an 8-year-old a baby.
The whole thing was a lifetime ago. But it is a good memory.
Contact the writer at rene@chinadaily.com.cn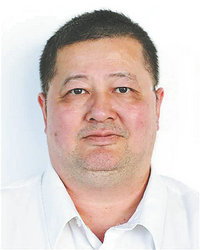 Most Popular