Dream comes true for determined disabled student
Share - WeChat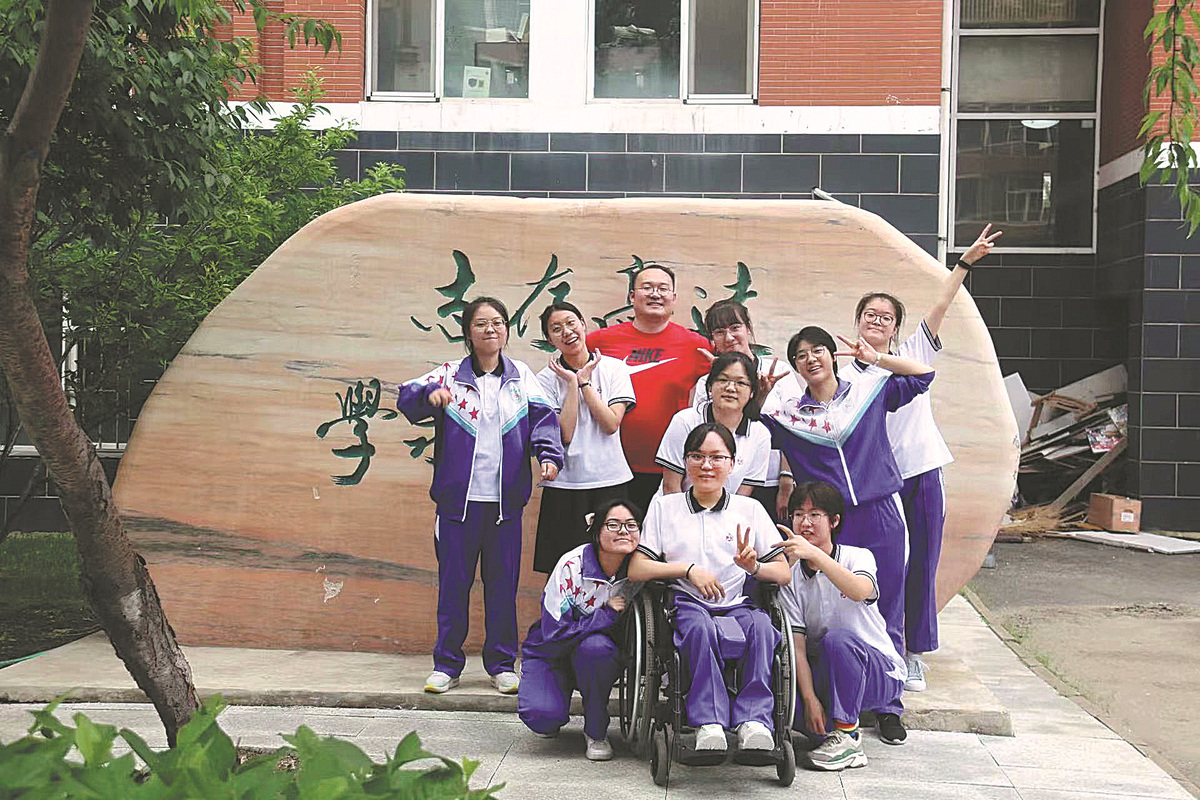 Wang Xinyao and her parents will never forget the day they received her admission letter from Peking University in Beijing.
Instead of arriving by post as it does for other prospective students, she was given hers directly by two of the renowned university's staff members.
Ren Jinrui, deputy director of the Department of Chinese Language and Literature, and Wang Tianmiao, an admissions officer, traveled to the High School Attached to Northeast Normal University in Changchun, Jilin province, on July 22 to give Wang the good news.
She was admitted to the department with a score of 618 out of 750 points on this year's national college entrance examination, or gaokao.
It would require a lot of effort for most high school graduates to score that high, but Wang's challenge was even greater, as she has spent the last 14 years in a wheelchair following a spinal cord injury when she was 6.
"It happened as she was practicing dance moves," said her father, Wang Haixian. "She had just started primary school, and the accident forced her to suspend her studies."
Her parents took her to a number of hospitals in Beijing for treatment, but doctors told them she would never walk again.
"We never imagined our daughter would grow up like this," her father said. "However, we decided to try our best to help her through her sadness and encourage her."
Over the next two years, the family remained in Beijing for Wang to undergo rehabilitation and regular examinations.
"She often asked us when she could return to school and whether she would be able to walk and run like other children," he said. "We tried to break the truth to her gently, helping her accept the reality of her situation, but we never gave up hope of her going back to school."
After returning to Changchun, Wang's parents coordinated with the local education bureau and the disabled person's federation, and finally chose Shuguang Primary School for their daughter to continue her studies.
"Near the school, there is a hospital where she can undergo daily rehabilitation. To make things more convenient, we rented an apartment nearby," Wang Haixian said.
"Fortunately, all her teachers and principals from primary to senior high school never refused her the opportunity of an education and gave us lots of help," he said. "The schools arranged a classroom on the first floor and built accessible facilities, and her junior and senior high schools also gave her dormitory space to rest after lunch."
Despite her situation, Wang Xinyao achieved academic excellence through firm, unremitting effort. Throughout her education, her grades have always been among the top in her class. After visiting Peking University as a fourth grader while she was in Beijing undergoing further rehabilitation, she was so deeply impressed by the campus, that she decided she wanted to study there in the future.
To prepare for the gaokao, Wang studied hard from the day she started attending the High School Attached to Northeast Normal University, even as her medical woes persisted.
"She rarely went to bed before midnight, especially during her third year," her father said. "To avoid other complications, she has to take medicine regularly. Now, she is suffering from severe scoliosis and cannot turn over in bed without our help."
In the past few years, Wang has won multiple awards and is a source of inspiration to her classmates.
"Despite her troubles, Wang Xinyao always has a positive outlook on life," said Bai Gang, her high school head teacher. "I hope she will never forget her dreams and keep going and do even better."
Wang said she is grateful for all the support she has received.
"I want to thank my parents, my teachers and classmates," she said. "Without their encouragement, care and help, I would have never been able to fulfill my dream."
Wang Haixian said: "Due to her condition, when Xinyao starts university life in Beijing, her mother will continue to take care of her full-time. We believe it will be a new beginning for our daughter.