The success of BRI has proved Western skeptics horribly wrong
Share - WeChat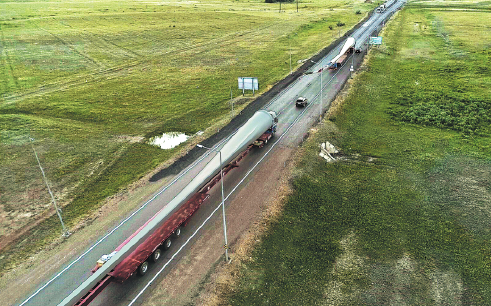 Editor's note: Over the past nine years, the China-proposed Belt and Road Initiative has helped partner countries to boost their economic development. A veteran journalist with China Daily takes a look at the progress of the initiative.
The Belt and Road Initiative, proposed by China nine years ago, has won positive response from countries around the world with more than 170 countries and international organizations already part of it.
To most of them, the initiative provides a golden opportunity to improve infrastructure connectivity and thus boost their economies. Among other things, countries involved in the initiative can expect increasing investment from China, the world's top overseas investor, which can be used to improve connectivity, strengthen the economy, create jobs and improve people's livelihoods.
Indeed, the Belt and Road countries have not been disappointed. Data show that between 2013 and 2020, China's investment in the countries involved in the Belt and Road Initiative increased at an average of 8.6 percent a year, 3.4 percentage points higher than its total overseas investment. In the first five months of this year alone, China's non-financial investment in Belt and Road countries increased by 10.2 percent, compared with 3 percent increase in its overall overseas investment.
Since the launch of the initiative in 2013, China, while making sure the initiative brings solid benefits to the people of all the countries involved, has been working to give it a new color, the color of green.
Addressing the annual session of the United Nations General Assembly in September 2021, President Xi Jinping announced that China will not build new coal-fired power plants overseas and pledged that the country will support other developing countries to develop low-carbon and green energy. In fact, even before the announcement, China had put the brakes on coal-powered power plants and had been working to upgrade existing power stations to make them more environmentally-friendly.
That meant a big loss to many Chinese financial institutions and enterprises which used to be big players in the sector making billions of yuan of profits every year. After vowing to reduce the use of coal, China mounted efforts to tap the potential of a green Belt and Road and facilitate the global transition to low-carbon economy.
Since its launch, China has established an increasingly strong policy system to make the Belt and Road Initiative greener. For instance, a guideline issued by the central government in March encourages Chinese enterprises involved in the initiative to more vigorously promote green development and deepen pragmatic cooperation with other countries in the field of clean energy.
China's investment in renewable energy projects in Belt and Road economies has kept increasing, with its investments in hydro, solar and wind power making up about 60 percent of its total overseas investment in energy. A huge number of agreements on financing and construction of such projects have been reached, with some already put into operation.
Also, China has been sharing its successful renewable energy development experiences with other Belt and Road countries and helping with green technologies so they can transition to low-carbon production. China's belief in the ancient saying, "give a man a fish, and you feed him for a day, teach a man how to fish, and you feed him for life", has also prompted it to organize training programs on renewable energy, environmental protection and climate change for more than 3,000 officials and technicians from about 120 developing countries.
To ensure projects suit the practical conditions of the Belt and Road countries, China has designed green solutions small in scale, small in investment, quick in bearing result which are specifically tailored to meet the needs of the poor.
When the Belt and Road Initiative was launched, some Western politicians and media outlets refused to believe China's sincerity in promoting common prosperity through the initiative. They even accused China of offloading its outdated, pollution-heavy industrial capacity on less-developed countries.
The fact that China has been doing all it can to make the Belt and Road Initiative eco-friendly even at the cost of losing huge profits should prompt the ill-willed countries to shut their mouth. China should continue its efforts to further add the green and golden colors to the initiative.
The author is former deputy editor-in-chief of China Daily.
If you have a specific expertise, or would like to share your thought about our stories, then send us your writings at opinion@chinadaily.com.cn, and comment@chinadaily.com.cn.
Most Viewed in 24 Hours
China Views