Target vaccine hesitancy, experts say
Share - WeChat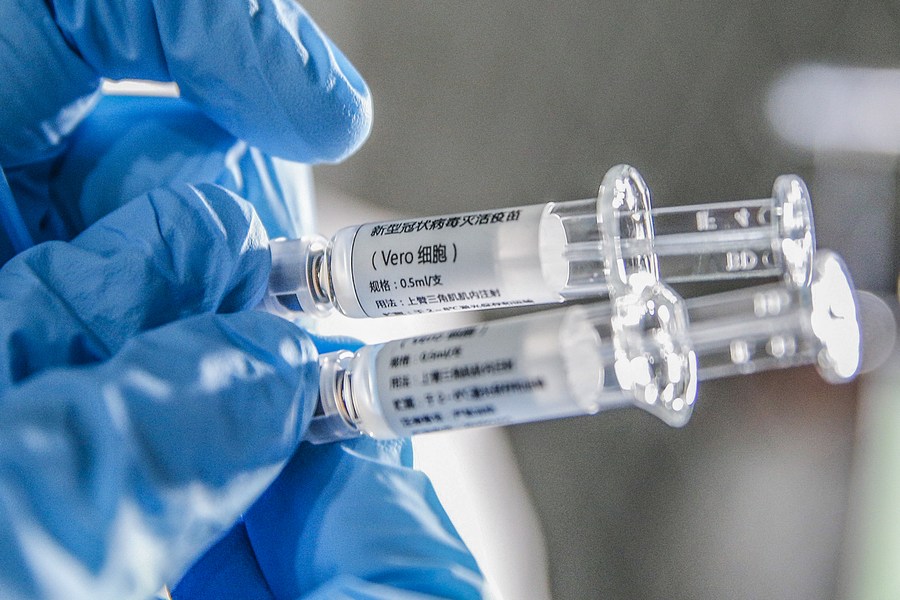 Health experts have called for consolidated efforts to address vaccine hesitancy in China, especially as some of the most vulnerable groups to COVID-19 remain unvaccinated against the disease.
Vaccine hesitancy is a state of indecision and uncertainty about getting immunized. Causes behind the hesitancy include the fear of adverse effects from the vaccine, doubts over their safety or efficacy, anti-vaccination movements as well as religious or political influence.
Lance Rodewald, senior adviser of the Chinese Center for Disease Control and Prevention's National Immunization Program, said that hesitancy can lead to a delay or a refusal of vaccination.
"At the population level, delay and refusal can lead to low vaccination coverage levels and outbreaks of preventable diseases," Rodewald said during a seminar held by Peking University on Sept 15. Hesitancy is a global public health problem, he said.
In China, about 10 percent of its total population are not inoculated against the disease, including the elderly, people with underlying diseases and pregnant women.
"Once infected, these individuals are more likely to have severe illness — thus, they require the protection that the current vaccines provide," he said. "We should stop hesitating and vaccinate immediately."
The relatively low vaccination rates among Chinese seniors have drawn special concern. As of Aug 10, China had fully vaccinated less than 86 percent of the elderly and delivered booster shots to about 68 percent of the group. Both metrics were lower than developed countries, such as the United States, which had a full vaccination rate of about 92 percent and a booster coverage rate of nearly 71 percent around the same time, according to an article jointly released by researchers from Fudan University in Shanghai and Yale University in the US.
"There is an urgent need to accelerate the process of COVID-19 vaccination of older adults," said the article published on the China CDC Weekly, an academic platform established by the China CDC.
The article proposed strategies such as allowing general practitioners to participate in vaccination campaigns, improving systems to monitor adverse reaction and providing additional vaccination accident insurance to increase confidence in COVID-19 vaccination.
Cui Fuqiang, head of the department of laboratorial science and technology in preventive medicine at Peking University's School of Public Health, said during the seminar that as the COVID-19 pandemic drags on, Chinese people are more willing to get inoculated compared with previously when domestic vaccines first became available in late 2020.
Research led by Cui found that 90.5 percent of Chinese people were willing to obtain COVID-19 vaccines in June 2021, up from 66.6 percent in January of the same year.
While 71 percent of those polled expressed reservations about vaccine safety based on the first survey, the ratio dropped to about 48 percent in the second survey.
"To resolve vaccine hesitancy, I suggest first identifying areas with low vaccination rates, analyzing underlying reasons and devising targeted intervention measures," he said.
In China, a notable feature of vaccine hesitancy is that vaccination decisions of the elderly and children are heavily swayed by their guardians or adult family members. A number of people are also uncertain about whether to take imported or domestic vaccines.
Cui said that ample evidence supports the reliability of China's vaccine regulatory system and its vaccines.
In late August, China passed an assessment by the World Health Organization in recognition of the country's regulatory capability to ensure vaccine safety, quality and effectiveness. The country passed similar evaluations led by the WHO in 2011 and 2014.
"Domestic vaccines have also undergone preclinical tests, as well as three stages of clinical trials and post-market review, and demonstrated good results, which should have further enhanced our confidence," he said.
To tackle vaccine hesitancy, Cui said that it is important to integrate healthcare and disease prevention services, and encourage staff from community health clinics as well as hospitals to play a constructive role in raising awareness and addressing misinformation.
"In the future, I think many countries should focus on spreading scientific information, tracking shifts in vaccine hesitancy and improving vaccination services, especially in rural areas," he said.
wangxiaoyu@chinadaily.com.cn