HK to play more active role in building of GBA
Share - WeChat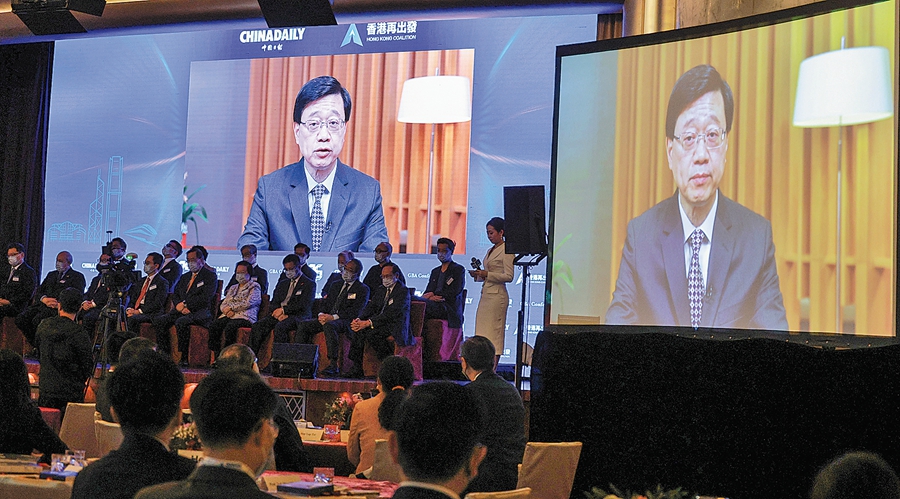 Hong Kong should accelerate its exploration, research and study of the changing situations in the Guangdong-Hong Kong-Macao Greater Bay Area so that the city can better perform its super-connector role in the building of the region.
Political and business heavyweights made the observations on Thursday at the Greater Bay Area Conference 2022 and 25th Anniversary Ceremony of China Daily Hong Kong Edition, themed "GBA: Integration Writes a New Chapter".
Co-organized by China Daily and the Hong Kong Coalition, the conference consisted of three panel discussions on how to forge financial connectivity, preserve cultural heritage, and promote technology and innovation in the city-cluster area, which comprises the two special administrative regions of Hong Kong and Macao, and nine cities in Guangdong province.
Leung Chun-ying, vice-chairman of the Chinese People's Political Consultative Conference National Committee, said that "knowledge about the changing situations on the other side of the tiny Shenzhen River is key", as better cross-boundary mobility of resources such as professionals, capital, goods and electronic data, is needed.
Hong Kong Chief Executive John Lee Ka-chiu said, "Hong Kong and other Greater Bay Area cities continue to collaborate closely and complement one another to bring about enormous opportunities for our people, our businesses and our communities."
Lee added: "Hong Kong will leverage its highly market-oriented and internationalized business environment, its well-developed professional-services sectors, as well as the city's status as an international financial, trade and shipping center" to develop the Greater Bay Area as a world-class city-cluster for living, traveling and working.
In 2021, the total gross domestic product of the Greater Bay Area was about 12.6 trillion yuan ($1.77 trillion), and 25 of its corporations were in the top 500 globally. The city-cluster area has over 50 unicorns (startups with a value of over $1 billion) and over 1,000 incubators. The city-cluster area also boasts the majority of the over 60,000 high-technology companies in Guangdong.
Qu Yingpu, publisher and editor-in-chief of China Daily, said the Thursday conference invited some of the finest minds in the region to unravel the nuances embedded in the idea of the Greater Bay Area, and to find some well-thought-out responses to some questions.
He said the upcoming 20th National Congress of the Communist Party of China — a key meeting of great significance — will map out a new blueprint for China's development in the next five years and beyond. "I believe this will bring fresh opportunities and benefits to the Greater Bay Area," he said.
Qu said that for 25 years, the Hong Kong Edition has performed the all-important task of interpreting China for an international audience with diligence and clarity.