China commits to world peace, development
By JAN YUMUL in Hong Kong, REN QI in Moscow and WANG XU in Tokyo | China Daily Global | Updated: 2022-10-17 09:27




Share - WeChat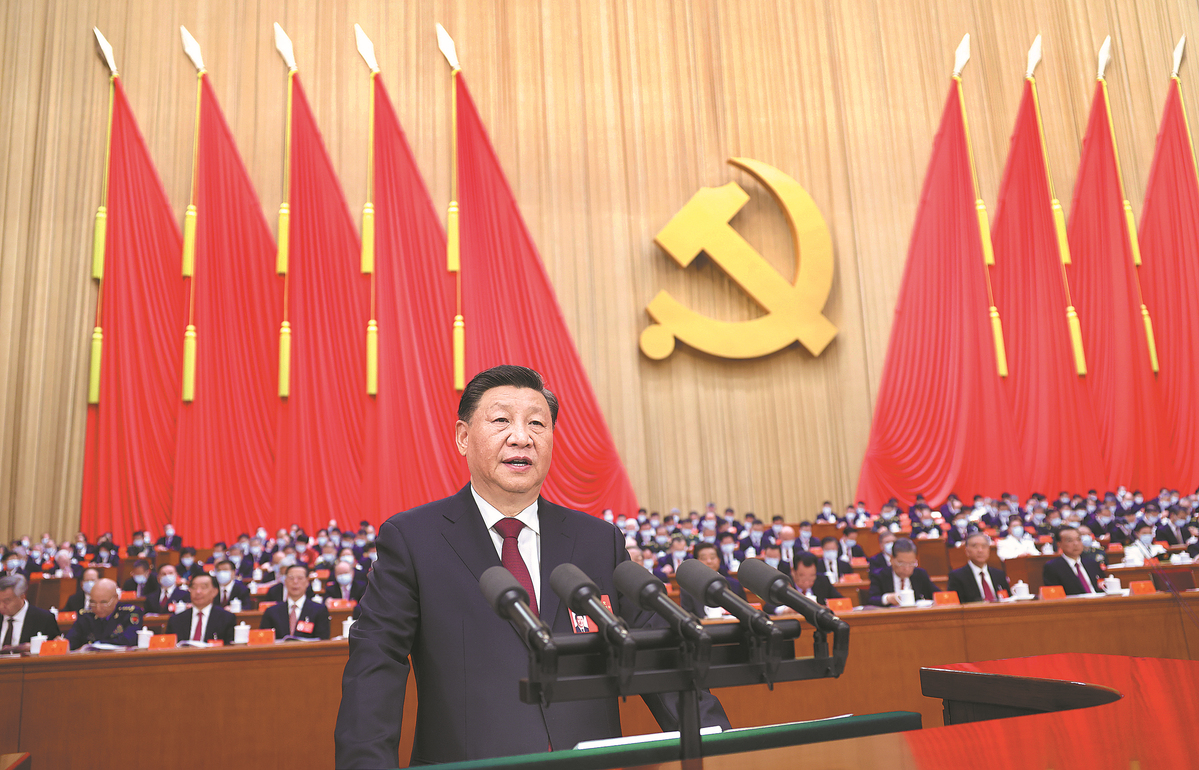 Overseas experts laud vision and scope of report delivered at CPC Congress
The report delivered at the opening of the 20th National Congress of the Communist Party of China is significant both to China and the world with its vision for a shared future for mankind and China's peaceful modernization, analysts and industry insiders said.
In the report, Xi Jinping said: "For its part, China has always been committed to its foreign policy goals of upholding world peace and promoting common development, and it is dedicated to promoting a human community with a shared future."
The most important element of the report can be summarized as CPC leadership vision from "national thinking to mankind thinking", said Shakeel Ahmad Ramay, CEO of the Asian Institute of Eco-civilization Research and Development, a think tank in Pakistan.
The ideal for a community of a shared future for mankind is gaining momentum and China is enhancing investment in it in the form of the Belt and Road Initiative, Global Development Initiative, Global Security Initiative and other public goods for the world, Ahmad said.
"This is a required step and necessity of the time," he added.
"In context, the commitment of Chinese leadership to GDI will give hope to the world, especially to less developed countries of the world."
Joeffrey Maddatu Calimag, president of the Council of ASEAN Professors in (the Republic of) Korea, or CAPK, said Xi's report at the opening session was "rather reassuring and forward-looking".
"It wants to lead a concerted campaign to create a community with a shared future and a bright tomorrow for humanity," he said.
"The report clearly addresses a sound foreign policy whereby repositioning itself as a partner. Emphasizing a positive-sum rather than a zero-sum game in international affairs, it wants to play the role of bolstering cooperation and further world peace," he added.
Dina Yulianti Sulaeman, an international relations lecturer at Padjadjaran University in Indonesia, said the world today has shifted toward multipolarity.
"People of the world are now refusing the existing global governance that exploits developing and least-developed countries," she said.
"The point is 'human community with a shared future'. I think it is the antithesis of Western power that always wants to exploit and dominate all people.
"China has achieved modernization in various fields with its style and way. I hope China shares this progress with developing countries so that all people can rise together toward a 'human community with a shared future'."
Vitaly Mankevich, president of the Russian-Asian Union of Industrialists and Entrepreneurs, said Xi's report is significant not only to the development of China, but also to the international community. The report as well as the 20th National Congress showed a clear path for China's future development in the fields of economy and diplomatic policies.
Rino Tokuyama, president of Japanese cosmetic manufacturer Wonder Fulbeauty, said she and her company have plans to enter the Chinese market and Xi's report made her more confident about the future.
"We want to seize on the increasing popularity of high-end products among Chinese consumers, which is driven by the country's dramatic growth," said Tokuyama, who will showcase her products at the China International Import Expo in Shanghai next month.
Growth engine
"China has been a growth engine for many industries, and much of our drive to broaden Chinese operations comes from the increasing dominance of Chinese people's attitudes toward beauty and their pursuit for a better quality of life. The market is so big and is still growing, ripe for innovation, and I think our knowledge of the consumers should provide us with a competitive advantage."
Muhammad Faisal, a research fellow at the China-Pakistan Study Centre at the Institute of Strategic Studies Islamabad, said China "will play a crucial role in shaping contours of peace and stability around its neighborhood and regions afar".
"Meanwhile, as the world interacts more with China, its role will increase in prominence. This can only be pursued through a consistent focus on peaceful development and maintaining security at the regional and global levels. Right now, China is focused on just that," he said.
Moreover, Faisal said, the report has set the groundwork for realizing a modern China.
According to the report, China is pursuing socialist modernization that contains elements common to the modernization processes of all countries, but is more characterized by features that are unique to the Chinese context.
It is the modernization of a huge population, of common prosperity for all, of material and cultural-ethical advancement, of harmony between humanity and nature, and of peaceful development, Xi said in the report.
Mankevich noted China is improving the living conditions of its people, so "the needs for bigger quantity and better quality of imported products are increasing, which have brought more opportunities to China's partner countries to import more products with higher added values".
Faisal said now that a certain level of development has been reached and an international footprint has been expanded, the next phase of development is underway.
"In this phase, while previous gains will be consolidated, new achievements will be realized in all sectors across the country," he said.
Calimag said the report's "transformative, innovative and adaptive approach to the new pattern of development incubates a sense of security among its people".
"It is apparent that the report is progressive where modernization of the Chinese style is creating new forms of human civilization," Calimag said.
Overall, Xi's report was "extensive", he said.