Clarity, unity drives China dsepite western reports
Share - WeChat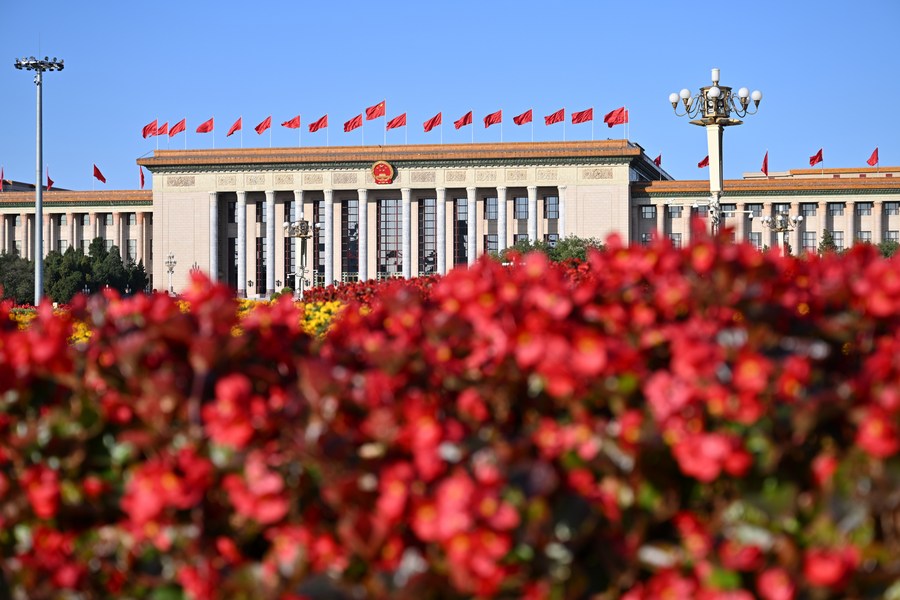 In the aftermath of the 20th National Congress of the Communist Party of China, one could walk away from the milestone event noticing a pointed unity and clarity of message. Not strictly among the assembled delegates — though there was plenty to be had in that case as well.
No, I'm talking about the almost uniform reaction from much of the international media, or at least what we are meant to think of when using the term "international media" — i.e. the press from the advanced economies of the West, which has, shall we say, not been particularly kind to China in recent years. If you had only read the coverage by these outlets, you would be forgiven for thinking the speech was about Taiwan and COVID-19 exclusively, two full hours on just these hot-button topics that have coincidentally been the focus of their China coverage both before and after the congress.
The real figure might come as a surprise: 650 words, cumulatively, on those subjects. 650 words of a report that ran almost 25,000. That's less than 3 percent of its content, yet these subjects dominated the headlines. In particular, the sections on Taiwan — where the language remained nearly identical to past addresses — has driven a response from the highest levels of government.
Officials in the US seized the opportunity to claim there was an "accelerated timeline" for military action, or that such action could happen as soon as the end of the year, despite there being no indication of this within the text of the report, either implicitly or explicitly. Reporting on these assertions, while in some cases burying token skepticism long after most people stop reading, has largely repeated them uncritically, fueling a downward spiral in perceptions and influencing real-world relations in a materially detrimental way.
The aforementioned 3 percent has been well and truly covered, along with whatever scattered moments could be spun as revelatory instances of personal intrigue. So where does that leave the remaining 97 percent? Herein lies the reason why the lion's share of the report was soundly ignored; it didn't offer any opportunities for sensationalism or melodrama. It was an articulation of the country's recent accomplishments, a reiteration of its future plans, and most importantly, a clarification of what achieving those plans will look like concretely.
That last part is important, because I haven't forgotten how previous congresses were covered. By now we are all very familiar with China's centenary goals, the major bullet points of the country's agenda for 2021 and 2049. The first of these, coinciding with the 100th anniversary of the founding of the Communist Party of China, saw the conclusion of the long process of building what the Party calls a "moderately prosperous society."
I bring this up because the concept of a "moderately prosperous society" has existed for a very long time, well before it was associated with the CPC's 100th birthday. It has been a fixture in the rhetoric of modern Chinese leaders since at least the time of Deng Xiaoping, and in the past was criticized by many of the same outlets presently tut-tutting about the most recent congress for not being specific or grounded enough to serve as the foundation for real change. But as the centenary drew nearer, it did become more concrete, and was defined in terms that were material and testable: the doubling of GDP and disposable income from 2010 levels. The eradication of extreme poverty, a long-term project for China and the CPC, was eventually wedded to this metric as well.
So it was during this year's congress that the targets for the second centenary goal became clearer, as well as the near-midpoint between now and 2049 when, it is said, China's drive to modernization will have been "basically completed". As was the case with the "moderately prosperous society" runup, criticisms abounded over a lack of specificity. What those critics overlooked, or chose not to acknowledge, was this is part of the political process in China. In the beginning, these policy prescriptions begin conceptually, more abstract the farther away their expected date of fruition. More immediate ambitions carry with them a set of precise objectives, and as these are reached the more long-term ideas are fleshed out in the same way their antecedents were.
This practice creates continuity across years and decades, ensuring the country stays on level track. With the gradual inclusion of benchmarks, it also functions as a motivator for local governments and an accountability mechanism for the system as a whole. When these targets are laid plain, there is no question what has to be done to fulfill them. This enhances the people's link to their political leadership through heightened expectations — if disposable income, for instance, has been promised to double by a certain year, there's little doubt the people who would stand to benefit from such a change are anticipating it greatly.
Which brings us to this year's congress. We now have a list of priorities the country will be focusing on between now and 2035, when the modernization drive will have finished: A per-capita GDP of a mid-level developed country, a level of carbon emissions that has already dropped well below a peak reached by 2030, better and more equitably distributed public services, a far higher share of middle-income earners as a proportion of the population and a greatly enhanced capacity for innovation and scientific discovery, to name a few.
These will serve as the rubric for government performance in the coming years, and define the country's progress in a tangible way. Laying out these standards is exactly what critics claimed to want, but now as before this inconvenient fact will almost certainly be disregarded. It's unfortunate, but that's just the way it is. Rather than get bent out of shape about what appears by now to be something like a law of nature, China can and should remain concentrated on its own affairs and let its own development do the talking.
And there is plenty of talking to do on that front. But talk is cheap. If there's one thing I hope you take away from today's addresses, it's that for all our discussion of concepts, theories and policies, ultimately these guide changes that have a profound impact on real, living people. We must never lose sight of the fact this is all being done, and must continue to be done, to ensure the lives of China's people remain on a continuous track of improvement, that the next generations have something to look forward to. Despite spending five years here, I have only seen a sliver of the country, but even that small amount has revealed a society that yes, faces great challenges and obstacles on a near-daily basis, yet has come a long way despite those arduous struggles. The problems of today are not the problems of five or 10 years ago, much less 40 or 70, and while it is a near-certainty the future will bring with it new and even more complex questions, we can say with some confidence those questions will be answered — because that's precisely what past and present experience tell us.
The author is a US writer with China Daily.
The opinions expressed here are those of the writer and do not necessarily represent the views of China Daily and China Daily website.
If you have a specific expertise, or would like to share your thought about our stories, then send us your writings at opinion@chinadaily.com.cn, and comment@chinadaily.com.cn.
Most Viewed in 24 Hours
China Views