US should walk the walk on no new Cold War
Share - WeChat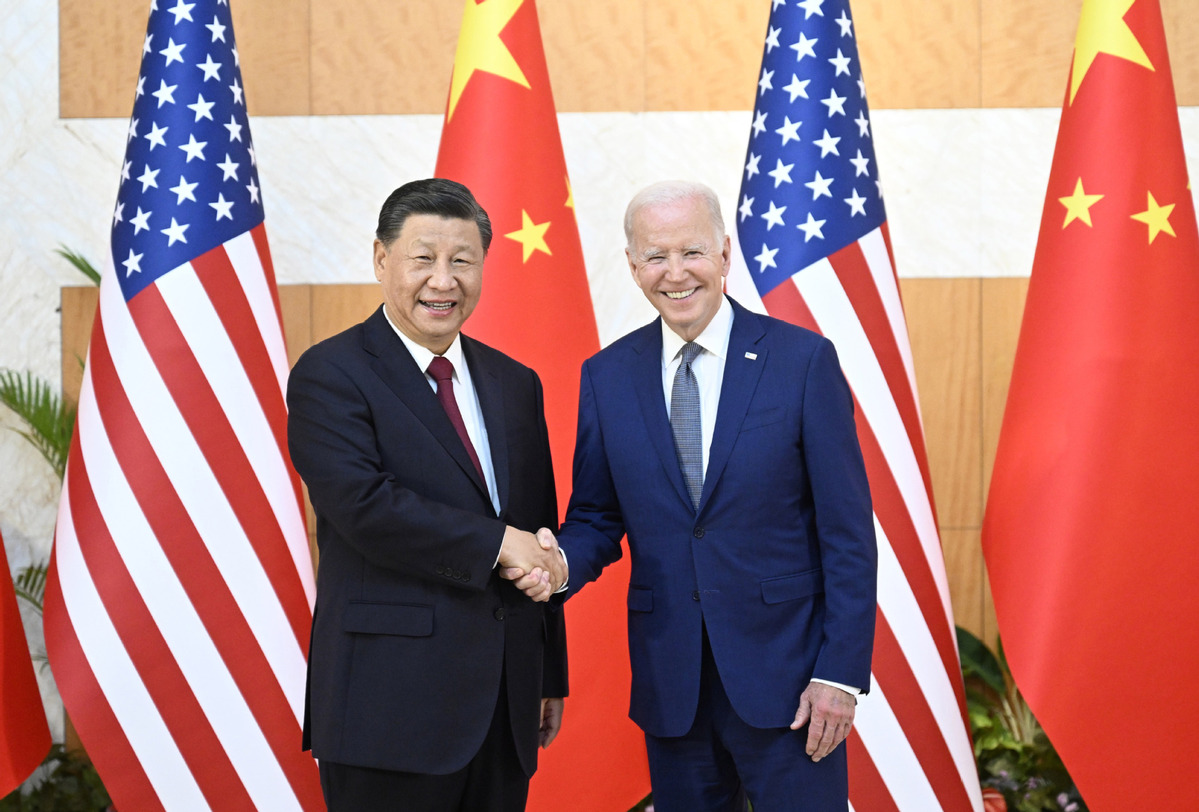 The meeting between President Xi Jinping and US President Joe Biden on Monday, a day before the G20 Summit in Bali, Indonesia, has sent a positive signal to the world which was deeply worried about the free fall of the most consequential bilateral relations of the 21st century.
High-level communication, especially among leaders of major countries, is critical to guiding relations in the right direction. Unfortunately, dozens of such mechanisms were abruptly suspended by the Donald Trump administration, and Biden has not revived them despite having praised them as vice-president in the Barack Obama administration.
Open communication helps avoid miscalculations. I learned years ago that Chinese and US naval ships sailing in the South China Sea are less likely to misjudge their routes or moves if the two captains happened to know each other thanks to their participation in the Rim of the Pacific naval drills, or RIMPAC.
I applaud Biden for saying that "I absolutely believe there need not be a new Cold War" and "we're going to compete vigorously" and "manage this competition responsibly" but "not looking for conflict".
However, US moves so far have proven otherwise. Many people believe the US has already started a new Cold War against China, given its recent wide-ranging restrictions on semiconductor and equipment exports to China, and its pressure on other countries to follow suit.
Susan Shirk, a China specialist and former US deputy assistant secretary of state for East Asian and Pacific affairs, was alarmed at such US policies purely aimed at containing China and slowing its development.
Biden's unwillingness to revoke Trump's punitive tariffs on China, and his escalation of the technology war against China, including putting more than 600 Chinese companies on the US Entity List, are all irresponsible acts or sabotage, not vigorous competition, to put it bluntly.
The US has been going all out to rally or coerce its allies and partners to join the anti-China bloc to divide the world or, in the words of some in Washington, decouple from China's economy.
The new US National Security Strategy and National Defense Strategy, which define China as posing a challenge, mean that the US will not tolerate a peer or near-peer on the global stage for fear that it may challenge its hegemony. But the transformation to a multilateral world, which includes not only China but also India, Southeast Asia and African countries, the European Union member states and Latin American nations, is an unstoppable trend.
Michael O'Hanlon, a senior fellow at the Brookings Institution, criticized the National Security Strategy calling China a top national security concern and claiming it posed a challenge as "incongruous with the reality" and "wrongheaded".
The growing US defense budget, which is increasingly aimed at China, is approaching $800 billion, more than three times that of China's. And it runs the risk of triggering a fierce arms race between the two largest economies.
If it is already not a new Cold War, it is definitely on the dangerous path to developing into one.
The only way to avoid a new Cold War and possibly a hot war is for the US to correct the mistakes it has committed since the Trump administration, which among other things reversed decades of US policy on China.
Biden knows full well the fruitful achievements of bilateral cooperation during the Obama administration, from jointly fighting climate change and nuclear proliferation to tackling pandemics, such as the Ebola pandemic in Africa, and boosting global economic recovery.
It was right for Biden to say that China and the US should be able to work together where they can to solve global challenges. But such cooperation is feasible and can be effective only when neither side has to worry about being stabbed in the back by the other side.
History shows that differences between China and the US can be narrowed only through more exchanges and cooperation, not confrontation or "vigorous competition", if it is a euphemism for recklessly curtailing China's rise.
chenweihua@chinadaily.com.cn
The author is chief of China Daily EU Bureau based in Brussels.
Most Viewed in 24 Hours
China Views